Now when you go outside, you can put on your "second face!" Maskalike is a company that can put just about anything on your face mask....including your own face! While still in the pre-launch phase, the company already has thousands on their wait-list. Check out their other ideas by clicking here.
Now on to the books! Let's take a look at what's new or arriving soon to our shelves. If you see something you like, simply click on the book image to go to our catalog to put a hold on that item using your library card number and your PIN. Don't forget our handy curbside pickup option when you're notified your selections are ready!
Cajun Justice by James Patterson & Tucker Axum.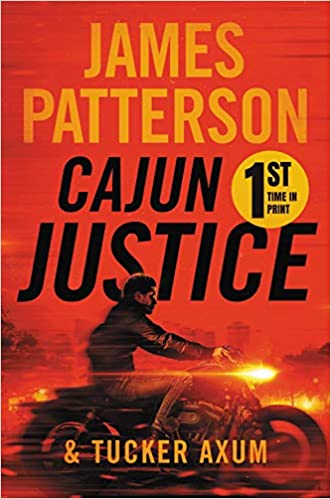 The Bayou is a unique place to live and it provides a grit and passion to any who hail from it, including Cain Lemaire, an ex-Secret Service agent from New Orleans. Cain had the dream job he had always wanted, protecting the President, until a single night resulted in a scandal that lost him his post. Needing a new direction for his life and with help from his sister who works in Japan, Cain takes a job in Tokyo as head of security detail for a very successful and important CEO. What he thought was a simple security post unravels a tangled web of corruption, greed, and extortion, but now Cain is on his own and without the wealth of resources he had with the Secret Service. Years of training and international missions kick in as he races to find justice that only way a born and raised Cajun can do.
The Order by Daniel Silva. Book #20 in the Gabrielle Allon series.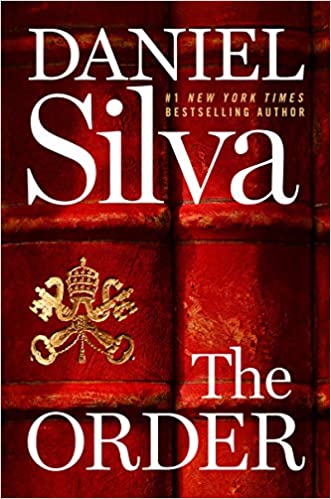 Gabriel Allon has slipped quietly into Venice for a much-needed holiday with his wife and two young children. But when Pope Paul VII dies suddenly, Gabriel is summoned to Rome by the Holy Father's loyal private secretary, Archbishop Luigi Donati. A billion Catholic faithful have been told that the pope died of a heart attack. Donati, however, has two good reasons to suspect his master was murdered. The Swiss Guard who was standing watch outside the papal apartments the night of the pope's death is missing. So, too, is the letter the Holy Father was writing during the final hours of his life. A letter that was addressed to Gabriel.
While searching in the Vatican Secret Archives, I came upon the most remarkable book.
The book is a long-suppressed gospel that calls into question the accuracy of the New Testament's depiction of one of the most portentous events in human history. For that reason alone, the Order of St. Helena will stop at nothing to keep it out of Gabriel's hands. A shadowy Catholic society with ties to the European far right, the Order is plotting to seize control of the papacy. And it is only the beginning.
The Lost and Found Bookshop by Susan Wiggs. Book #3 of the Belle Vista Chronicles.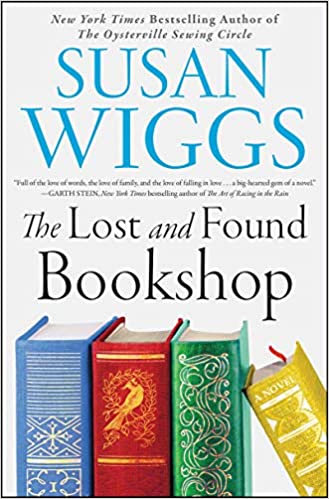 There is a book for everything.
Somewhere in the vast Library of the Universe, as Natalie thought of it, there was a book that embodied exactly the things she was worrying about.
In the wake of a shocking tragedy, Natalie Harper inherits her mother's charming but financially strapped bookshop in San Francisco. She also becomes caretaker for her ailing grandfather Andrew, her only living relative—not counting her scoundrel father.
But the gruff, deeply kind Andrew has begun displaying signs of decline. Natalie thinks it's best to move him to an assisted living facility to ensure the care he needs. To pay for it, she plans to close the bookstore and sell the derelict but valuable building on historic Perdita Street, which is in need of constant fixing. There's only one problem–Grandpa Andrew owns the building and refuses to sell. Natalie adores her grandfather; she'll do whatever it takes to make his final years happy. Besides, she loves the store and its books provide welcome solace for her overwhelming grief.
After she moves into the small studio apartment above the shop, Natalie carries out her grandfather's request and hires contractor Peach Gallagher to do the necessary and ongoing repairs. His young daughter, Dorothy, also becomes a regular at the store, and she and Natalie begin reading together while Peach works.
To Natalie's surprise, her sorrow begins to dissipate as her life becomes an unexpected journey of new connections, discoveries and revelations, from unearthing artifacts hidden in the bookshop's walls, to discovering the truth about her family, her future, and her own heart.
A Walk Along The Beach by Debbie Macomber.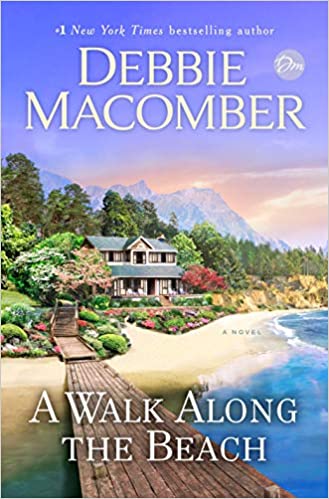 The Lakey sisters are perfect opposites. After their mother died and their father was lost in grief, Willa had no choice but to raise her sister, Harper, and their brother, Lucas. Then, as an adult, she put her own life on hold to nurse Harper through a terrifying illness. Now that Harper is better and the sisters are living as roommates, Willa has realized her dream of running her own bakery and coffee shop, bringing her special brand of caretaking to the whole Oceanside community.

Harper, on the other hand, is always on the go. Overcoming a terrible illness has given her a new lease on life, and she does not intend to waste it. When Harper announces her plan to summit Mount Rainier, Willa fears she may be pushing herself too far. Harper, for her part, urges Willa to stop worrying and do something outside of her comfort zone—like taking a chance on love with a handsome new customer.

Sean O'Malley is as charming as he is intriguing—a freelance photographer whose assignments take him to the ends of the earth. Soon Willa's falling for him in a way that is both exciting and terrifying. But life has taught Willa to hedge her bets, and she wonders whether the potential heartache is worth the risk.

Life has more challenges in store for them all. But both sisters will discover that even in the darkest moments, family is everything.