COVID-19 update: Please be aware that if visiting the library (beginning June 15) that we are reserving the hour between 10 am and 11 am for our at risk population, those over 60 years of age or anyone defined as at risk. We are asking ALL guests at the library to utilize face coverings. These can be in the form of non-medical masks, bandanas, scarfs, and cloth.
We ask this for the protection of other patrons as well as our staff. Thank you for complying.
Looking for a delicious summer treat? Strawberry Cheesecake Cupcakes are the perfect summer treat! Get the recipe by clicking here.
Now on to the books! See something you like? Click on the book image to place it on hold! Don't forget to utilize our curbside pickup!
A Convenient Death: The Mysterious Demise of Jeffrey Epstein by Alana Goodman.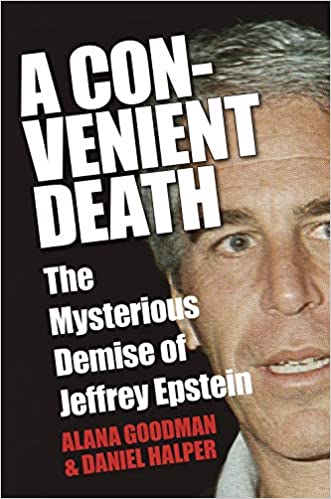 In A Convenient Death investigative reporters Alana Goodman and Daniel Halper search for the truth of what really happened to Jeffrey Epstein. With access to Epstein's victims and lawyers, to doctors, Wall Street insiders and law enforcement officers, they reveal the dirty secrets and sinister ties that may have driven someone in Epstein's circle to take matters into their own hands.

On the morning of August 10, 2019, Epstein, friend and financier to the rich and powerful, was found unresponsive in his prison cell in lower Manhattan, where he awaited his second trial for sexual predation and other crimes. He was rushed to a local hospital and one hour later pronounced dead by suicide. Across the world, a sinister web of powerful billionaires, celebrities, and politicians, including Bill and Hillary Clinton, had reason to sigh with relief at news of Epstein's death. Having flown on his private planes and visited his many homes—the sites of so many illicit activities—they had much to lose if their transgressions were ever exposed. And now, Epstein was silenced for good.

But cracks in the official story soon emerged. And the questions kept coming:
· Why did the surveillance cameras in front of Epstein's cell stop working that night?
· Why was Epstein's cellmate transferred out and never replaced?
· Why was a high-profile prisoner so suddenly taken off suicide watch and left unguarded for eight hours?

Was Epstein murdered to protect the powerful people who feared what he might reveal? The American public deserves to know the truth. With this book, they can finally understand the facts and decide for themselves.
Our Time Is Now: Power, Purpose, and the Fight for a Fair America by Stacey Abrams.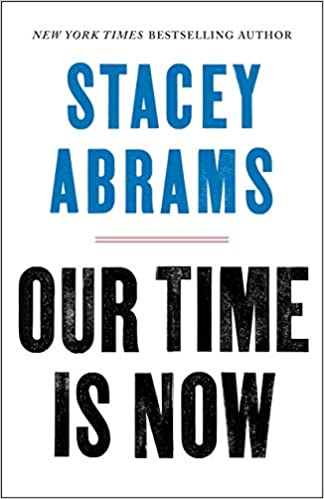 Celebrated national leader and bestselling author Stacey Abrams offers a blueprint to end voter suppression, empower our citizens, and take back our country. A recognized expert on fair voting and civic engagement, Abrams chronicles a chilling account of how the right to vote and the principle of democracy have been and continue to be under attack. Abrams would have been the first African American woman governor, but experienced these effects firsthand, despite running the most innovative race in modern politics as the Democratic nominee in Georgia. Abrams didn't win, but she has not conceded. The book compellingly argues for the importance of robust voter protections, an elevation of identity politics, engagement in the census, and a return to moral international leadership.

Our Time Is Now draws on extensive research from national organizations and renowned scholars, as well as anecdotes from her life and others' who have fought throughout our country's history for the power to be heard. The stakes could not be higher. Here are concrete solutions and inspiration to stand up for who we are―now.
Hidden Valley Road: Inside the Mind of an American Family by Robert Kolker.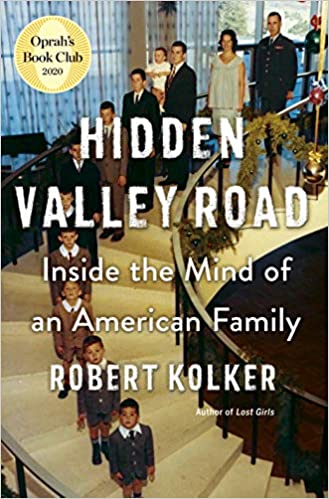 Don and Mimi Galvin seemed to be living the American dream. After World War II, Don's work with the Air Force brought them to Colorado, where their twelve children perfectly spanned the baby boom: the oldest born in 1945, the youngest in 1965. In those years, there was an established script for a family like the Galvins--aspiration, hard work, upward mobility, domestic harmony--and they worked hard to play their parts. But behind the scenes was a different story: psychological breakdown, sudden shocking violence, hidden abuse. By the mid-1970s, six of the ten Galvin boys, one after another, were diagnosed as schizophrenic. How could all this happen to one family?
What took place inside the house on Hidden Valley Road was so extraordinary that the Galvins became one of the first families to be studied by the National Institute of Mental Health. Their story offers a shadow history of the science of schizophrenia, from the era of institutionalization, lobotomy, and the schizophrenogenic mother to the search for genetic markers for the disease, always amid profound disagreements about the nature of the illness itself. And unbeknownst to the Galvins, samples of their DNA informed decades of genetic research that continues today, offering paths to treatment, prediction, and even eradication of the disease for future generations.
With clarity and compassion, bestselling and award-winning author Robert Kolker uncovers one family's unforgettable legacy of suffering, love, and hope.
The Mamba Mentality: How I Play by Kobe Bryant.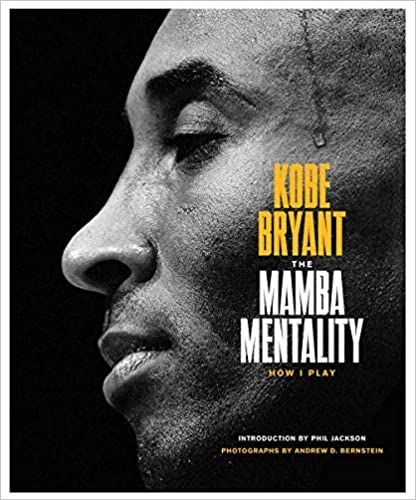 In the wake of his retirement from professional basketball, Kobe "The Black Mamba" Bryant decided to share his vast knowledge and understanding of the game to take readers on an unprecedented journey to the core of the legendary "Mamba mentality." Citing an obligation and an opportunity to teach young players, hardcore fans, and devoted students of the game how to play it "the right way," The Mamba Mentality takes us inside the mind of one of the most intelligent, analytical, and creative basketball players ever.

In his own words, Bryant reveals his famously detailed approach and the steps he took to prepare mentally and physically to not just succeed at the game, but to excel. Readers will learn how Bryant studied an opponent, how he channeled his passion for the game, how he played through injuries. They'll also get fascinating granular detail as he breaks down specific plays and match-ups from throughout his career.

Bryant's detailed accounts are paired with stunning photographs by the Hall of Fame photographer Andrew D. Bernstein. Bernstein, long the Lakers and NBA official photographer, captured Bryant's very first NBA photo in 1996 and his last in 2016―and hundreds of thousands in between, the record of a unique, twenty-year relationship between one athlete and one photographer.

The combination of Bryant's narrative and Bernstein's photos make The Mamba Mentality an unprecedented look behind the curtain at the career of one of the world's most celebrated and fascinating athletes.
The Chiffon Trenches: A Memoir by André Leon Talley.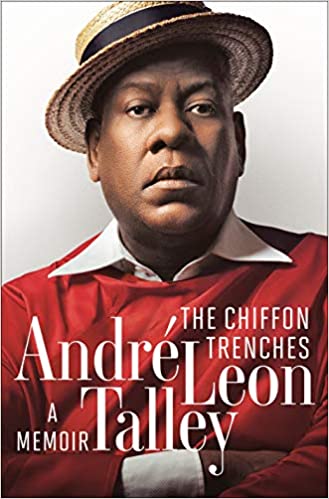 During André Leon Talley's first magazine job, alongside Andy Warhol at Interview a fateful meeting with Karl Lagerfeld began a decades-long friendship with the enigmatic, often caustic designer. Propelled into the upper echelons by his knowledge and adoration of fashion, André moved to Paris as bureau chief of John Fairchild's Women's Wear Daily befriending fashion's most important designers (Halston, Yves Saint Laurent, Oscar de la Renta). But as André made friends, he also made enemies. A racially tinged encounter with a member of the house of Yves Saint Laurent sent him back to New York and into the offices of Vogue under Grace Mirabella.

There, he eventually became creative director, developing an unlikely but intimate friendship with Anna Wintour. As she rose to the top of Vogue's masthead, André also ascended, and soon became the most influential man in fashion.

The Chiffon Trenches offers a candid look at the who's who of the last fifty years of fashion. At once ruthless and empathetic, this engaging memoir tells with raw honesty the story of how André not only survived the brutal style landscape but thrived—despite racism, illicit rumors, and all the other challenges of this notoriously cutthroat industry—to become one of the most renowned voices and faces in fashion.

Woven throughout the book are also André's own personal struggles that have impacted him over the decades, along with intimate stories of those he has turned to for inspiration (Diana Vreeland, Diane von Fürstenberg, Lee Radziwill, to name a few), and of course his Southern roots and ongoing faith, which have guided him since childhood.

The result is a highly compelling read that captures the essence of a world few of us will ever have real access to, but one that we all want to know oh so much more about.
Plague of Corruption: Restoring Faith in the Promise of Science (Children's Health Defense) by Judy Mikovits.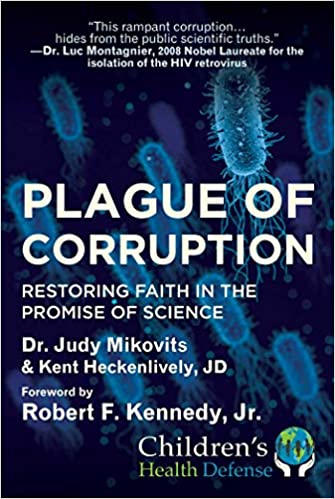 Dr. Judy Mikovits is a modern-day Rosalind Franklin, a brilliant researcher shaking up the old boys' club of science with her groundbreaking discoveries. And like many women who have trespassed into the world of men, she uncovered decades-old secrets that many would prefer to stay buried.

From her doctoral thesis, which changed the treatment of HIV-AIDS, saving the lives of millions, including basketball great Magic Johnson, to her spectacular discovery of a new family of human retroviruses, and her latest research which points to a new golden age of health, Dr. Mikovits has always been on the leading edge of science.

With the brilliant wit one might expect if Erin Brockovich had a doctorate in molecular biology, Dr. Mikovits has seen the best and worst of science. When she was part of the research community that turned HIV-AIDS from a fatal disease into a manageable one, she saw science at its best. But when her investigations questioned whether the use of animal tissue in medical research were unleashing devastating plagues of chronic diseases, such as autism and chronic fatigue syndrome, she saw science at its worst. If her suspicions are correct, we are looking at a complete realignment of scientific practices, including how we study and treat human disease.

Recounting her nearly four decades in science, including her collaboration of more than thirty-five years with Dr. Frank Ruscetti, one of the founders of the field of human retrovirology, this is a behind the scenes look at the issues and egos which will determine the future health of humanity.
Untamed by Glennon Doyle.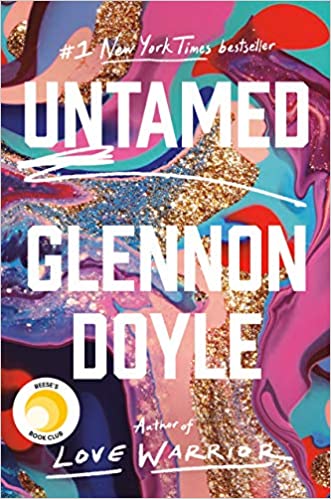 This is how you find yourself.

There is a voice of longing inside each woman. We strive so mightily to be good: good partners, daughters, mothers, employees, and friends. We hope all this striving will make us feel alive. Instead, it leaves us feeling weary, stuck, overwhelmed, and underwhelmed. We look at our lives and wonder: Wasn't it all supposed to be more beautiful than this? We quickly silence that question, telling ourselves to be grateful, hiding our discontent—even from ourselves.

For many years, Glennon Doyle denied her own discontent. Then, while speaking at a conference, she looked at a woman across the room and fell instantly in love. Three words flooded her mind: There She Is. At first, Glennon assumed these words came to her from on high. But she soon realized they had come to her from within. This was her own voice—the one she had buried beneath decades of numbing addictions, cultural conditioning, and institutional allegiances. This was the voice of the girl she had been before the world told her who to be. Glennon decided to quit abandoning herself and to instead abandon the world's expectations of her. She quit being good so she could be free. She quit pleasing and started living.

Soulful and uproarious, forceful and tender, Untamed is both an intimate memoir and a galvanizing wake-up call. It is the story of how one woman learned that a responsible mother is not one who slowly dies for her children, but one who shows them how to fully live. It is the story of navigating divorce, forming a new blended family, and discovering that the brokenness or wholeness of a family depends not on its structure but on each member's ability to bring her full self to the table. And it is the story of how each of us can begin to trust ourselves enough to set boundaries, make peace with our bodies, honor our anger and heartbreak, and unleash our truest, wildest instincts so that we become women who can finally look at ourselves and say: There She Is.