For the first time ever, you can livestream the Summer Solstice at Stonehenge! For details and links, click here.
Now, let's get back to books! Check out what's new on our shelves and available for Curbside Pickup! See something you like? Simply click on the image to go to our catalog and place that item on hold using your library card number and your PIN. When your hold is available, the library will notify you that it is ready to pick up. When you arrive at the rear doors of the library, call us, open your trunk, and we'll deposit any items you have ready using our no-touch system! Now would be a great time to put our number in your phone to make calling easy! 270-692-4698!
False Assurances by Christopher Rosow. Book #1 in the Ben Porter series.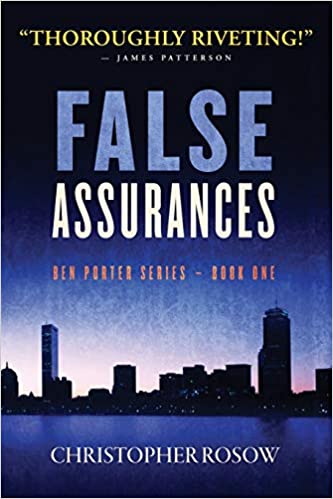 On the morning of July 12, 2017, the FBI Boston field office receives what appears to be a hoax call: a man rescued from the waters off Massachusetts has claimed that his sailboat was hijacked and used to smuggle weapons and terrorists into the United States. With local agents tasked to prepare for an evening Presidential visit to downtown Boston, and with procedures requiring a response to any threat, no matter how unreliable it may seem, FBI administrative staffer Ben Porter is dispatched to investigate the call. Can Ben, untrained in field work and relying only on his wits and intuition, uncover the deadly plot … in time to stop it?
The Fifth Vital by Mike Majlak.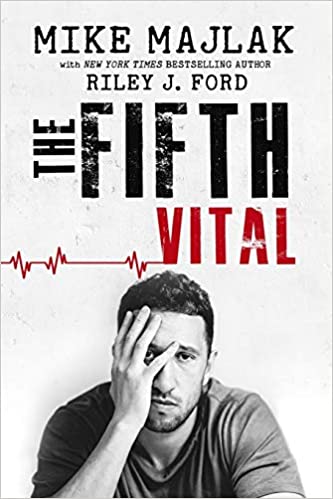 Mike Majlak was a seventeen-year-old from a loving, middle-class family in Milford, Connecticut, when he got caught up in the opioid epidemic that swept the nation. For close to a decade thereafter, his life was a wasteland of darkness and despair. While his peers were graduating from college, buying homes, getting married, having kids, and leading normal lives, Mike was snorting OxyContin, climbing out of cars at gunpoint, and burying his childhood friends. Unable to escape the noose of addiction, he eventually lost the trust and support of everyone who had ever loved him. Alone, with nothing but drugs to keep him company, darkness closed in, and the light inside him—the last flicker of hope—began to dim. His dreams, potential, and future were all being devoured by a relentless addiction too powerful to fight. Despair filled him as he realized he wasn't going to survive.Somehow, he did…HE NOT ONLY SURVIVED, HE THRIVED. Now he's a social media personality with millions of followers, and an entrepreneur, marketer, podcaster, YouTuber, and author who hopes to use his voice to shine a light for those whose own lights have grown dim. This is his story.
Beach Read by Emily Henry.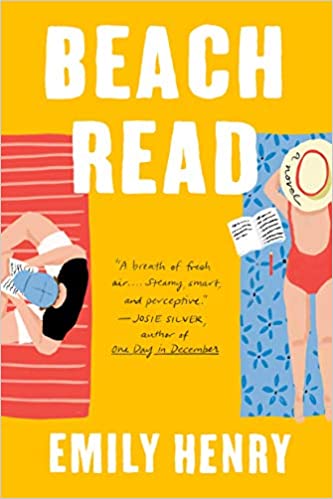 Augustus Everett is an acclaimed author of literary fiction. January Andrews writes bestselling romance. When she pens a happily ever after, he kills off his entire cast.

They're polar opposites.

In fact, the only thing they have in common is that for the next three months, they're living in neighboring beach houses, broke, and bogged down with writer's block.

Until, one hazy evening, one thing leads to another and they strike a deal designed to force them out of their creative ruts: Augustus will spend the summer writing something happy, and January will pen the next Great American Novel. She'll take him on field trips worthy of any rom-com montage, and he'll take her to interview surviving members of a backwoods death cult (obviously). Everyone will finish a book and no one will fall in love. Really.
The Lincoln Conspiracy: The Secret Plot to Kill America's 16th President -- and Why It Failed by Brad Meltzer.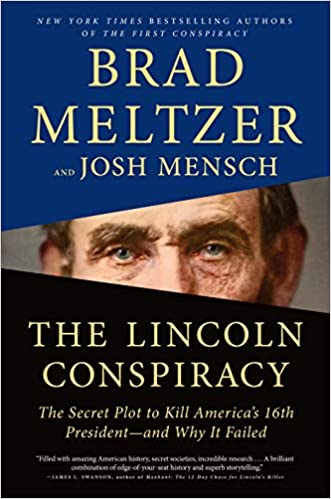 Everyone knows the story of Abraham Lincoln's assassination in 1865, but few are aware of the original conspiracy to kill him four years earlier in 1861, literally on his way to Washington, D.C., for his first inauguration.

The conspirators were part of a pro-Southern secret society that didn't want an antislavery President in the White House. They planned an elaborate scheme to assassinate the brand new President in Baltimore as Lincoln's inauguration train passed through en route to the Capitol. The plot was investigated by famed detective Allan Pinkerton, who infiltrated the group with undercover agents, including one of the first female private detectives in America.

Had the assassination succeeded, there would have been no Lincoln Presidency, and the course of the Civil War and American history would have forever been altered.
Team of Five: The President's Club in the Age of Trump by Kate Andersen Brower.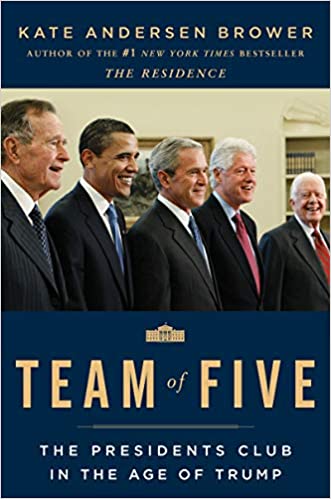 After serving the highest office of American government, five men—Jimmy Carter, the late George H. W. Bush, Bill Clinton, George W. Bush, and Barack Obama—became members of the world's most exclusive fraternity. In Team of Five, Kate Andersen Brower goes beyond the White House to uncover what, exactly, comes after the presidency, offering a glimpse into the complex relationships of these five former presidents, and how each of these men views his place in a nation that has been upended by the Oval Office's current, norm-breaking occupant, President Donald Trump.
With an empathetic yet critical eye and firsthand testimony from the Carters, Donald Trump, and the top aides, friends, and family members of the five former presidents, Team of Five takes us inside the exclusive world of these powerful men and their families, including the unlikely friendship between George W. Bush and Michelle Obama, the last private visits Bill Clinton and Barack Obama shared with George H.W. Bush, and the Obamas' flight to Palm Springs after Donald Trump's inauguration. Perhaps most timely, this insightful, illuminating book overflows with anecdotes about how the ex-presidents are working to combat President Trump's attempts to undo the achievements and hard work accomplished during their own terms.
Perhaps most poignantly, Team of Five sheds light on the inherent loneliness and inevitable feelings of powerlessness and frustration that come with no longer being the most important person in the world, but a leader with only symbolic power. There are ways, though, that these men, and their wives, have become powerful political and cultural forces in American life, even as so-called "formers."
Team of Five includes 16 pages of color photographs.
To Wake the Giant: A Novel of Pearl Harbor by Jeff Shaara.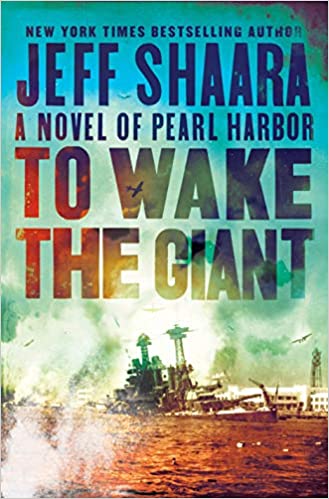 In 1941, President Franklin D. Roosevelt watches uneasily as the world heads rapidly down a dangerous path. The Japanese have waged an aggressive campaign against China, and they now begin to expand their ambitions to other parts of Asia. As their expansion efforts grow bolder, their enemies know that Japan's ultimate goal is total conquest over the region, especially when the Japanese align themselves with Hitler's Germany and Mussolini's Italy, who wage their own war of conquest across Europe.

Meanwhile, the British stand nearly alone against Hitler, and there is pressure in Washington to transfer America's powerful fleet of warships from Hawaii to the Atlantic to join the fight against German U-boats that are devastating shipping. But despite deep concerns about weakening the Pacific fleet, no one believes that the main base at Pearl Harbor is under any real threat.

Told through the eyes of widely diverse characters, this story looks at all sides of the drama and puts the reader squarely in the middle. In Washington, Secretary of State Cordell Hull must balance his own concerns between President Roosevelt and the Japanese ambassador, Kichisaburo Nomura, who is little more than a puppet of his own government. In Japan, Admiral Isoroku Yamamoto wins skeptical approval for his outrageous plans in the Pacific, yet he understands more than anyone that an attack on Pearl Harbor will start a war that Japan cannot win. In Hawaii, Commander Joseph Rochefort's job as an accomplished intelligence officer is to decode radio signals and detect the location of the Japanese fleet, but when the airwaves suddenly go silent, no one has any idea why. And from a small Depression-ravaged town, nineteen-year-old Tommy Biggs sees the Navy as his chance to escape and happily accepts his assignment, every sailor's dream: the battleship USS Arizona.
The End of October by Lawrence Wright.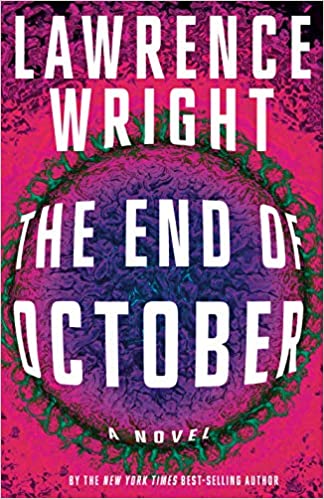 At an internment camp in Indonesia, forty-seven people are pronounced dead with acute hemorrhagic fever. When Henry Parsons--microbiologist, epidemiologist--travels there on behalf of the World Health Organization to investigate, what he finds will soon have staggering repercussions across the globe: an infected man is on his way to join the millions of worshippers in the annual Hajj to Mecca. Now, Henry joins forces with a Saudi prince and doctor in an attempt to quarantine the entire host of pilgrims in the holy city . . . A Russian émigré, a woman who has risen to deputy director of U.S. Homeland Security, scrambles to mount a response to what may be an act of biowarfare . . . Already-fraying global relations begin to snap, one by one, in the face of a pandemic . . . Henry's wife, Jill, and their children face diminishing odds of survival in Atlanta . . . And the disease slashes across the United States, dismantling institutions--scientific, religious, governmental--and decimating the population. As packed with suspense as it is with the fascinating history of viral diseases, Lawrence Wright has given us a full-tilt, electrifying, one-of-a-kind thriller.
On Ocean Boulevard by Mary Alice Monroe.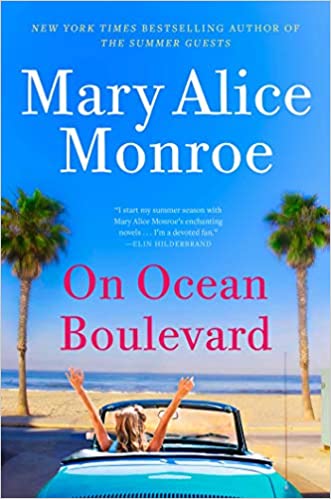 It's been sixteen years since Caretta "Cara" Rutledge has returned home to the beautiful shores of Charleston, South Carolina. Over those years, she has weathered the tides of deaths and births, struggles and joys. And now, as Cara prepares for her second wedding, her life is about to change yet again.

Meanwhile, the rest of the storied Rutledge family is also in flux. Cara's niece Linnea returns to Sullivan's Island to begin a new career and an unexpected relationship. Linnea's parents, having survived bankruptcy, pin their hopes and futures on the construction of a new home on Ocean Boulevard. But as excitement over the house and wedding builds, a devastating illness strikes the family and brings plans to a screeching halt. It is under these trying circumstances that the Rutledge family must come together yet again to discover the enduring strength in love, tradition, and legacy from mother to daughter to granddaughter.

Like the sea turtles that come ashore annually on these windswept islands, three generations of the Rutledge family experience a season of return, rebirth, and growth.
The World: A Brief Introduction by Richard Haass.
Like it or not, we live in a global era, in which what happens thousands of miles away has the ability to affect our lives. This time, it is a Coronavirus known as Covid-19, which originated in a Chinese city many had never heard of but has spread to the corners of the earth. Next time it could well be another infectious disease from somewhere else. Twenty years ago it was a group of terrorists trained in Afghanistan and armed with box-cutters who commandeered four airplanes and flew them into buildings (and in one case a field) and claimed nearly three thousand lives. Next time it could be terrorists who use a truck bomb or gain access to a weapon of mass destruction. In 2016 hackers in a nondescript office building in Russia traveled virtually in cyberspace to manipulate America's elections. Now they have burrowed into our political life. In recent years, severe hurricanes and large fires linked to climate change have ravaged parts of the earth; in the future we can anticipate even more serious natural disasters. In 2008, it was a global financial crisis caused by mortgage-backed securities in America, but one day it could well be a financial contagion originating in Europe, Asia, or Africa. This is the new normal of the 21st century.

The World is designed to provide readers of any age and experience with the essential background and building blocks they need to make sense of this complicated and interconnected world. It will empower them to manage the flood of daily news. Readers will become more informed, discerning citizens, better able to arrive at sound, independent judgments. While it is impossible to predict what the next crisis will be or where it will originate, those who read The World will have what they need to understand its basics and the principal choices for how to respond.
The Book of V. by Anna Solomon.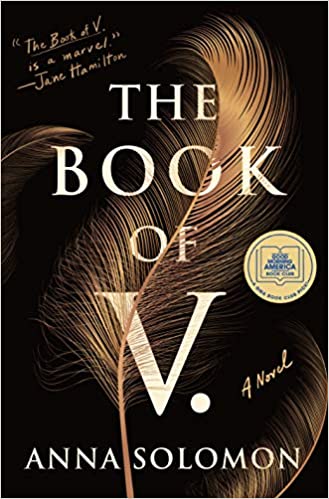 Lily is a mother and a daughter. And a second wife. And a writer, maybe? Or she was going to be, before she had children. Now, in her rented Brooklyn apartment she's grappling with her sexual and intellectual desires, while also trying to manage her roles as a mother and a wife in 2016.

Vivian Barr seems to be the perfect political wife, dedicated to helping her charismatic and ambitious husband find success in Watergate-era Washington D.C. But one night he demands a humiliating favor, and her refusal to obey changes the course of her life―along with the lives of others.

Esther is a fiercely independent young woman in ancient Persia, where she and her uncle's tribe live a tenuous existence outside the palace walls. When an innocent mistake results in devastating consequences for her people, she is offered up as a sacrifice to please the King, in the hopes that she will save them all.

In Anna Solomon's The Book of V. these three characters' riveting stories overlap and ultimately collide, illuminating how women's lives have and have not changed over thousands of years.
Rodham: A Novel by Curtis Sittenfeld.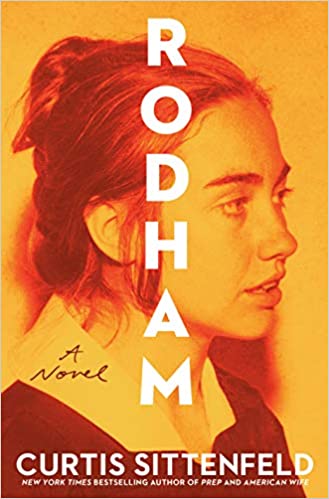 In 1971, Hillary Rodham is a young woman full of promise: Life magazine has covered her Wellesley commencement speech, she's attending Yale Law School, and she's on the forefront of student activism and the women's rights movement. And then she meets Bill Clinton. A handsome, charismatic southerner and fellow law student, Bill is already planning his political career. In each other, the two find a profound intellectual, emotional, and physical connection that neither has previously experienced.

In the real world, Hillary followed Bill back to Arkansas, and he proposed several times; although she said no more than once, as we all know, she eventually accepted and became Hillary Clinton.

But in Curtis Sittenfeld's powerfully imagined tour-de-force of fiction, Hillary takes a different road. Feeling doubt about the prospective marriage, she endures their devastating breakup and leaves Arkansas. Over the next four decades, she blazes her own trail—one that unfolds in public as well as in private, that involves crossing paths again (and again) with Bill Clinton, that raises questions about the tradeoffs all of us must make in building a life.

Brilliantly weaving a riveting fictional tale into actual historical events, Curtis Sittenfeld delivers an uncannily astute and witty story for our times. In exploring the loneliness, moral ambivalence, and iron determination that characterize the quest for political power, as well as both the exhilaration and painful compromises demanded of female ambition in a world still run mostly by men, Rodham is a singular and unforgettable novel.