The Springfield Township Community Arts Center will reopen to the public on July 6, 2020. You can now purchase memberships and register for classes online at www.TheArtsConnect.us
The arts center, located behind the fire station at 9158 Winton Road, features a new pottery studio as well as a woodshop, gallery, four large rooms for art classes and an outdoor patio. Class sizes are small making it possible for social distancing with plenty of space to build, make and create. Many classes will have the option to be in person or at home during the scheduled class time through Zoom.
ArtsConnect will be observing all safety practices required by the state in July when the center re-opens.
ArtsConnect members receive a 10% discount on classes, event tickets, clay, kiln firing and retail items. They also receive a discount on coffee. Become a member here.
NEW pottery and woodshop open studio passes can be purchased upon completion of an intro to woodshop or intro to wheels class.
*Daily senior social programming will resume when the State of Ohio permits senior-specific programming. (Opening of senior center facilities).
Register Now For:
Kids:
Tiny Tots Art & Yoga (Ages 3-6 with Adult) (NEW!)
Music lessons (Online)
Lollipop Pre-Piano (Ages 4-6)
Piano (Ages 7 +)
Flute, Trumpet, Clarinet, French Horn, Alto Saxophone, Trombone and Snare Drum (Ages 9 and over)
Guitar Workshops (NEW!)
First Act! Kids Theater (Ages 7-13)
Drawing & Painting (Ages 7-13)
Kids Hand Building Pottery (Ages 7-13)
Kids Sewing (Ages 7-13)
Pint-Sized Picassos (Ages 4-6)
Discover Magic! (Ages 7-13) (NEW!)
Kids Embroidery Workshop (Ages 8-12) (NEW!)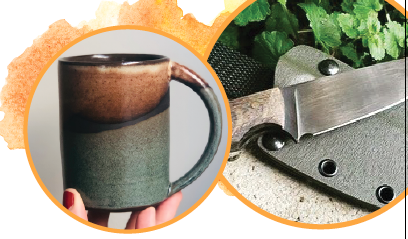 Adults: (Ages 14 +)
Nature & Wildlife Photography (NEW!)
Art Workshops: (NEW!) Palette Knife, Egg Tempra, Alcohol Inks, Embroidery, Jewelry Design, Ukrainian Egg, Lampwork (torchwork), Writing & Publishing, Audacity (Sound Production), Guitar, Date Night Pottery, Clay Jewelry Making, Monthly Mugs
Jivamuki Yoga (NEW!)
Power of Self Care Chair Yoga (NEW!)
Intro to Pottery Wheels (NEW!)
Intermediate Pottery Wheel (NEW!)
Date Night Pottery (NEW!)
Clay Jewelry Making (NEW!)
Monthly Mugs (NEW!)
Intro To Blacksmithing (NEW!)
Blacksmithing Hook Workshops (NEW!)
Fundamentals of Picture Framing
Woodturning Workshop (NEW!)
Themed Woodcraft Workshops: (NEW!) Cutting board, Serving tray, Holiday Platter
For more information, call ArtsConnect at 522-2108. Staff is working even though the center is closed.