Launched in 2014, the Find MI Care app and website is an innovative approach to the improper utilization of emergency departments. Improper use of the emergency department is not just a regional problem but a national one, fueled by a myriad of social issues including a lack of knowledge about affordable, coordinated care available in the community. Find MI Care fills this gap and offers users a simple interface to find free and/or low-cost care close to home. Users can use Find MI Care to locate a variety of services such as primary care, pediatric, dental care and other vital services.
In February, Delta Dental provided GDAHC with funding to support the maintenance of Find MI Care. They recently learned of this valuable service while presenting at a PO Connection meeting, which is an engaged group of physician organizations and emergency department leaders working collaboratively to reduce ED visits, admissions, and readmissions - a founding goal in the development of Find MI Care.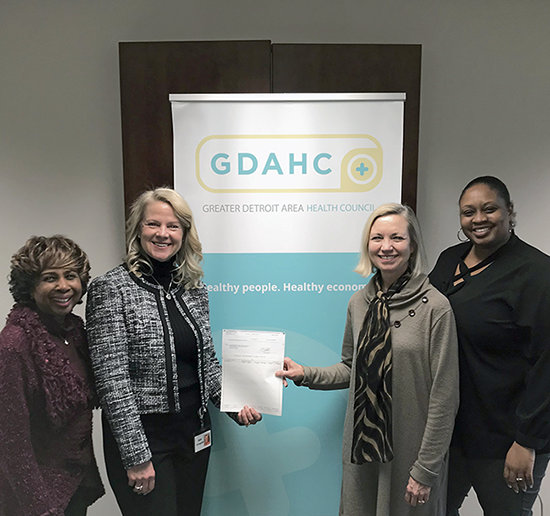 Delta Dental's Becky Domagalski and Dennise Hodge presented GDAHC's Lisa Mason and Andrell Sturdivant with the support funds at the GDAHC office.
GDAHC is grateful for Delta Dental's support of this essential community asset. In turn, Delta Dental is pleased to have an easy-to-use tool to help in their mission of connecting everyone to important dental services.
Find MI Care is available for download in both the app store and Google Play store. It can be accessed by visiting www.FindMICare.org.