Enter your pet to become the next Cadbury Bunny!
Cadbury is inviting actual pets to apply for the role by donning some ears and doing their best impersonations of the Cadbury bunny. To get your pet an audition, just head to Cadbury's website now through Feb. 24 to submit a photo of your pet wearing bunny ears, and describe why they should be on TV. To read the full article at Simplemost, click here.
Now let's see what's new or arriving soon to our shelves! As always, if you see something you like, just click on the book image to "hop" on over to our catalog and put a hold on that item using your library card number and your PIN!
When You See Me by Lisa Gardner. Book #11 in the Detective D.D. Warren series.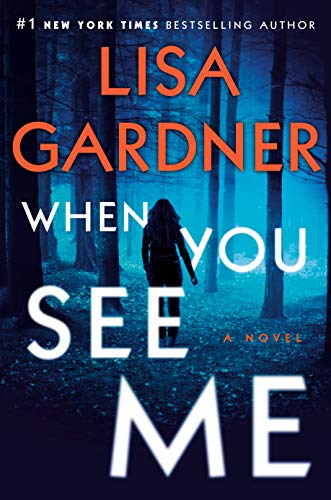 FBI Special Agent Kimberly Quincy and Sergeant Detective D. D. Warren have built a task force to follow the digital bread crumbs left behind by deceased serial kidnapper Jacob Ness. When a disturbing piece of evidence is discovered in the hills of Georgia, they bring Flora Dane and true-crime savant Keith Edgar to a small town where something seems to be deeply wrong. What at first looks like a Gothic eeriness soon hardens into something much more sinister...and they discover that for all the evil Jacob committed while alive, his worst secret is still to be revealed. Quincy and DD must summon their considerable skills and experience to crack the most disturbing case of their careers—and Flora must face her own past directly in the hope of saving others.
The Family Business 5 by Carl Weber. The 5th book in the Family Business series.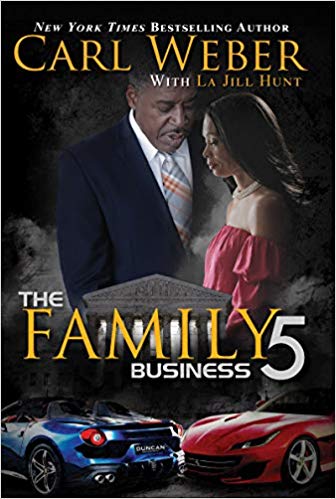 From the time he was a boy in Georgia, LC Duncan, patriarch and leader of the Duncan clan, has battled racism. Even now that he and his family are truly successful, the racism can still be in-your-face. Maybe it's the political climate or perhaps it's just bad timing, but LC and the rest of the Duncans are being challenged by the ultimate power-hungry racist, Sheriff KD Shrugs.

Nevada Duncan is at that age when girls and sex are always on his mind. His handsome face and superior intellect attract Kia, the beautiful "Blasian" call girl who tempts him into running away to a place where the Duncans are definitely not wanted—El Paso, Texas, the home of KD Shrugs.

What is the worst thing that can happen to a handsome, rich millennial? Rio Duncan would say it's mistaken identity after being beat down in a nightclub by someone who thinks he's Roman Johnson, a stickup kid who happens to be Rio's doppelganger. What happens next will open up the biggest can of worms the Duncans have ever had to deal with.

Get ready for another roller coaster ride with the Duncan family.
Last Day by Luanne Rice.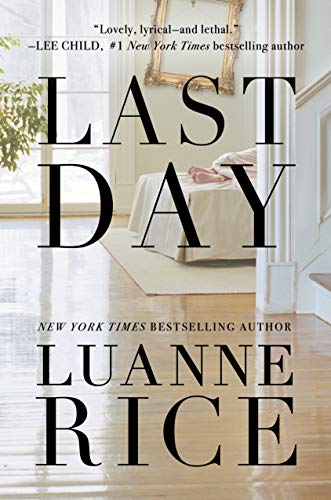 Years ago, Beth Lathrop and her sister Kate suffered what they thought would be the worst tragedy of their lives the night both the famous painting Moonlight and their mother were taken. The detective assigned to the case, Conor Reid, swore to protect the sisters from then on.
Beth moved on, throwing herself fully into the art world, running the family gallery, and raising a beautiful daughter with her husband Pete. Kate, instead, retreated into herself and took to the skies as a pilot, always on the run. When Beth is found strangled in her home, and Moonlight goes missing again, Detective Reid can't help but feel a sense of déjà vu.
Reid immediately suspects Beth's husband, whose affair is a poorly kept secret. He has an airtight alibi—but he also has a motive, and the evidence seems to point to him. Kate and Reid, along with the sisters' closest childhood friends, struggle to make sense of Beth's death, but they only find more questions: Who else would have wanted Beth dead? What's the significance of Moonlight?
Twenty years ago, Reid vowed to protect Beth and Kate—and he's failed. Now solving the case is turning into an obsession.
Crooked River by Preston & Child. Book #19 in the Pendergrast series.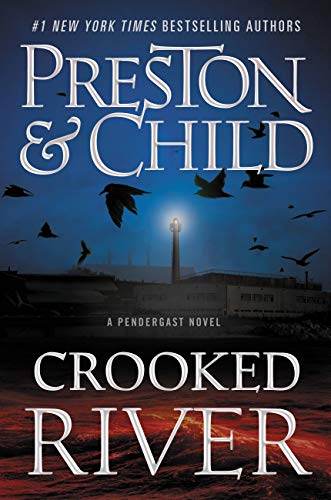 A STARTLING CRIME WITH DOZENS OF VICTIMS.

Appearing out of nowhere to horrify the quiet resort town of Sanibel Island, Florida, dozens of identical, ordinary-looking shoes float in on the tide and are washed up on the tropical beach--each one with a crudely severed human foot inside.

A GHASTLY ENIGMA WITH NO APPARENT SOLUTION.

Called away from vacation elsewhere in the state, Agent Pendergast reluctantly agrees to visit the crime scene--and, despite himself, is quickly drawn in by the incomprehensible puzzle. An early pathology report only adds to the mystery. With an ocean of possibilities confronting the investigation, no one is sure what happened, why, or from where the feet originated. And they desperately need to know: are the victims still alive?

A WORTHY CHALLENGE FOR A BRILLIANT MIND.

In short order, Pendergast finds himself facing the most complex and inexplicable challenge of his career: a tangled thread of evidence that spans seas and traverses continents, connected to one of the most baffling mysteries in modern medical science. Through shocking twists and turns, all trails lead back to a powerful adversary with a sadistic agenda and who--in a cruel irony--ultimately sees in Pendergast the ideal subject for their malevolent research.
Our of The Attic by V. C. Andrews. Book #10 in the Dollanganger series.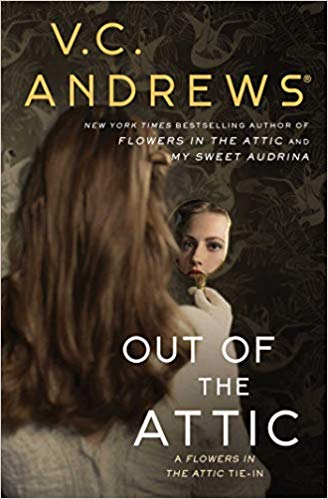 Married to the handsome, wealthy Garland Foxworth following a wildfire romance, and an unexpected pregnancy, young Corrine Dixon finds her life very different from how she imagined it. Often alone in the mansion of Foxworth Hall, she can practically feel the ancestors' judgment of her as insufficient—as not a Foxworth. Stern portraits glare at her from the walls, and the servants treat her strangely. Nothing in the vast place is truly hers.

Even her son, Malcolm Foxworth, born in the luxe Swan Room and instantly whisked away to a wet nurse, feels alien to her. With a husband alternately absent and possessively close, Corrine doesn't yet realize that she's barely scratched the surface of what lies beneath Foxworth Hall's dark facade and the family that guards its legacies.
Golden In Death by J. D. Robb. Book #50 in the In Death series.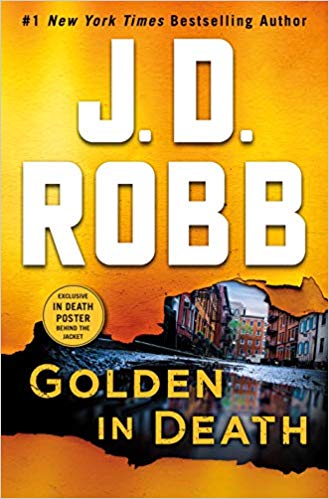 Pediatrician Kent Abner received the package on a beautiful April morning. Inside was a cheap trinket, a golden egg that could be opened into two halves. When he pried it apart, highly toxic airborne fumes entered his body―and killed him.
After Eve Dallas calls the hazmat team―and undergoes testing to reassure both her and her husband that she hasn't been exposed―it's time to look into Dr. Abner's past and relationships. Not every victim Eve encounters is an angel, but it seems that Abner came pretty close―though he did ruffle some feathers over the years by taking stands for the weak and defenseless. While the lab tries to identify the deadly toxin, Eve hunts for the sender. But when someone else dies in the same grisly manner, it becomes clear that she's dealing with either a madman―or someone who has a hidden and elusive connection to both victims.
The Museum of Desire by Jonathan Kellerman. Book #35 in the Alex Delaware series.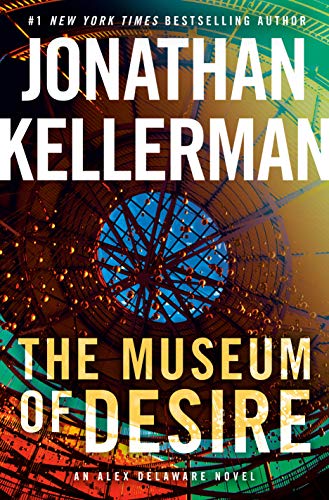 LAPD Lieutenant Milo Sturgis has solved a lot of murder cases. On many of them—the ones he calls "different"—he taps the brain of brilliant psychologist Dr. Alex Delaware. But neither Alex nor Milo are prepared for what they find on an early morning call to a deserted mansion in Bel Air. This one's beyond different. This is predation, premeditation, and cruelty on a whole new level.

Four people have been slaughtered and left displayed bizarrely and horrifically in a stretch limousine. Confounding the investigation, none of the victims seems to have any connection to any other, and a variety of methods have been used to dispatch them. As Alex and Milo make their way through blind alleys and mazes baited with misdirection, they encounter a crime so vicious that it stretches the definitions of evil.