A Year in Review
In 2019, the Greater Detroit Area Health Council celebrated 75 years of community-based service dedicated to improving the health of the region through collaborative initiatives and programs with our members. It is through the support of our member and partner organizations that we are able to achieve such a great success and that we collectively promote our vision of "Healthy people. Healthy community. Healthy economy." across Southeast Michigan. Please enjoy a review of what we accomplished in 2019.
---
Key Achievements in 2019
Established the Diabetes Prevention Resource Center with support from the Southeast Michigan Hospital Collaborative. It is a one-stop shop for community members to easily understand what prediabetes is, how they can learn if they have it, why they should enroll in the Diabetes Prevention Program, and how to find and sign-up for a DPP class.
Implemented the first cohort for I Choose Health at Mount Clemens Middle School and High School to prevent the onset of type 2 diabetes in youth. The cohort included 26 students, with 70% either maintaining or lowering their Body Mass Index and therefore their risk for type 2 diabetes.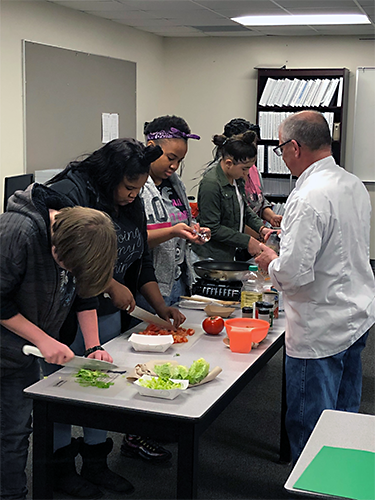 Students in the I Choose Health class learn to make a health meal during a cooking demo.
Developed a pilot program proposal through the PO Connection aimed at reducing emergency department use, emergency admissions and readmissions. Currently, the group is focusing on innovative approaches for handling after-hours coverage in primary care practices and is engaging specially-trained community paramedics to make home visits under the care of a primary care or emergency provider. Target populations include those who have been recently discharged with high-risk diagnoses and those who call 911 but don't necessarily require transport to an ED.
Developed prototype materials to educate on infant safe sleep best practices for the Michigan Department of Health and Human Services.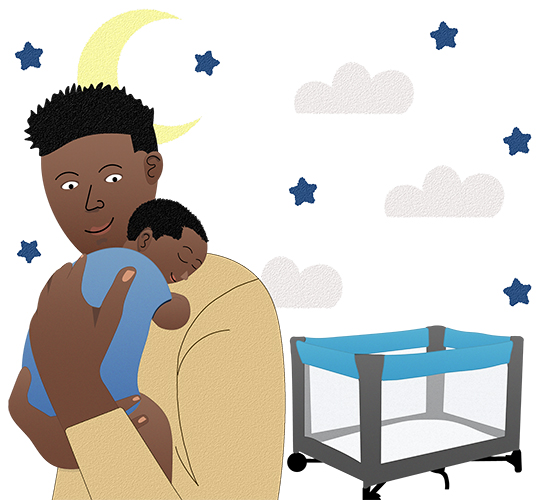 Illustration created for MDHHS infant safe sleep materials.
Updated Find MI Care through a partnership with Delta Dental of Michigan, who stepped up to meet the need to continue offering a free and easy way for patients, providers, and emergency department staff to find free and low-cost primary care and dental services.
Completed the second year of the Healthy Baby at Home (HB@H) quality improvement project through the Southeast Michigan Perinatal Quality Improvement Coalition (SEMPQIC). HB@H has helped to increase participation in evidence-based home visiting programs for pregnant and postpartum women through the streamlining of referral protocols at prenatal clinics and hospital NICUs.
Continued commitment to transparency and quality improvement through public reporting of provider performance on GDAHC's myCareCompare.org website, which remains Michigan's first and only site that reports publicly on provider performance with data from the area's four major commercial health plans. The 13th report will be completed before the end of the year.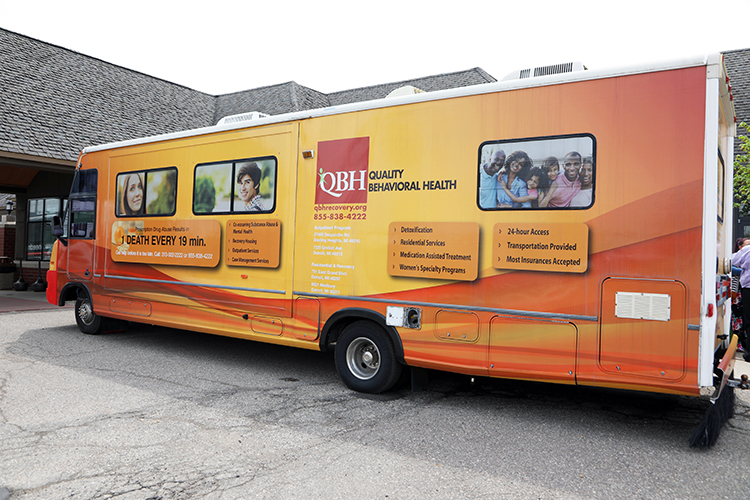 A mobile Narcan training unit brought to the opioid summit by Quality Behavioral Health. Summit attendees were able to learn to administer Narcan for free.
Hosted the 4th Annual Opioid Abuse and Heroin Overdose Solutions Summit in partnership with the Detroit Wayne Integrated Health Network (formerly Detroit Wayne Mental Health Authority). Over 550 guests participated in the day-long conference with 26 speakers and panelists providing information about recent advancements in prevention and treatment.
---
Our Work
Choosing Wisely® - reduces the overuse of medical tests, treatments, and procedures.
Coffee & Controversy - educational events led by subject matter experts.
Find MI Care - website and mobile app to locate free and low-cost health care services.
Health Equity Resource Group - promotes awareness of the consequences of health inequities and supports overall population wellness.
Hypertension Improvement Project - reduces high blood pressure through peer-to-peer education.
I Choose Health - a lifestyle intervention program for youth who are at-risk for developing type 2 diabetes.
Infant Safe Sleep Project - provides culturally competent messaging to educate families on proper safe sleep practices and reduce sleep related deaths.
myCareCompare.org - a public report to share provider performance data.
Southeast Michigan Alliance for Addiction-Free Communities - a task force dedicated to fighting the opioid crisis and substance use disorders.
Southeast Michigan Hospital Collaborative - a collective impact partnership focused on diabetes prevention and management.
Southeast Michigan Perinatal Quality Improvement Coalition - improves infant and maternal health and decreases health disparities.
The PO Connection - promotes better value across the health care continuum.