Whether you savor the extra sunlight in the summer or dread the jarring time jump, Daylight Saving Time is inevitable (at least in most parts of the country). Click here for 10 things you should know before making the biannual change.
Now let's find something good to read in that extra hour you'll get soon! Check out what's new or arriving soon to our shelves! See something that you must read? Just click on the book image to go to our catalog and place that item on hold using your library card number and your PIN!
What Set Me Free (The Story That Inspired the Major Motion Picture): A True Story of Wrongful Conviction, a Dream Deferred, and a Man Redeemed by Brian Banks.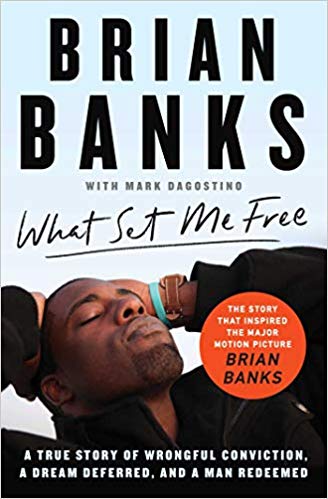 At age sixteen, Brian Banks was a nationally recruited All-American Football player, ranked eleventh in the nation as a linebacker. Before his seventeenth birthday, he was in jail, awaiting trial for a heinous crime he did not commit.

Although Brian was innocent, his attorney advised him that as a young black man accused of rape, he stood no chance of winning his case at trial. Especially since he would be tried as an adult. Facing a possible sentence of forty-one years to life, Brian agreed to take a plea deal—and a judge sentenced him to six years in prison.

At first, Brian was filled with fear, rage, and anger as he reflected on the direction his life had turned and the unjust system that had imprisoned him. Brian was surrounded by darkness, until he had epiphany that would change his life forever. From that moment on, he made the choice to shed the bitterness and anger he felt, and focus only on the things he had the power to control. He approached his remaining years in prison with a newfound resolve, studying spirituality, improving his social and writing skills, and taking giant leaps on his journey toward enlightenment.

When Brian emerged from prison with five years of parole still in front of him, he was determined to rebuild his life and finally prove his innocence. Three months before his parole was set to expire, armed with a shocking recantation from his accuser and the help of the California Innocence Project, the truth about his unjust incarceration came out and he was exonerated. Finally free, Brian sought to recapture a dream once stripped away: to play for the NFL. And at age twenty-eight, he made that dream come true.
What Happens in Paradise by Elin Hilderbrand. Book #2 of the Paradise series.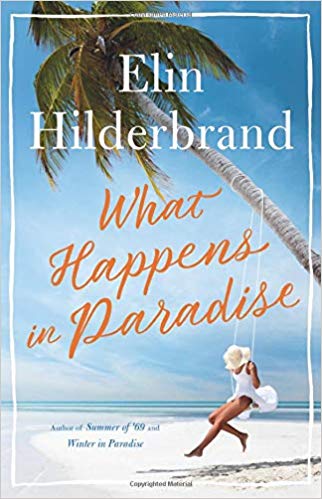 A year ago, Irene Steele had the shock of her life: her loving husband, father to their grown sons and successful businessman, was killed in a helicopter crash. But that wasn't Irene's only shattering news: he'd also been leading a double life on the island of St. John, where another woman loved him, too.

Now Irene and her sons are back on St. John, determined to learn the truth about the mysterious life -and death - of a man they thought they knew. Along the way, they're about to learn some surprising truths about their own lives, and their futures.
Breathe: A Letter to My Sons by Imani Perry.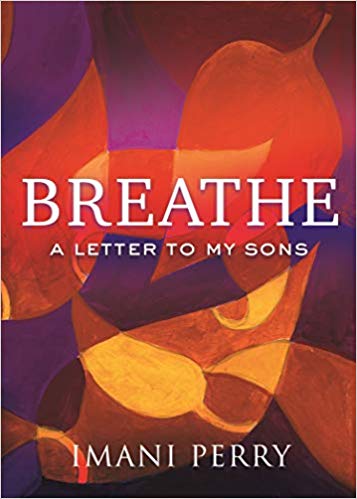 Emotionally raw and deeply reflective, Imani Perry issues an unflinching challenge to society to see Black children as deserving of humanity. She admits fear and frustration for her African American sons in a society that is increasingly racist and at times seems irredeemable. However, as a mother, feminist, writer, and intellectual, Perry offers an unfettered expression of love—finding beauty and possibility in life—and she exhorts her children and their peers to find the courage to chart their own paths and find steady footing and inspiration in Black tradition.

Perry draws upon the ideas of figures such as James Baldwin, W. E. B. DuBois, Emily Dickinson, Toni Morrison, Ralph Waldo Emerson, and Ida B. Wells. She shares vulnerabilities and insight from her own life and from encounters in places as varied as the West Side of Chicago; Birmingham, Alabama; and New England prep schools.
Free Cyntoia: My Search for Redemption in the American Prison System by Cyntoia Brown-Long.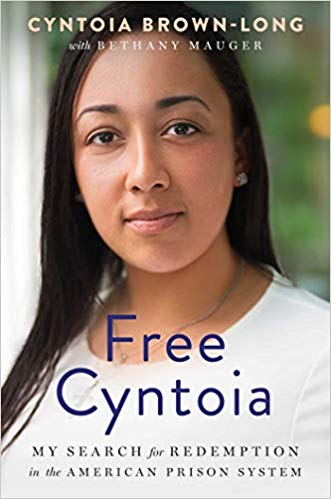 Cyntoia Brown was sentenced to life in prison for a murder she committed at the age of sixteen. Her case became national news when celebrities and activists made the hashtag #FreeCyntoia go viral in 2017. She was granted full clemency after having served fifteen years, walking out a free woman on August 7, 2019.

This is her story, in her own words.

In these pages, written over the fifteen years she was incarcerated, Cyntoia shares the difficult early life that lead to that fateful night and how she found the strength to not only survive, but thrive, in prison.

A coming-of-age memoir set against the shocking backdrop of a life behind bars, Free Cyntoia takes you on a spiritual journey as Cyntoia struggles to overcome a legacy of family addiction and a lifetime of feeling ostracized and abandoned by society.

Born to a teenage alcoholic mother who was also a victim of sex trafficking, Brown reflects on the isolation, low self-esteem, and sense of alienation that drove her straight into the hands of a predator.

Though she attempts to build a positive path and honor the values her beloved adoptive mother taught her, Cyntoia succumbs to harmful influences that drive her to a cycle of promise and despair. After a fateful meeting with a prison educator turned mentor, Cyntoia makes the pivotal decision to take classes at Lipscomb University and strive for a better future, even if she's never freed.

For the first time ever, Cyntoia shares the details of her transformation, including a profound encounter with God, an unlikely romance, and an unprecedented outpouring of support from social media advocates and A-list celebrities, which ultimately lead to clemency and her release from prison.

Giving a rare look at the power of love, forgiveness, and self-discovery in the darkest of places, Free Cyntoia is a deeply personal portrait of one woman's journey for redemption within a system that had failed her from childhood.
Olive, Again by Elizabeth Strout. Book #2 in the Olive Kitteridge series.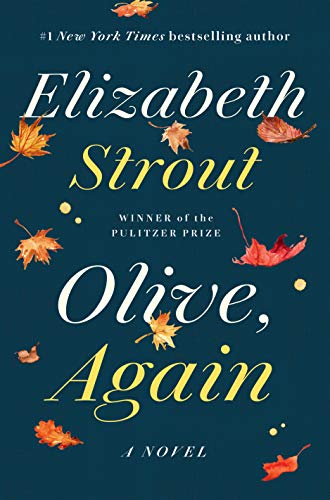 Prickly, wry, resistant to change yet ruthlessly honest and deeply empathetic, Olive Kitteridge is "a compelling life force" (San Francisco Chronicle). The New Yorker has said that Elizabeth Strout "animates the ordinary with an astonishing force," and she has never done so more clearly than in these pages, where the iconic Olive struggles to understand not only herself and her own life but the lives of those around her in the town of Crosby, Maine. Whether with a teenager coming to terms with the loss of her father, a young woman about to give birth during a hilariously inopportune moment, a nurse who confesses a secret high school crush, or a lawyer who struggles with an inheritance she does not want to accept, the unforgettable Olive will continue to startle us, to move us, and to inspire us—in Strout's words—"to bear the burden of the mystery with as much grace as we can."
The Infinite Game by Simon Sinek.
How do we win a game that has no end? Finite games, like football or chess, have known players, fixed rules and a clear endpoint. The winners and losers are easily identified. Infinite games, games with no finish line, like business or politics, or life itself, have players who come and go. The rules of an infinite game are changeable while infinite games have no defined endpoint. There are no winners or losers—only ahead and behind.

The question is, how do we play to succeed in the game we're in?

In this revelatory new book, Simon Sinek offers a framework for leading with an infinite mindset. On one hand, none of us can resist the fleeting thrills of a promotion earned or a tournament won, yet these rewards fade quickly. In pursuit of a Just Cause, we will commit to a vision of a future world so appealing that we will build it week after week, month after month, year after year. Although we do not know the exact form this world will take, working toward it gives our work and our life meaning.

Leaders who embrace an infinite mindset build stronger, more innovative, more inspiring organizations. Ultimately, they are the ones who lead us into the future.
The Dutch House by Ann Patchett.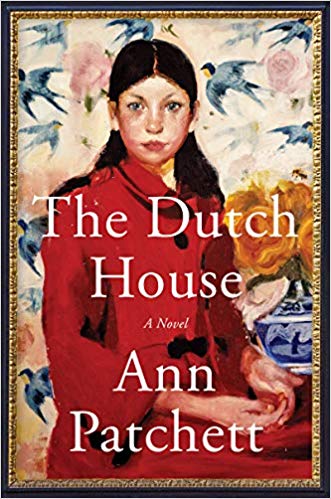 At the end of the Second World War, Cyril Conroy combines luck and a single canny investment to begin an enormous real estate empire, propelling his family from poverty to enormous wealth. His first order of business is to buy the Dutch House, a lavish estate in the suburbs outside of Philadelphia. Meant as a surprise for his wife, the house sets in motion the undoing of everyone he loves.
The story is told by Cyril's son Danny, as he and his older sister, the brilliantly acerbic and self-assured Maeve, are exiled from the house where they grew up by their stepmother. The two wealthy siblings are thrown back into the poverty their parents had escaped from and find that all they have to count on is one another. It is this unshakeable bond between them that both saves their lives and thwarts their futures.
Set over the course of five decades, The Dutch House is a dark fairy tale about two smart people who cannot overcome their past. Despite every outward sign of success, Danny and Maeve are only truly comfortable when they're together. Throughout their lives they return to the well-worn story of what they've lost with humor and rage. But when at last they're forced to confront the people who left them behind, the relationship between an indulged brother and his ever-protective sister is finally tested.
Land of Wolves by Craig Johnson. Book #15 of the Walt Longmire series.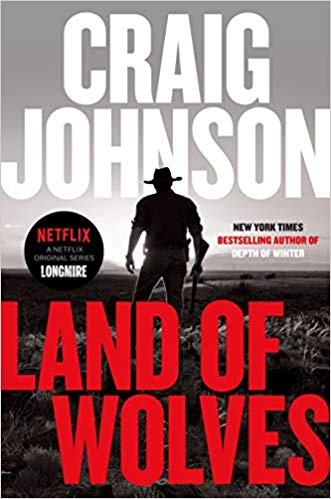 Recovering from his harrowing experiences in Mexico, Sheriff Walt Longmire returns to Absaroka County, Wyoming, to lick his wounds and try once again to maintain justice in a place with grudges that go back generations. When a shepherd is found dead, Longmire suspects it could be suicide. But the shepherd's connection to the Extepares, a powerful family of Basque ranchers with a history of violence, leads the sheriff into an intricate investigation of a possible murder.

As Walt searches for information about the shepherd, he comes across strange carvings on trees, as well as play money coupons from inside Mallo Cup candies, which he interprets as messages from his spiritual guide, Virgil White Buffalo. Longmire doesn't know how these little blue cards are appearing, but Virgil usually reaches out if a child is in danger. So when a young boy with ties to the Extepare clan arrives in town, the stakes grow even higher.

Even more complicating, a renegade wolf has been haunting the Bighorn Mountains, and the townspeople are out for blood. With both a wolf and a killer on the loose, Longmire follows a twisting trail of evidence, leading to dark and shocking conclusions.
Wyoming Heart by Diana Palmer. Book #9 of the Wyoming Men series.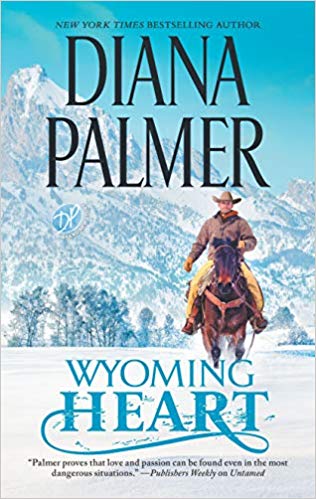 Cort Grier is no ordinary rancher. Despite his vast wealth, he still works the land with his own bare hands, unlike his troublesome new neighbor, Mina Michaels. Fiery, beautiful Mina infuriates and entrances Cort, awakening feelings he'd thought long buried. But he knows falling for a city girl can lead only to heartbreak…

Bestselling author Mina hardly expects to meet a man like the ones in her novels. But roguishly handsome Cort is an alpha hero through and through, from his stubborn streak to the fierce way this rugged cowboy protects his heart. When one sizzling kiss leads to another, can Mina convince Cort to open his world to her—now and forever?
Blue Moon by Lee Child. The Jack Reacher series, #24.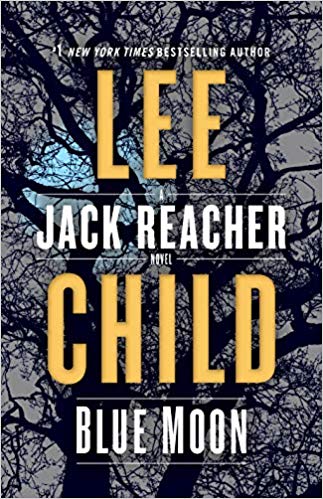 "This is a random universe," Reacher says. "Once in a blue moon things turn out just right."

This isn't one of those times.

Reacher is on a Greyhound bus, minding his own business, with no particular place to go, and all the time in the world to get there. Then he steps off the bus to help an old man who is obviously just a victim waiting to happen. But you know what they say about good deeds. Now Reacher wants to make it right.

An elderly couple have made a few well-meaning mistakes, and now they owe big money to some very bad people. One brazen move leads to another, and suddenly Reacher finds himself a wanted man in the middle of a brutal turf war between rival Ukrainian and Albanian gangs.

Reacher has to stay one step ahead of the loan sharks, the thugs, and the assassins. He teams up with a fed-up waitress who knows a little more than she's letting on, and sets out to take down the powerful and make the greedy pay. It's a long shot. The odds are against him. But Reacher believes in a certain kind of justice . . . the kind that comes along once in a blue moon.
Final Option by Clive Cussler. Book #14 of the Oregon Files series.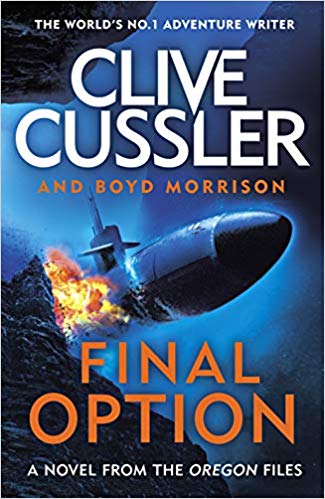 Juan Cabrillo and his team of expert operatives return in this latest entry in Clive Cussler's Oregon Files series. Aboard the Oregon, one of the most advanced spy ships ever built, they face new challenges and nemeses as they undertake another dangerous mission.