Treat your kitty nicely!
The lion used in the original MGM movie logo killed its trainer and two assistants the day after the logo was filmed. For more fun facts, visit factropolis!
In the meantime, check out what's new or arriving soon on our shelves! Curious as a cat about a title? Simply click on the book image to go to our catalog and put that item on hold using your library card number and your PIN. Don't have your PIN? We can give that to you at the library! (Sorry, we can't give out PIN numbers over the phone or via email.)
The Book of Gutsy Women: Favorite Stories of Courage and Resilience by Hillary Rodham Clinton and Chelsea Clinton.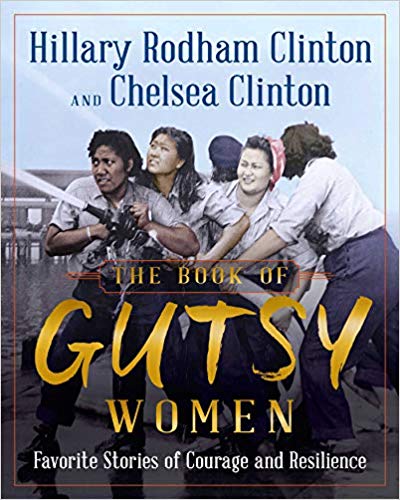 HILLARY: Growing up, I knew hardly any women who worked outside the home. So I looked to my mother, my teachers, and the pages of Life magazine for inspiration. After learning that Amelia Earhart kept a scrapbook with newspaper articles about successful women in male-dominated jobs, I started a scrapbook of my own. Long after I stopped clipping articles, I continued to seek out stories of women who seemed to be redefining what was possible.

CHELSEA: This book is the continuation of a conversation the two of us have been having since I was little. For me, too, my mom was a hero; so were my grandmothers. My early teachers were also women. But I grew up in a world very different from theirs. My pediatrician was a woman, and so was the first mayor of Little Rock who I remember from my childhood. Most of my close friends' moms worked outside the home as nurses, doctors, teachers, professors, and in business. And women were going into space and breaking records here on Earth.

Ensuring the rights and opportunities of women and girls remains a big piece of the unfinished business of the twenty-first century. While there's a lot of work to do, we know that throughout history and around the globe women have overcome the toughest resistance imaginable to win victories that have made progress possible for all of us. That is the achievement of each of the women in this book.
The Attitude Book: 50 Ways to Positively Affect Your Life and Work by Simon Tyler.
In this original and engaging book, a leading business coach demonstrates how we can shift our attitudes to create positive change and outcomes in our work and personal lives. In doing so, he helps us to reassess our current habits and behaviours, and makes us realize the wider choices we have in coping and dealing with people, issues and problems in our everyday lives.
The Whisper Man by Alex North.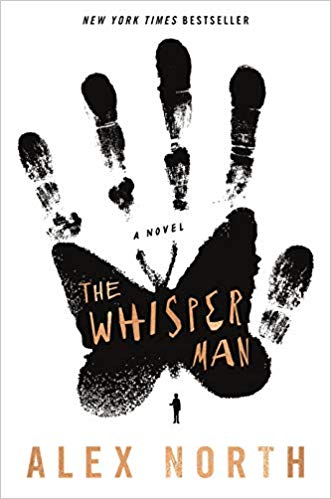 After the sudden death of his wife, Tom Kennedy believes a fresh start will help him and his young son Jake heal. A new beginning, a new house, a new town. Featherbank.
But the town has a dark past. Twenty years ago, a serial killer abducted and murdered five residents. Until Frank Carter was finally caught, he was nicknamed "The Whisper Man," for he would lure his victims out by whispering at their windows at night.
Just as Tom and Jake settle into their new home, a young boy vanishes. His disappearance bears an unnerving resemblance to Frank Carter's crimes, reigniting old rumors that he preyed with an accomplice. Now, detectives Amanda Beck and Pete Willis must find the boy before it is too late, even if that means Pete has to revisit his great foe in prison: The Whisper Man.
And then Jake begins acting strangely. He hears a whispering at his window...
The Lost Founding Father: John Quincy Adams and the Transformation of American Politics by William J. Cooper.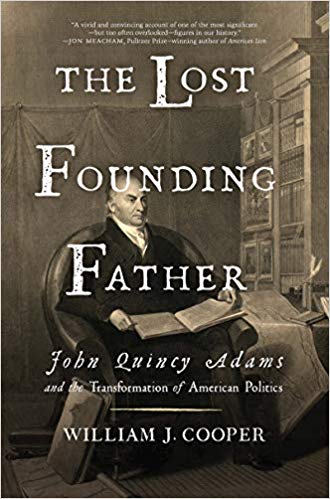 Overshadowed by both his brilliant father and the brash and bold Andrew Jackson, John Quincy Adams has long been dismissed as an aloof intellectual. Viciously assailed by Jackson and his populist mobs for being both slippery and effete, Adams nevertheless recovered from defeat in 1828's presidential election to lead the nation as a lonely Massachusetts congressman in the fight against slavery. Award-winning historian William J. Cooper's "balanced, wellsourced, and accessible work" (Publishers Weekly) demonstrates that Adams should be considered our lost Founding Father, his moral and political vision the final link to the visionaries who created our nation. With his heroic arguments in the Amistad trial forever memorialized, Adams stood strong against the expansion of slavery that would send the nation hurtling into war. This "well-crafted" (William McFeely) biography reveals Adams to be one of the most battered, but courageous and inspirational, politicians in American history. 12 illustrations; 1 map
The Fabulous Bouvier Sisters: The Tragic and Glamorous Lives of Jackie and Lee by Sam Kashner.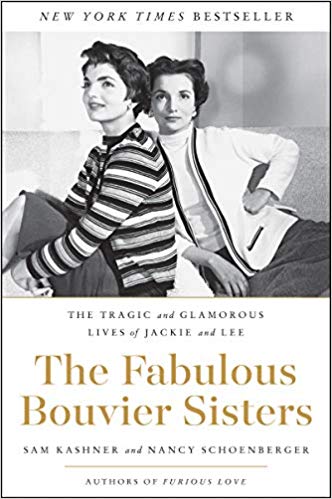 When sixty-four-year-old Jackie Kennedy Onassis died in her Fifth Avenue apartment, her younger sister Lee wept inconsolably. Then Jackie's thirty-eight-page will was read. Lee discovered that substantial cash bequests were left to family members, friends, and employees—but nothing to her. "I have made no provision in this my Will for my sister, Lee B. Radziwill, for whom I have great affection, because I have already done so during my lifetime," read Jackie's final testament. Drawing on the authors' candid interviews with Lee Radziwill, The Fabulous Bouvier Sisters explores their complicated relationship, placing them at the center of twentieth-century fashion, design, and style.
In life, Jackie and Lee were alike in so many ways. Both women had a keen eye for beauty—in fashion, design, painting, music, dance, sculpture, poetry—and both were talented artists. Both loved pre-revolutionary Russian culture, and the blinding sunlight, calm seas, and ancient olive groves of Greece. Both loved the siren call of the Atlantic, sharing sweet, early memories of swimming with the rakish father they adored, Jack Vernou Bouvier, at his East Hampton retreat. But Jackie was her father's favorite, and Lee, her mother's. One would grow to become the most iconic woman of her time, while the other lived in her shadow. As they grew up, the two sisters developed an extremely close relationship threaded with rivalry, jealousy, and competition. Yet it was probably the most important relationship of their lives.
The World That We Knew by Alice Hoffman.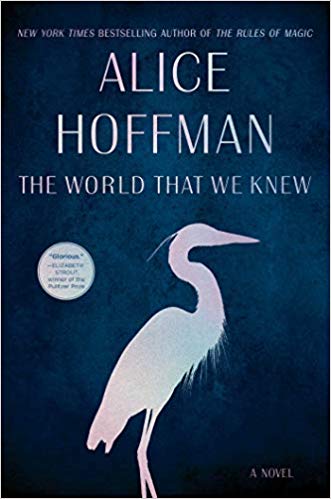 In Berlin, at the time when the world changed, Hanni Kohn knows she must send her twelve-year-old daughter away to save her from the Nazi regime. She finds her way to a renowned rabbi, but it's his daughter, Ettie, who offers hope of salvation when she creates a mystical Jewish creature, a rare and unusual golem, who is sworn to protect Lea. Once Ava is brought to life, she and Lea and Ettie become eternally entwined, their paths fated to cross, their fortunes linked.

Lea and Ava travel from Paris, where Lea meets her soulmate, to a convent in western France known for its silver roses; from a school in a mountaintop village where three thousand Jews were saved. Meanwhile, Ettie is in hiding, waiting to become the fighter she's destined to be.

What does it mean to lose your mother? How much can one person sacrifice for love? In a world where evil can be found at every turn, we meet remarkable characters that take us on a stunning journey of loss and resistance, the fantastical and the mortal, in a place where all roads lead past the Angel of Death and love is never ending.
The Deception by Kat Martin. Book #2 in the Maximum Security series.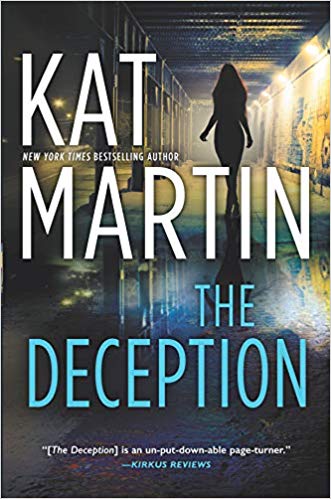 After searching for her sister for two long years, Kate Gallagher is devastated when she's called to the morgue to identify Chrissy's body, the runaway teen the victim of a brutal attack. Guilt and grief send Kate into a tailspin. She failed Chrissy once…she won't do it again. Even if finding her sister's killer means following a lethal bounty hunter into the heart of darkness, placing both their lives in danger.

Working at Maximum Security has taken Jason Maddox down some dangerous paths, but never for a client he's so drawn to, or for a case so monstrous. As clues lead them deeper into the city's underbelly, connections to human trafficking draw them closer and closer to peril, but even Jase's warnings can't convince Kate to walk away. As the deadly operation puts a target on their backs, they'll have to decide what matters most: the truth…or their lives.
The Sewing Machine by Natalie Fergie.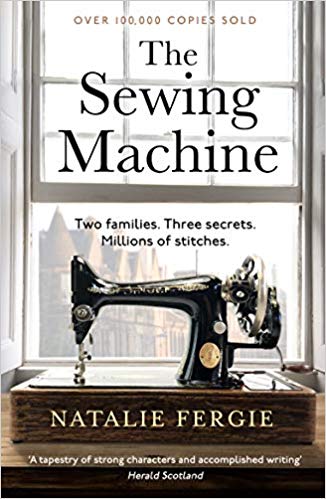 It is 1911, and Jean is about to join the mass strike at the Singer factory. For her, nothing will be the same again. Decades later, in Edinburgh, Connie sews coded moments of her life into a notebook, as her mother did before her. More than a hundred years after his grandmother's sewing machine was made, Fred discovers a treasure trove of documents. His family history is laid out before him in a patchwork of unfamiliar handwriting and colourful seams. He starts to unpick the secrets of four generations, one stitch at a time.
The Giver of Stars by Jojo Moyes.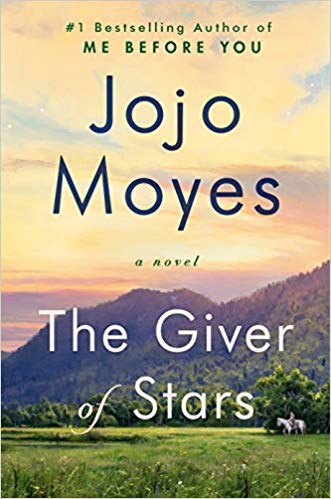 Alice Wright marries handsome American Bennett Van Cleve hoping to escape her stifling life in England. But small-town Kentucky quickly proves equally claustrophobic, especially living alongside her overbearing father-in-law. So when a call goes out for a team of women to deliver books as part of Eleanor Roosevelt's new traveling library, Alice signs on enthusiastically.

The leader, and soon Alice's greatest ally, is Margery, a smart-talking, self-sufficient woman who's never asked a man's permission for anything. They will be joined by three other singular women who become known as the Horseback Librarians of Kentucky.

What happens to them--and to the men they love--becomes a classic drama of loyalty, justice, humanity and passion. Though they face all kinds of dangers, they're committed to their job--bringing books to people who have never had any, sharing the gift of learning that will change their lives.

Based on a true story rooted in America's past, The Giver of Stars is unparalleled in its scope. At times funny, at others heartbreaking, this is a richly rewarding novel of women's friendship, of true love, and of what happens when we reach beyond our grasp for the great beyond.
My Life Among the Underdogs: A Memoir by Tia Torres.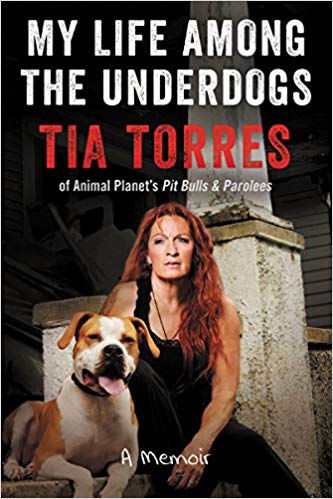 Tia Torres, beloved underdog advocate and star of Animal Planet's hit show Pit Bulls & Parolees, chronicles her roller-coaster life in this heartwarming memoir featuring some of her best-loved dogs. With inimitable honesty and characteristic brashness, Tia captures the spirit and heart of these intelligent and loving canines, while carrying us behind the scenes of her TV show, into the heart of post-Katrina New Orleans, onto the soundstages of Hollywood films, and even to the jungles of Sri Lanka.
Tia has devoted her life to shattering the stereotype that pit bulls are dangerous, vicious predators. As the top dog at the Villalobos Rescue Center in New Orleans, the largest pit bull rescue in the United States, she and her team have rescued, rehabilitated, and rehomed hundreds of animals that might otherwise have been destroyed. As she puts it, "Most of the stories in this book are about animals (and a few humans) that needed someone to believe in them and a purpose in order to show their true nobility."
Each dog Tia writes about here has overcome abuse, trauma, neglect, or just bad luck to become a stalwart, loving companion to Tia and her family. You'll meet Duke, whose intelligence and matinee-idol looks made him a star in movies and music videos; Junkyard Joe, whose single-minded passion for tennis balls was channeled into expertise as a drug-sniffing dog; Bluie, the unswerving protector of Tia's daughter Tania; and a host of other unforgettable canines.
My Life Among the Underdogs is above all a love story--one that is sure to grip the heart of anyone who has ever loved a dog.
I Really Needed This Today: Words to Live By by Hoda Kotb.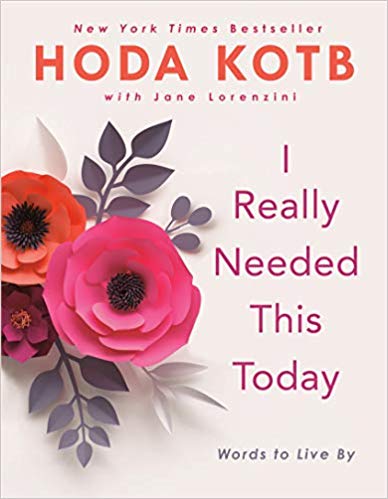 Several years ago, Today show co-host Hoda Kotb began posting a variety of quotes on her Instagram page. Some were penned by a favorite writer; others offered a dose of love or laughter. She thought the quotes were meaningful only to her, but soon a funny thing started happening - reactions poured in from thousands of people who were just as moved. The quotes weren't only providing inspiration to Hoda, they were comforting and connecting people. So many of their comments read, "I really needed this today," a phrase that inspired the book's title.

In I Really Needed This Today, Hoda not only shares 365 sayings and quotes, she writes about the people and experiences that have pushed her to challenge boundaries, embrace change, and explore relationships to their fullest. Written with her signature wit and warmth, this book is the ideal companion to tuck beside your bed or to bring with you on-the-go to keep you motivated, recharged, and inspired each day.
Dear Joan Chittister: Conversations with Women in the Church by Joan Chittister.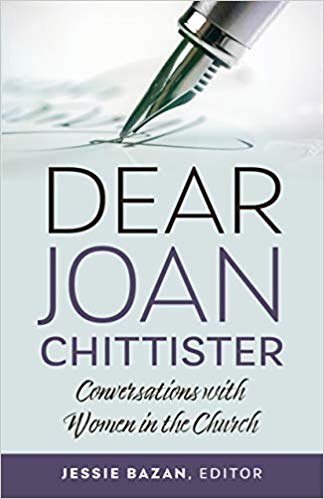 Where can we find communities who accept us fully for who we are? Where do we find the courage to walk forward, often alone, and proclaim the truth?
It s an experience many women share: they re well-educated, talented, and passionate about discipleship and ministry, but they serve a church that puts limits on their participation just because they are women and often seems to wish they d just remain silent. Who can they turn to for wisdom, inspiration, and courage?
In this groundbreaking book, ten young women active in ministry share their thoughts, aspirations, questions and desires with Sister Joan Chittister, a spiritual master and prophetic visionary who has long encouraged the gifts and voices of those too easily dismissed. The conversations unfold in a series of letters. Each letter writer shares an experience from her life or ministry, and Joan then responds with affirmation and challenge, sharing her wisdom, inspiration and courage with those vitally committed to the church.
The result is a powerful message that needs to be read by women and men, a book that confronts current realities, buoys future hopes and refuses to accept the status quo for a church called to embody the gospel message for a new generation.