The Oshkosh Chamber of Commerce's partnership with Network Health exclusively provide Oshkosh Chamber of Commerce members in Winnebago county with innovative alternatives to costly premiums.
With Network Health's Assure product, Oshkosh-area employers are able to provide their employees with quality coverage at an affordable cost. The Assure product is a level-funded plan which means employers can benefit from the predictable, fixed monthly rates of a fully-insured plan but only pay for the health care that employees actually get.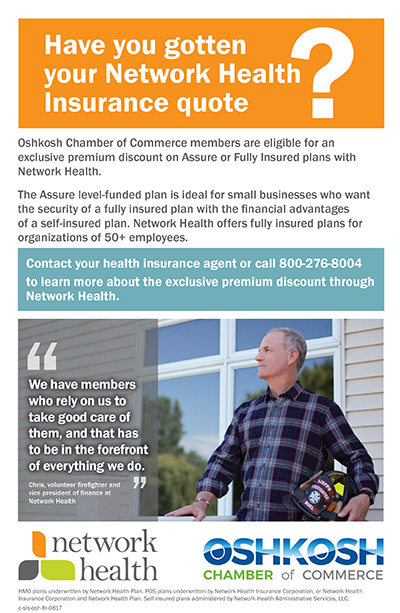 To learn more about how your company can take advantage of the premium discount, call your insurance agent. The following are the Network Health Plan Chamber Member authorized insurance agents:
5Gbenefits, LLC - 920-251-9004
Ansay & Associates - 920-235-2764
Associated Financial Group - 920-731-0400
Diedrich Agency - 920-232-4090
Forsite Benefits - 920-593-1911
Hanson Benefits, Inc. - 920-955-1040
Jackson Kahl Insurance - 920-231-5727
JWA Insurance Services - 920-237-5544
Mc Clone Agency - 920-232-4001
Murken Insurance - 920-651-1500
Richards Insurance - 920-235-1980
T.I.C., Inc - 920-734-8735
Valley Insurance Associates - 920-235-3450
This group health insurance program is for groups of 2 -99 employees. The program offers a discount off of the monthly premium. Any business (with 2 – 99 employees) located in Winnebago County is eligible to purchase this program. This is an exclusive offer to Chamber members.
If you are not currently an Oshkosh Chamber of Commerce member, but would like to learn more about membership, this exclusive offer
and other benefits, contact Amber Thiel, Member Relation Coordinator at Amber@oshkoshchamber.com or 920-303-2265 ext. 16.