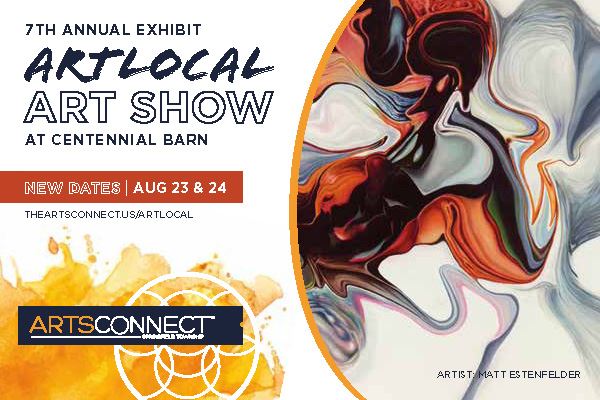 ArtsConnect hosts its 7th annual ArtLocal Art Show, with free admission at Centennial Barn on August 23rd and 24th. This annual celebration of local emerging artists is part party, part appreciation, and part inspiration! This year, ArtsConnect is partnering with ArtsWave for dedicated exhibit space entitled POWER OF HER at the ArtLocal art show. Artists are invited to enter up to three pieces of art to exhibit in ArtLocal and are encouraged to submit a piece in the POWER OF HER exhibit.
POWER OF HER is an 18-month Greater Cincinnati arts and cultural initiative commemorating the centennial of women's suffrage: the ratification of the 19th amendment which granted women the right to vote. Led by ArtsWave and sponsored by Procter & Gamble, the initiative salutes the women who came before us, and honors female leadership and woman-centric works of all kinds, underscoring creativity as a vehicle for inclusion and equality. At its core, POWER OF HER is a celebration of the female voice—and the many ways it champions a more diverse and vibrant world.
Artists can register their work now for the ArtLocal Art Show at https://www.theartsconnect.us/artlocal. Early entry is $30 through July 1st. After July 1st, the artist entry fee is $40. ArtsConnect does not retain commissions from artwork sold.
ArtLocal Art Show at Centennial Barn - 110 Compton Road
Friday, August 23, 2019
7:00 - 10:00 p.m.
• Live Music
• All Galleries Open
• Meet the Artists
• Split the Pot
• Silent Auction
• Complimentary hors d'oeurves
• Cash Bar (beer, wine and cocktails available)
Saturday, August 24, 2019
Gallery Open 10:00a.m. - 2:00 p.m.
Class and Workshop Schedule begins at 11:am
For more information, call ArtsConnect at 522-2108.