What is it that you're interested in? Is there something you're trying to learn? A test you're studying for? Well let me tell you about a resource we offer at MCPL!
If you've ever looked at the Online Resources that we offer through our website, you might wonder what exactly KYVL is. That's the Kentucky Virtual Library, a consortium of nearly 300 Kentucky libraries and other institutions which together provide patrons with access to databases, the courier service we use for interlibrary loan and the Kentucky Digital Library (which is how we're able to provide access to newspapers and photos online through Marion Memories and Marion County Newspapers).
In the coming weeks, we'll be sending out information on these resources in order to acquaint you with the various services that we offer. One of the databases offered through KYVL is Learning Express. Learning Express contains a plethora of materials for all of your learning needs. With Learning Express, you can study for the:
ACT
SAT
PSAT/NMSQT
AP Exams
TOEFL and IELTS Tests
GED (in English and Spanish)
Graduate school admissions exams
College placement exams
CLEP exams
PRAXIS
You can also get help with:
Elementary, middle and high school classes
Writing college admissions essays
Finding what career is best for you
Searching for jobs
Building a resume
Writing a cover letter
Interviewing skills
Computer skills
Internet basics
Building your math skills
Becoming a better reader
Improving your writing, speaking, and grammar
Becoming a U.S. Citizen
With these resources, you'll create a login and password which will help track your progress. Study, take practice tests, better yourself as a student and more!
To access LearningExpress:

Hover over "Research & Discover," then click on "Online Resources"
Next: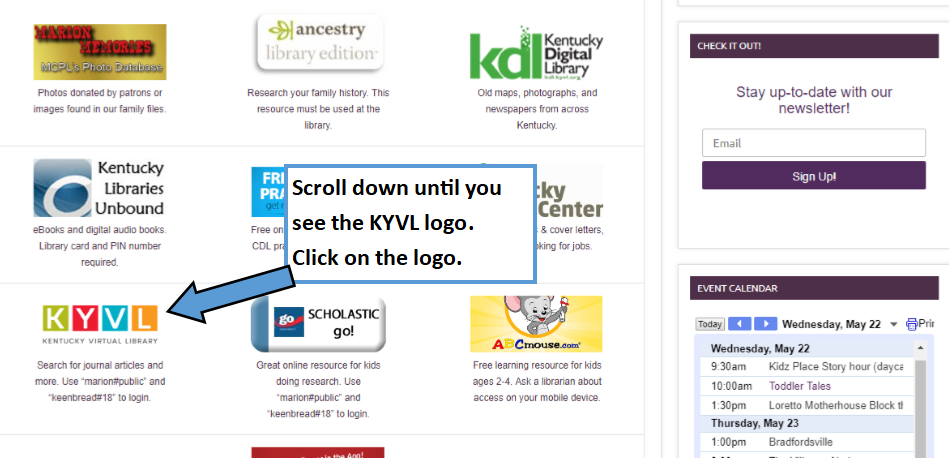 Scroll down until you see the KYVL logo and click on the logo.Finally: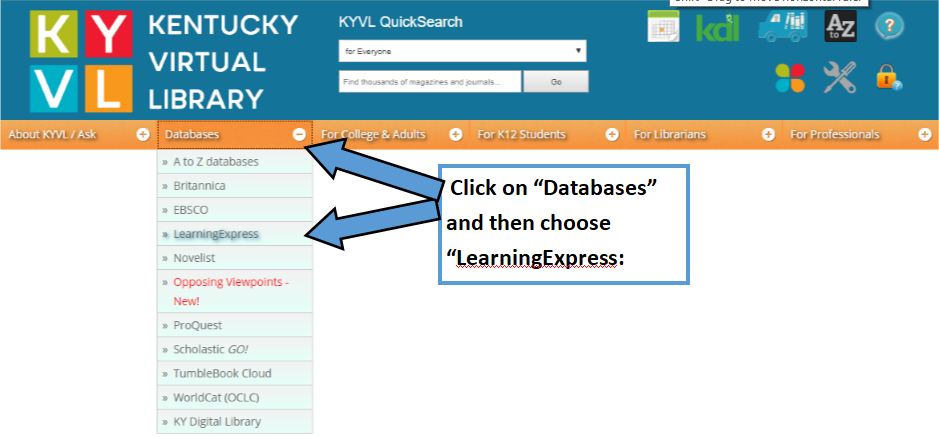 Click on "Databases" and then choose "LearningExpress"