See something you like? Simply click on the book image to go to our catalog and place that item on hold using your library card number and your PIN!
The Road Home by Richard Paul Evans. Book #3 of the Broken Road series.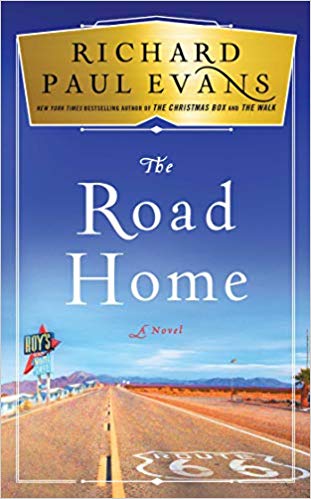 Chicago celebrity and pitchman Charles James is supposed to be dead. Everyone believes he was killed in a fiery plane crash, a flight he narrowly missed. But thanks to that remarkable twist of fate, he's very much alive and ready for a second chance at life and love. Escaping death has brought Charles some clarity: the money, the fame, the expensive cars; none of it brought him true joy or peace. The last time he was truly happy was when he was married to his ex-wife Monica, before their relationship was destroyed by his ambition and greed.

In the exciting and provocative series that began with The Broken Road and The Forgotten Road, Charles is still on his pilgrimage across the iconic Route 66 in The Road Home. He intends to finish his trek from Amarillo to Santa Monica, despite learning that his ex-wife is now planning to marry another man. With the initial reason for his trip in jeopardy, he still has lessons to learn along the way before he discovers—and arrives at—his true destination.
The Night Window by Dean Koontz. Book #5 of the Jane Hawk series.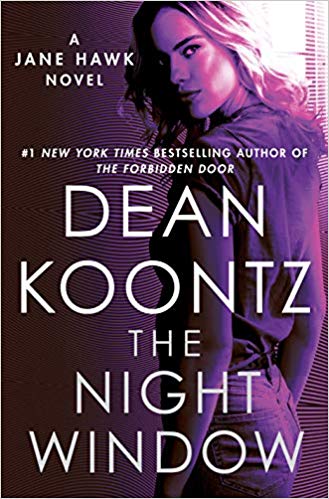 A visionary young filmmaker hunted for sport across a vast Colorado ranch by the celebrated billionaire at the heart of a monstrous cabal . . .

A brilliant computer hacker slipping through top-secret databases a whisper ahead of security trackers, gathering the facts to fight the all-powerful perpetrators of mass murder . . .

A pair of brutal operators, methodically shadowing their targets with every cutting-edge tool in the arsenal of today's surveillance state . . .

A sequence of quiet heroes—everyday citizens—stepping up, stepping forward, intent on countering the advancing darkness . . .

A Vegas mob boss teamed with a homicidal sociopath, circling a beloved boy and his protectors, aiming to secure him as leverage against his fugitive mother . . .

And that fugitive mother herself, ex-agent Jane Hawk, closing in on the malevolent architects of ruin she has stalked as they stalk her, prepared to sacrifice herself to finally bring them down.

These are the people and circumstances of The Night Window, the thrilling new novel in Dean Koontz's acclaimed Jane Hawk series. Replete—and then some—with the ingenious twists, the spellbinding action, the resonant themes, the sheer heart that have characterized Jane's journey from the start, The Night Window follows its extraordinary heroine to her long-sought objective, in a stunning, unforgettable finale.
Storm Cursed by Patricia Briggs. Mercy Thompson series, #11.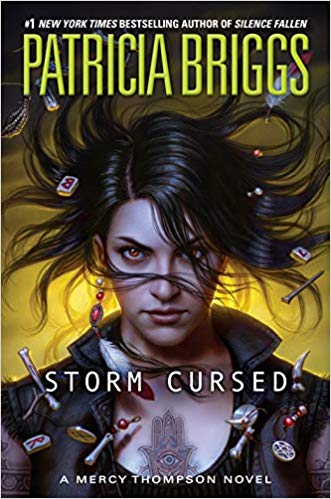 My name is Mercedes Athena Thompson Hauptman, and I am a car mechanic.
And a coyote shapeshifter.
And the mate of the Alpha of the Columbia Basin werewolf pack.

Even so, none of that would have gotten me into trouble if, a few months ago, I hadn't stood upon a bridge and taken responsibility for the safety of the citizens who lived in our territory. It seemed like the thing to do at the time. It should have only involved hunting down killer goblins, zombie goats, and an occasional troll. Instead, our home was viewed as neutral ground, a place where humans would feel safe to come and treat with the fae.

The reality is that nothing and no one is safe. As generals and politicians face off with the Gray Lords of the fae, a storm is coming and her name is Death.

But we are pack, and we have given our word.

We will die to keep it.
The Never Game by Jeffery Deaver.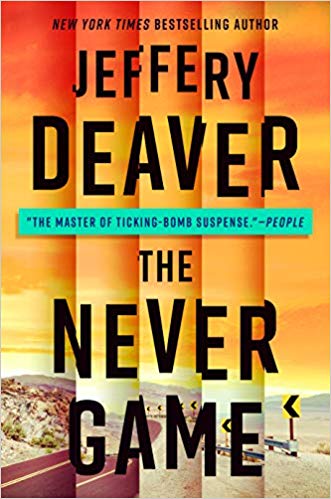 "You have been abandoned."

A young woman has gone missing in Silicon Valley and her father has hired Colter Shaw to find her. The son of a survivalist family, Shaw is an expert tracker. Now he makes a living as a "reward seeker," traveling the country to help police solve crimes and private citizens locate missing persons. But what seems a simple investigation quickly thrusts him into the dark heart of America's tech hub and the cutthroat billion-dollar video-gaming industry.

"Escape if you can."

When another victim is kidnapped, the clues point to one video game with a troubled past--The Whispering Man. In that game, the player has to survive after being abandoned in an inhospitable setting with five random objects. Is a madman bringing the game to life?

"Or die with dignity."

Shaw finds himself caught in a cat-and-mouse game, risking his own life to save the victims even as he pursues the kidnapper across both Silicon Valley and the dark 'net. Encountering eccentric game designers, trigger-happy gamers and ruthless tech titans, he soon learns that he isn't the only one on the hunt: someone is on his trail and closing fast.
Blessing In Disguise by Danielle Steel.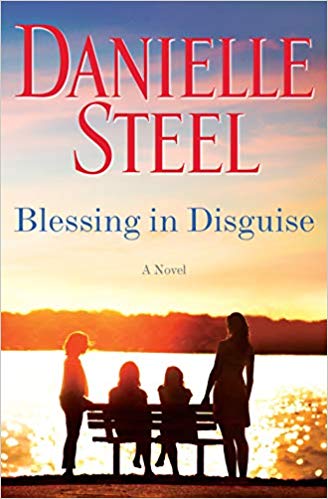 As a young intern at an art gallery in Paris, Isabelle McAvoy meets Putnam Armstrong, wealthy, gentle, older, and secluded from the world. Isabelle's relationship with Putnam, and her time at his château on the Normandy coast, are the stuff of dreams. But it turns real when she becomes pregnant, for she knows that marriage is out of the question.

When Isabelle returns to New York, she enters a new relationship that she hopes will be more stable and traditional. But she soon realizes she has made a terrible mistake and again finds herself a single mother.

With two young daughters and no husband, Isabelle finally and unexpectedly finds happiness and a love that gives her a third child, a baby as happy as her beloved father. And yet, once again, life brings dramatic changes.

The three girls grow up to be very different women, and Isabelle's relationship with each of them is unique. While raising her girls alone, Isabelle also begins building a career as a successful art consultant. Then one final turn of fate brings a past secret to light, bonds mother and daughters closer, and turns a challenge into a blessing.
The Big Kahuna by Janet Evanovich. Fox and O'Hare series, Bk. 6.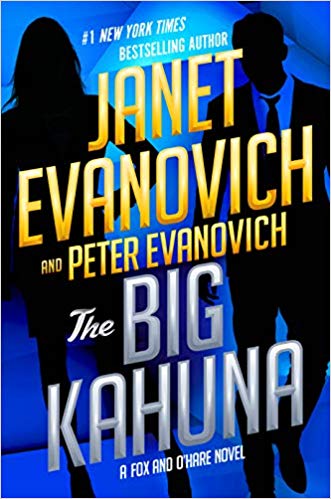 Straight arrow FBI Agent Kate O'Hare always plays by the rules. Charming Con Man Nicholas Fox makes them up as he goes along. She thinks he's nothing but a scoundrel. He thinks she just needs to lighten up. They're working together to tackle the out-of-bounds cases ordinary FBI agents can't touch. And, their relationship? Well, there hasn't been so much explosive chemistry since Nitro was introduced to Glycerin.

Next on the docket: The mysterious disappearance of the Silicon Valley billionaire, known as the Big Kahuna. Kate's been assigned to find him but no one seems particularly keen on helping. His twenty-six year old adult actress wife-turned Instagram model wife and his shady Czech business partner are more interested in gaining control of his company. For that they need a dead body not a living Kahuna.

The only lead they have is the Kahuna's drop-out son, who's living the dream in Hawaii - if your dream is starting your day with the perfect wave and ending it with a big bowl of weed. To get close to the Kahuna's son, Kate and Nick go undercover as a married couple in the big wave, bohemian, surfer community of Paia, Maui. Living a laid back, hippy-dippy lifestyle isn't exactly in Kate's wheelhouse, but the only thing more horrifying is setting up house with Nick Fox, even if he does look pretty gnarly on a longboard. If they don't catch a break soon, waves aren't the only thing she's going to be shredding (or bedding).
Sunset Beach by Mary Kay Andrews.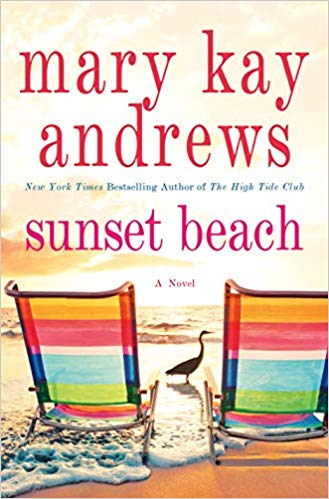 Drue Campbell's life is adrift. Out of a job and down on her luck, life doesn't seem to be getting any better when her estranged father, Brice Campbell, a flamboyant personal injury attorney, shows up at her mother's funeral after a twenty-year absence. Worse, he's remarried – to Drue's eighth grade frenemy, Wendy, now his office manager. And they're offering her a job.
It seems like the job from hell, but the offer is sweetened by the news of her inheritance – her grandparents' beach bungalow in the sleepy town of Sunset Beach, a charming but storm-damaged eyesore now surrounded by waterfront McMansions.
With no other prospects, Drue begrudgingly joins the firm, spending her days screening out the grifters whose phone calls flood the law office. Working with Wendy is no picnic either. But when a suspicious death at an exclusive beach resort nearby exposes possible corruption at her father's firm, she goes from unwilling cubicle rat to unwitting investigator, and is drawn into a case that may – or may not – involve her father. With an office romance building, a decades-old missing persons case re-opened, and a cottage in rehab, one thing is for sure at Sunset Beach: there's a storm on the horizon.
The Yankee Widow by Linda Lael Miller.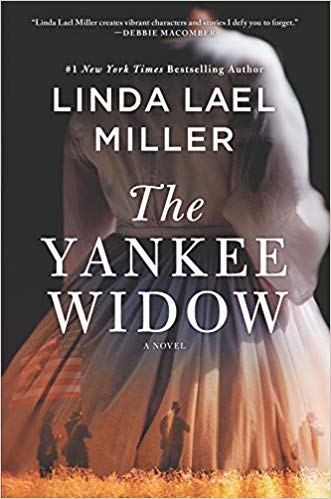 A richly layered, emotional novel about one woman's courage and the choices she must make in the face of a dangerous war.

Caroline is the young wife of Jacob, who together live on a farm raising their daughter just outside of Gettysburg. When Jacob joins the Northern army, no one anticipates he will not return. Then Caroline gets word that her husband is wounded, and she must find her way alone to Washington City and search among the thousands of casualties to find him.

When Jacob succumbs to his injuries, she brings his body home on the eve of the deadliest battle of the war. With troops and looters roaming the countryside, it is impossible to know who is friend and who is foe. Caroline fights to protect those she holds most dear while remaining compassionate to the neediest around her, including two strangers from opposite sides of the fight. Each is wounded… Each is drawn to her beauty, her kindness. Both offer comfort, but only one secretly captures her heart. Still, she must resist exposing her vulnerability in these uncertain times when so much is at risk.
Tightrope by Amanda Quick. Book #3 of the Burning Cove, California series.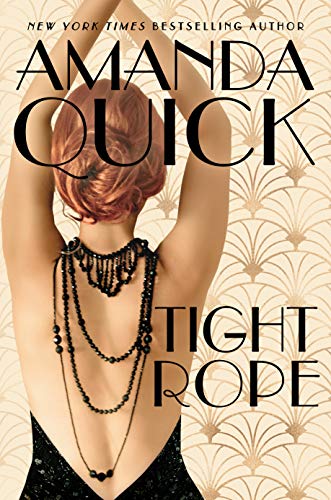 Former trapeze artist Amalie Vaughn moved to Burning Cove to reinvent herself, but things are not going well. After spending her entire inheritance on a mansion with the intention of turning it into a bed-and-breakfast, she learns too late that the villa is said to be cursed. When the first guest, Dr. Norman Pickwell, is murdered by his robot invention during a sold-out demonstration, rumors circulate that the curse is real.

In the chaotic aftermath of the spectacle, Amalie watches as a stranger from the audience disappears behind the curtain. When Matthias Jones reappears, he is slipping a gun into a concealed holster. It looks like the gossip that is swirling around him is true—Matthias evidently does have connections to the criminal underworld.

Matthias is on the trail of a groundbreaking prototype cipher machine. He suspects that Pickwell stole the device and planned to sell it. But now Pickwell is dead and the machine has vanished. When Matthias's investigation leads him to Amalie's front door, the attraction between them is intense, but she knows it is also dangerous. Amalie and Matthias must decide if they can trust each other and the passion that binds them, because time is running out.