One of the responsibilities given to the Colerain Township Parks & Services Division is the maintenance of 11 of the more than 29 known Township historical cemeteries. In the early 1800's, many family cemeteries existed that were never brought to the attention of the Township and are therefore unknown today. Many graves were marked with crude stones or wood crosses making it difficult, if not impossible, for them to be located today. For the graves marked with traditional engraved headstones, time has taken its toll. Over the years, many of the gravestones have fallen over, are leaning, or have broken. Some damage is due to exposure to weather and time, others due to vandalism.
The 2019 Colerain Township Strategic Plan adopted by the Board of Trustees aligned a Historical Cemetery Repair Plan and the 2019 Budget with the goal of identifying cemeteries for restoration. The work includes cemetery entry signage and straightening, repairing broken tablets and re-setting fallen stones.
New signs were placed at Bethel, Dunlap Station and Blue Rock Historic Cemeteries. Restoration work was completed at Compton and Dunlap Historic Cemeteries.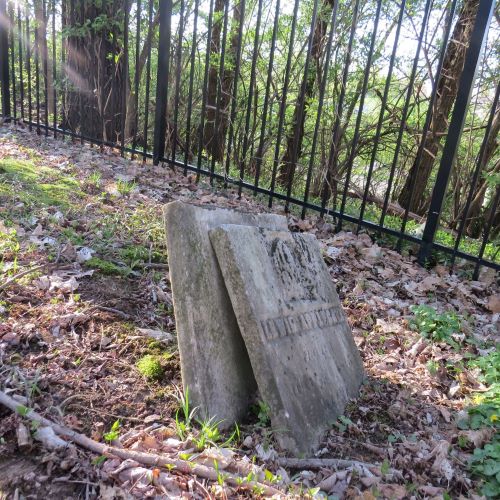 Compton Cemetery headstone before being repaired.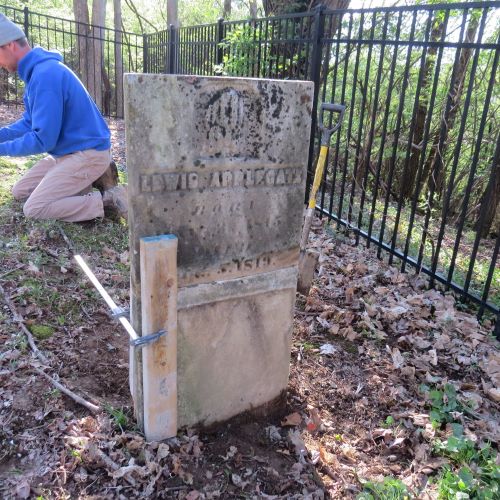 Compton Cemetery headstone being repaired.
Batesville Monument has repaired 35 headstones in two cemeteries maintained by Colerain Township, which has made a huge improvement!
If you are interested in learning more about the Township's cemeteries, Bailey Rogers, Township resident and member of the Coleraine Historical Society, completed Gravestone Inscriptions and Cemetery Records of Colerain Township, Ohio 1794-1994 with assistance from fellow Colerain Historical Society member Linda Ebersole. The book contains a recording of the inscriptions from approximately 5,000 graves, some legible and some only partial legible from 18 of the historic cemeteries in the Township. The book has proved to be a valuable resource to not only the historical society, the Township and local residents, but to people from all over the United States conducting genealogical research.
To download a copy of the Gravestone Inscriptions and Cemetery Records of Colerain Township, Ohio 1794-1994 book. Due to size, it may take a moment to load.