Thanks to all for your patience during our move back into our awesome renovated space! Time now to get back to the business of librarian-ing!
A great favorite among our subscribers, here are the latest titles we're adding to our collection. They are either already on our shelves or will be very soon! As always, if you see something you're interested in, simply click on the book image to go to our catalog and place that item on hold using your library card number and your PIN!
The Lost Girls of Paris by Pam Jenoff.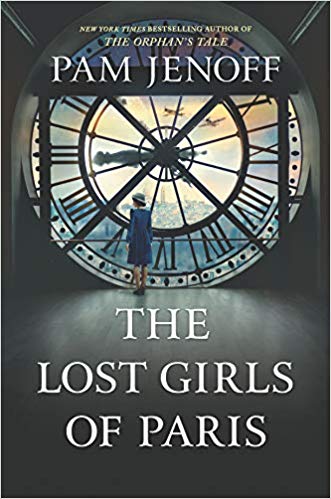 1946, Manhattan

One morning while passing through Grand Central Terminal on her way to work, Grace Healey finds an abandoned suitcase tucked beneath a bench. Unable to resist her own curiosity, Grace opens the suitcase, where she discovers a dozen photographs—each of a different woman. In a moment of impulse, Grace takes the photographs and quickly leaves the station.

Grace soon learns that the suitcase belonged to a woman named Eleanor Trigg, leader of a network of female secret agents who were deployed out of London during the war. Twelve of these women were sent to Occupied Europe as couriers and radio operators to aid the resistance, but they never returned home, their fates a mystery. Setting out to learn the truth behind the women in the photographs, Grace finds herself drawn to a young mother turned agent named Marie, whose daring mission overseas reveals a remarkable story of friendship, valor and betrayal.

Vividly rendered and inspired by true events, New York Times bestselling author Pam Jenoff shines a light on the incredible heroics of the brave women of the war and weaves a mesmerizing tale of courage, sisterhood and the great strength of women to survive in the hardest of circumstances.
Maid: Hard Work, Low Pay, and a Mother's Will to Survive by Stephanie Land.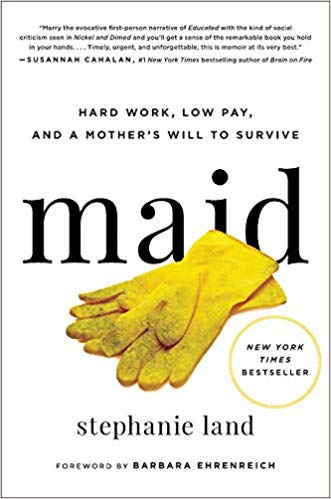 At 28, Stephanie Land's plans of breaking free from the roots of her hometown in the Pacific Northwest to chase her dreams of attending a university and becoming a writer, were cut short when a summer fling turned into an unexpected pregnancy. She turned to housekeeping to make ends meet, and with a tenacious grip on her dream to provide her daughter the very best life possible, Stephanie worked days and took classes online to earn a college degree, and began to write relentlessly.
She wrote the true stories that weren't being told: the stories of overworked and underpaid Americans. Of living on food stamps and WIC (Women, Infants, and Children) coupons to eat. Of the government programs that provided her housing, but that doubled as halfway houses. The aloof government employees who called her lucky for receiving assistance while she didn't feel lucky at all. She wrote to remember the fight, to eventually cut through the deep-rooted stigmas of the working poor.
Maid explores the underbelly of upper-middle class America and the reality of what it's like to be in service to them. "I'd become a nameless ghost," Stephanie writes about her relationship with her clients, many of whom do not know her from any other cleaner, but who she learns plenty about. As she begins to discover more about her clients' lives-their sadness and love, too-she begins to find hope in her own path.
Her compassionate, unflinching writing as a journalist gives voice to the "servant" worker, and those pursuing the American Dream from below the poverty line. Maid is Stephanie's story, but it's not her alone. It is an inspiring testament to the strength, determination, and ultimate triumph of the human spirit.
Dreyer's English: An Utterly Correct Guide to Clarity and Style by Benjamin Dreyer.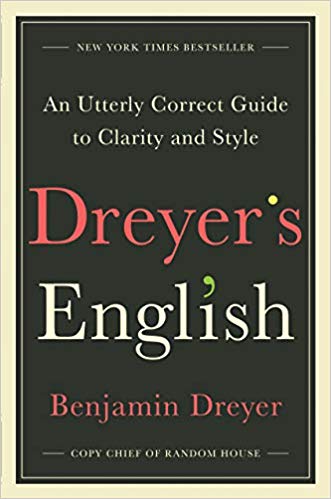 We all write, all the time: books, blogs, emails. Lots and lots of emails. And we all want to write better. Benjamin Dreyer is here to help.

As Random House's copy chief, Dreyer has upheld the standards of the legendary publisher for more than two decades. He is beloved by authors and editors alike—not to mention his followers on social media—for deconstructing the English language with playful erudition. Now he distills everything he has learned from the myriad books he has copyedited and overseen into a useful guide not just for writers but for everyone who wants to put their best prose foot forward.

As authoritative as it is amusing, Dreyer's English offers lessons on punctuation, from the underloved semicolon to the enigmatic en dash; the rules and nonrules of grammar, including why it's OK to begin a sentence with "And" or "But" and to confidently split an infinitive; and why it's best to avoid the doldrums of the Wan Intensifiers and Throat Clearers, including "very," "rather," "of course," and the dreaded "actually." Dreyer will let you know whether "alright" is all right (sometimes) and even help you brush up on your spelling—though, as he notes, "The problem with mnemonic devices is that I can never remember them."

And yes: "Only godless savages eschew the series comma."

Chockful of advice, insider wisdom, and fun facts, this book will prove to be invaluable to everyone who wants to shore up their writing skills, mandatory for people who spend their time editing and shaping other people's prose, and—perhaps best of all—an utter treat for anyone who simply revels in language.
The Silent Patient by Alex Michaelides.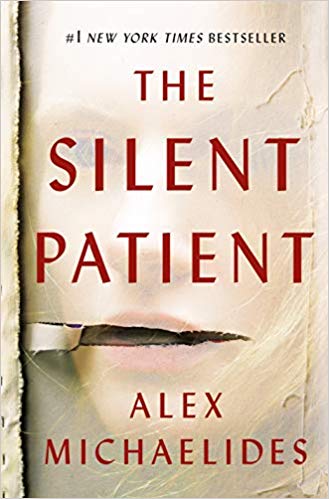 Alicia Berenson's life is seemingly perfect. A famous painter married to an in-demand fashion photographer, she lives in a grand house with big windows overlooking a park in one of London's most desirable areas. One evening her husband Gabriel returns home late from a fashion shoot, and Alicia shoots him five times in the face, and then never speaks another word.
Alicia's refusal to talk, or give any kind of explanation, turns a domestic tragedy into something far grander, a mystery that captures the public imagination and casts Alicia into notoriety. The price of her art skyrockets, and she, the silent patient, is hidden away from the tabloids and spotlight at the Grove, a secure forensic unit in North London.
Theo Faber is a criminal psychotherapist who has waited a long time for the opportunity to work with Alicia. His determination to get her to talk and unravel the mystery of why she shot her husband takes him down a twisting path into his own motivations―a search for the truth that threatens to consume him....
The Threat: How the FBI Protects America in the Age of Terror and Trump by Andrew G. McCabe.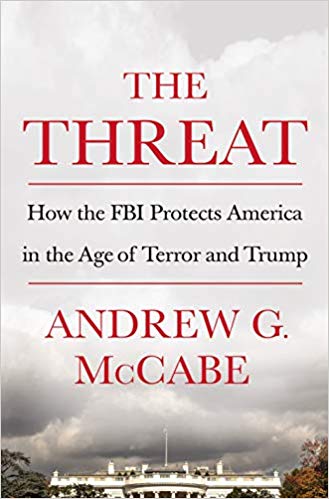 On March 16, 2018, just twenty-six hours before his scheduled retirement from the organization he had served with distinction for more than two decades, Andrew G. McCabe was fired from his position as deputy director of the FBI. President Donald Trump celebrated on Twitter: "Andrew McCabe FIRED, a great day for the hard working men and women of the FBI - A great day for Democracy."
In The Threat: How the FBI Protects America in the Age of Terror and Trump, Andrew G. McCabe offers a dramatic and candid account of his career, and an impassioned defense of the FBI's agents, and of the institution's integrity and independence in protecting America and upholding our Constitution.
McCabe started as a street agent in the FBI's New York field office, serving under director Louis Freeh. He became an expert in two kinds of investigations that are critical to American national security: Russian organized crime―which is inextricably linked to the Russian state―and terrorism. Under Director Robert Mueller, McCabe led the investigations of major attacks on American soil, including the Boston Marathon bombing, a plot to bomb the New York subways, and several narrowly averted bombings of aircraft. And under James Comey, McCabe was deeply involved in the controversial investigations of the Benghazi attack, the Clinton Foundation's activities, and Hillary Clinton's use of a private email server when she was secretary of state.
The Threat recounts in compelling detail the time between Donald Trump's November 2016 election and McCabe's firing, set against a page-turning narrative spanning two decades when the FBI's mission shifted to a new goal: preventing terrorist attacks on Americans. But as McCabe shows, right now the greatest threat to the United States comes from within, as President Trump and his administration ignore the law, attack democratic institutions, degrade human rights, and undermine the U.S. Constitution that protects every citizen.
Important, revealing, and powerfully argued, The Threat tells the true story of what the FBI is, how it works, and why it will endure as an institution of integrity that protects America.
The Chitlin' Circuit and the Road to Rock 'N' Roll by Preston Lauterbach.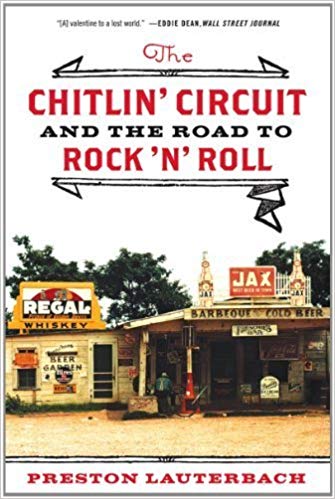 A definitive account of the birth of rock 'n' roll in black America, this book establishes the Chitlin' Circuit as a major force in American musical history. Combining terrific firsthand reporting with deep historical research, Preston Lauterbach uncovers characters like Chicago Defender columnist Walter Barnes, who pioneered the circuit in the 1930s, and larger-than-life promoters such as Denver Ferguson, the Indianapolis gambling chieftain who consolidated it in the 1940s. Charging from Memphis to Houston and now-obscure points in between, The Chitlin' Circuit brings us into the sweaty back rooms where such stars as James Brown, B. B. King, and Little Richard got their start. With his unforgettable portraits of unsung heroes including King Kolax, Sax Kari, and Clarence "Gatemouth" Brown, Lauterbach writes of a world of clubs and con men that has managed to avoid much examination despite its wealth of brash characters, intriguing plotlines, and vulgar glory, and gives us an excavation of an underground musical America.
The Clockmaker's Daughter by Kate Morton.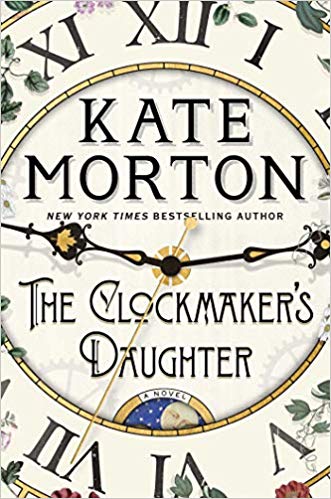 My real name, no one remembers.
The truth about that summer, no one else knows.
In the summer of 1862, a group of young artists led by the passionate and talented Edward Radcliffe descends upon Birchwood Manor on the banks of the Upper Thames. Their plan: to spend a secluded summer month in a haze of inspiration and creativity. But by the time their stay is over, one woman has been shot dead while another has disappeared; a priceless heirloom is missing; and Edward Radcliffe's life is in ruins.
Over one hundred and fifty years later, Elodie Winslow, a young archivist in London, uncovers a leather satchel containing two seemingly unrelated items: a sepia photograph of an arresting-looking woman in Victorian clothing, and an artist's sketchbook containing the drawing of a twin-gabled house on the bend of a river.
Why does Birchwood Manor feel so familiar to Elodie? And who is the beautiful woman in the photograph? Will she ever give up her secrets?
Told by multiple voices across time, The Clockmaker's Daughter is a story of murder, mystery, and thievery, of art, love, and loss. And flowing through its pages like a river, is the voice of a woman who stands outside time, whose name has been forgotten by history, but who has watched it all unfold: Birdie Bell, the clockmaker's daughter.
The Darkest Child by Delores Phillips.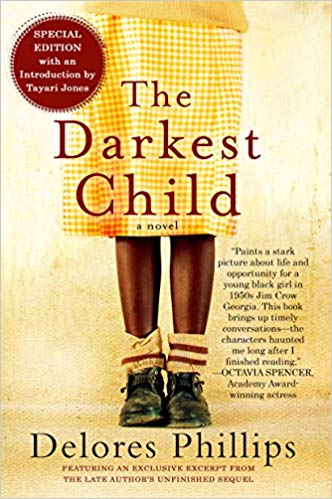 Pakersfield, Georgia, 1958: Thirteen-year-old Tangy Mae Quinn is the sixth of ten fatherless siblings. She is the darkest-skinned among them and therefore the ugliest in her mother, Rozelle's, estimation, but she's also the brightest. Rozelle—beautiful, charismatic, and light-skinned—exercises a violent hold over her children. Fearing abandonment, she pulls them from school at the age of twelve and sends them to earn their keep for the household, whether in domestic service, in the fields, or at "the farmhouse" on the edge of town, where Rozelle beds local men for money.

But Tangy Mae has been selected to be part of the first integrated class at a nearby white high school. She has a chance to change her life, but can she break from Rozelle's grasp without ruinous—even fatal—consequences?
Letters From Peaceful Lane by Janet Dailey. Book #3 of the New Americana series.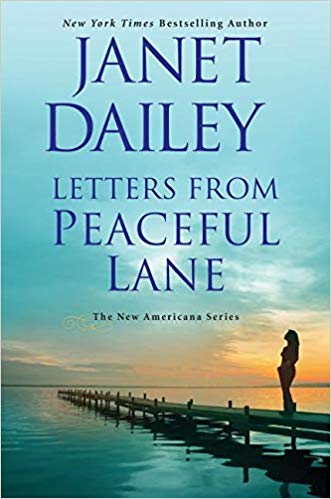 Allison felt like she'd stepped into a fairy tale when she married widower Burke Caldwell. Wealthy, powerful, and breathtakingly handsome, Burke is the husband of her wildest dreams. But after less than a year of marriage, he's become distant, almost a stranger. His friends see Allison as little more than a trophy wife, and his only daughter regards her as the enemy. With everyone so devoted to the memory of Burke's first wife, Kate, how can Allison possibly compete? Then a harrowing car crash leaves Burke badly injured and in need of support as he battles to heal. But it becomes achingly clear that the woman Burke wants by his side is the wife he lost...
No longer able to dismiss the power Kate still holds, Allison can't resist reading a hidden cache of letters from Kate to Burke. What she discovers sets her mind reeling. Was it possible Kate was just as challenged as she by Burke's bullheadedness and tight hold on his emotions? The letters give Allison an enlightening window into her husband's heart. But will she have the courage to put aside her own fears, and grab hold of a love as big and bold as the man she once dared to marry?