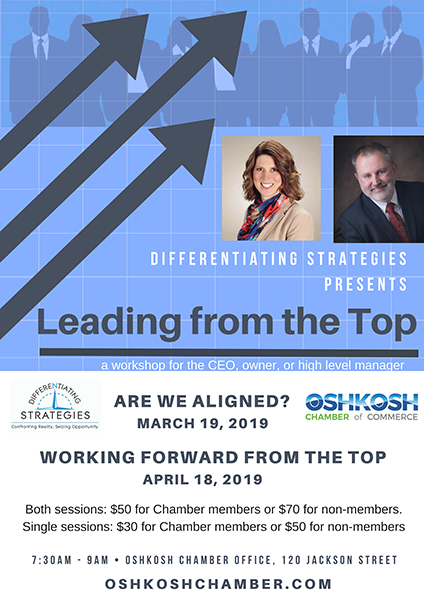 How much time are you investing in your personal development? Things look different at the executive level. Unlike supporting roles, top level positions can offer unique challenges that may be difficult for others to understand or help resolve. You are not alone. Leading from the Top is a series of interactive workshops targeting top executives and functional leaders. These briefings focus on issues impacting leaders with accountability for enterprise performance. Join your peers in increasing your leadership performance in leading people and delivering outcomes.
Presented by the Oshkosh Chamber of Commerce in partnership with Differentiating Strategies, LLC these moderated workshops will provide participants with one to three ideas they can immediately apply to improve their executive performance.
Online registration is now open. Online registration includes both sessions: $50 for Chamber members or $70 for non-members.
If you would like to attend only one session register by contacting Jessica@oshkoshchamber.com. Single sessions are $30 for Chamber members or $50 for non-members.
Tuesday, March 19, 2019
7:30 a.m. – 9:00 a.m.
Presenters: Joe Thompson and Vicki Updike of Differentiating Strategies
Are We Aligned?
Is your team staying focused on the right things? Requirements change, orders are canceled, the busy season starts or ends, budgets are adjusted, and people change roles. The stress of ongoing change can build with increasing expectations. This briefing will demonstrate how executives can maintain alignment and accountability in a dynamic landscape, providing measured response in place of reflexive reaction. Attendees will leave with one to three relevant actions that can improve alignment in their organization.
Thursday, April 18, 2019
7:30 a.m. – 9:00 a.m.
Working Forward from the Top
As a top executive, are you working on the right things? Leading at the top is tough. Where other roles have paths marked by functional skills and performance goals, top executives need to decide where to blaze the next trail, often with little to go on. How is the direction to success established? What are the pitfalls and how are they avoided? In this briefing we will break this down into some fundamental questions that executives need to be asking themselves and discuss how to apply those to leading from the top. Participants will develop one to three things that can apply upon leaving the discussion.