First of all, I'd like to start out with an apology. We've been swamped lately and I haven't been getting newsletter articles out like many of you are accustomed to! So please accept my apology. As a way of making amends I thought that I would write an article on some of the many exciting things to come in your new renovated library. If you're a regular visitor to the library, you've probably caught tidbits of information here and there. Hopefully this will provide a broad overview of things to come!
Where we are as of October 5, 2018.
Much of the exterior glass-work has been installed. There are still a few large panels of color to be installed in the front facade. There is a lot of glass throughout the facility. Interior walls and doors of our four study/small meeting spaces are nearly all glass and our director, Amy Morgeson has nearly one entire wall with entrance of glass.

Concrete work: Still to be done are the reading garden, the Harrison Street entrance, the sidewalk, entrance , parking lot and stairs leading from upper to lower parking lot.
Painting has begun! Primer up in many spots and the staff office area and breakroom have had the accent walls painted!
Network lines for our telephone system, cameras and data have been run. You should see some outdoor cameras going up soon and, once activated so they can monitor, the perimeter fencing may come down. Still waiting on double sets of sliding glass doors for the front and rear entrances.
HVAC units are on the roof and work continues up there but I haven't been up the ladder to see where they are!
Brickwork is finished. Stone work is in the final stages, capping off retaining walls to the reading garden areas. Where you see horizontal unfinished sections near the entrances will eventually be finished off with copper accents.
Much of the duct work is up and in areas that open all the way to the ceiling, primer has been applied to everything for a uniform look.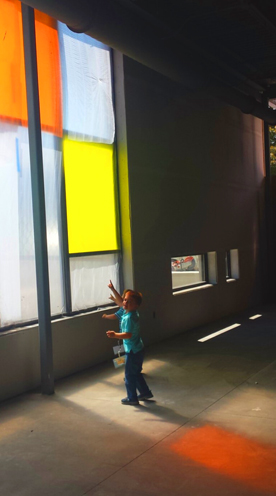 In your new library: (tidbits of information (in no particular order)
We'll have a self-serve "business center". Located near the circulation desk and public computers, this work space will have tools needed to complete your DIY project. Need to laminate? We'll show you how the machine works and you'll purchase the pouches at the circulation desk. Need to fold a brochure you've created? Using the new folding machine is easy as can be! We'll have tools like these plus a straight edge cutter, rulers, scissors, etc. to make you successful at your project!
Self-serve print jobs from public computers. After you've sent your print job, you'll go to a computer next to the printer, insert the appropriate funds and release your own print jobs. No waiting for a staff member or worrying about eyes on your personal information!
A cleaner library environment! Our facilities manager has always done an outstanding job of keeping things clean but we're implementing a new system that is cost effective, eco-friendly and a move away from harsh chemicals. We add a small pouch of enzymes to regular tap water and "cook" it for about 15 minutes by agitating it and running a small electrical charge through it. The result? A disinfectant that when used either directly on surfaces or sprayed via a "mister" begins killing airborne and surface germs immediately. If a group vacates one of our meeting spaces, we can enter and mist the entire room in under 20 seconds, killing such bad bugs as H1N1 Flu, Salmonella, MRSA and lots of other germs that I can't even pronounce! Three minutes later that room has been disinfected and ready for the next group!
Want to make a Spongebob cake for your child but don't want to spend the money for a one-time use? Rent a Spongebob cake pan from your library. Spongebob is just one of numerous children's character pans that we have in addition to some beautiful Bundt pans and Russian Icing Tips for decoration.
And speaking of cakes...... want to put a photograph on your cake? You can do it at your new library! We have an edible ink printer! So go ahead, take a picture of mom and put her on a cake! All you do bring your digital copy (or we can show you how on a scanner dedicated to the Design Den - our name for our makerspace!) and you'll send that image to the printer designated for edible inks. Viola! Icing that peels off a backing to adorn your cake. We even have cupcake toppers you can print on! Expensive? Heck no! We just recover the cost of the materials.
What the heck is a heat press? We have two of them! A heat press can be used for a variety of different applications. Want a tee shirt for a family reunion? Create your own and print it out with sublimation inks at your library! You'll be able to learn and design using inks, heat transfer vinyls, window cling material & more onto cloth, tiles, ornaments and more! Your imagination can blossom! On a more serious note, we need to mention some restrictions. Our Design Den is for people to learn, experiment and make their own creations, but make no mistake, your library is not in competition with or advocating such competition with any retailer, local or otherwise in anything we offer. If patrons want to come in and learn how to design and make some tee shirts, that's great, but you'll be required to sign a document that says you're not going to come in and create 50 shirts and take them to a festival and sell them for a profit, that's not what our space is designed for. We've found that our sublimation inks work on a limited material type. If your requirement exceeds that, we'll recommend you go to the professionals for that!
You may have already seen some of the fun things we've experimented with using our green screen technology, but what does that mean for you? Here's an idea: gather your family up and get all gussied up, come to the library and, using our green screen, take a family photo. We even have cameras you can check out. Next step, put your family in front of any backdrop you want! We'll show you the software and how to use it! Use the image for greeting cards, a holiday letter, invitations and more! Think of the possibilities!

Believe it or not folks, these things I've share with you are just the tip of the iceberg! Your new library will be a vibrant community center, and you're cordially invited!
One last thing......but don't spread it around too much because it's not set in stone. It's looking like the library may be re-opening as a late holiday gift.....around the beginning of January! But that's only been put down in pencil, there's a lot still to do, we're entering into a different weather pattern, and as with any construction project anything could pop up to push the date back. So just keep your fingers crossed!
We hope you're as excited as we are!
Hope this article makes up for my lack of frequent posting lately!
Warmest regards,
Terry