Last week, a patron brought me one of the most beautiful, lovingly crafted donations I've ever seen for our genealogy collection. Now, don't get me wrong, the majority of family histories are labors of love. The amount of time and research in just one generation is enough to test anyone's patience. But this addition to our collection was special.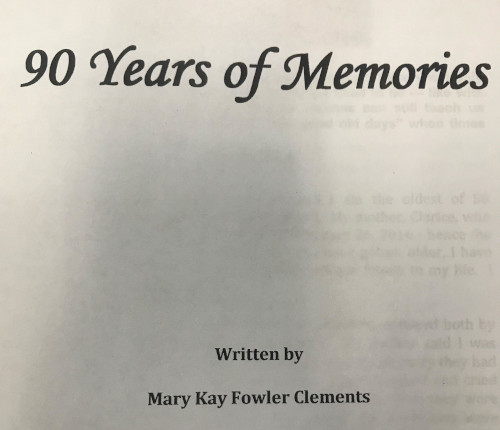 A few years ago, on her mother's 90th birthday, May Kay Fowler Clements gave herself a task; she would interview her mom, Mary Clarice Bland, as well as her mother's twelve siblings, and compile the results. Initially, Mary Kay asked her relatives to write down their memories of youth - what life was like, their family members, their home, etc. No one answered her questions or even wrote anything down, saying it was too much like homework. So instead, Mary Kay grabbed a recorder and met with each family member, just allowing them to talk. From there, Mary Kay took each interview and transcribed it verbatim, adding nothing of her own to each story. Instead, she waited until the end of the book to add a summation of what she learned during the process.
Each chapter is a transcription of an individual interview, done without allowing the siblings to consult with each other, in an effort to "preserve their personal recollections." At the end of each interview, Mary Kay has placed the wedding photo of that particular sibling. After the interviews, there are descriptions and pictures of the houses in which the Bland family grew up. If images of the exact house were not available, the author did her best to find similar houses in order to give the reader an idea of the buildings. There are also images of the various schools the kids attended and of the siblings as children, a summary of what life was like 100 years ago, and even a few break downs of old sayings.
This donation is also bittersweet. A few of the siblings have passed away since the interviews were conducted and a few now have dementia. Myself and the library staff are grateful for this loving tribute to Mary Kay's family.
Donations to the genealogy department are just that easy. We took Mary Kay's binder and copied it at no cost to her. Donations don't have to come in the form of bound, published works. They can be in binders, folders, or just copied pages. They can even be items that the library needs to scan and give back to you. Just make sure the information is passed along and doesn't fade from memory.