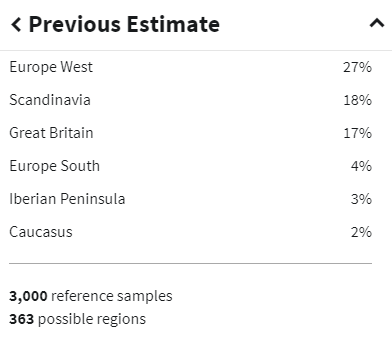 When I logged into my Ancestry account last week, I was excited to see that there were ethnicity updates. I couldn't imagine much changing, since I hadn't found anything completely unexpected in my family tree. In fact, I was more surprised by my previous results than I was these. In my previous results, I had areas like Europe South (Italy/Greece), the Iberian Peninsula (Spain/Portugal) and the Caucasus (Turkey/Iraq). When I got those results, I thought maybe the presence of these regions explained my dad and sister's complexions (they tan, I burn). As many others, I was always told that there was Native American blood in my heritage, but I've not found it in my research, there's nothing in my DNA, and I'm one of the pastiest people I know. And then my updated results get here and voila! The regions that had surprised me are completely gone! So who knows? I just need to get both of them to take the DNA test and see what else pops up.
So why are there differences? In my previous test with Ancestry.com, there were only 3,000 reference samples and 363 possible regions. As of this last update, there are now 16,000 reference samples and 380 possible regions. Not only have the additional samples helped improve results, but the number of people being tested also helps. As Ancestry states, "Reference samples are DNA samples from regions around the world that we compare your test results against to calculate your ethnicity estimate. More samples means better ethnicity results."
As you can see in the map below, my England, Wales and Northwestern Europe region states that it increased 66% to 83%. This is a little misleading as this was not a region in the previous test. The coverage of the regions has also changed. The Europe, Wales and Northwestern region now includes areas that were in Europe West and Great Britain, as well as Ireland/Scotland/Wales, and it still overlaps with the Ireland and Scotland regions (previously Ireland/Scotland/Wales). Also with more DNA samples, my 18% result for Scandinavia has now been narrowed down to 3% Sweden. Clicking on the question mark in Ancestry breaks this down:
"More data and new methods of DNA analysis have given us a better picture of which DNA sequences are—or aren't—associated with specific world regions. This means that some regions may not appear in your new estimate because:
a region has been replaced by a smaller region or multiple regions;

new data indicates that a region does not belong in your results."

But that doesn't mean that your results will change drastically, if at all. For example, a friend of mine, whose DNA map is pretty much a big circle around Germany, had no changes in his results. For those of you whose family tree is more trail mix than a simple bowl of peanuts, you can expect to see more changes. They might not be as radical as mine, but again, changes to regions, as well as additional DNA reference samples mean some changes are to be expected.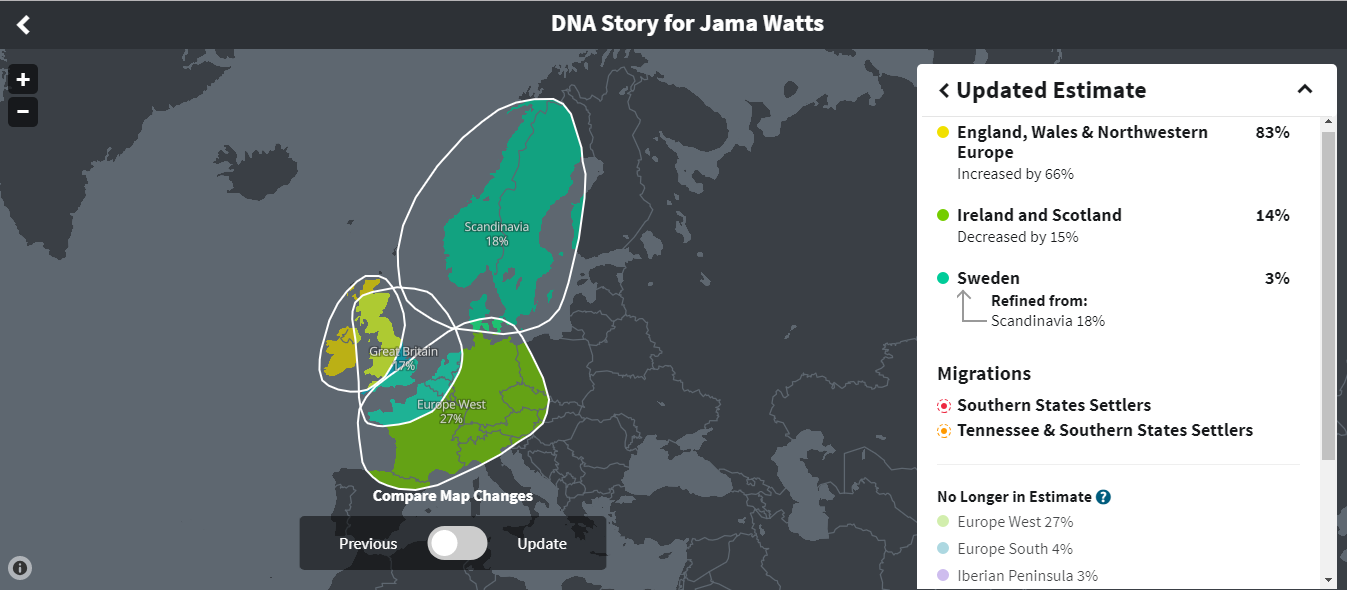 If you want to know more about DNA testing through Ancestry.com and how ethnicity changes as more samples are taken, you can visit their FAQ on the subject at https://www.ancestry.com/cs/dna-help/ethnicity/faq.
Happy researching!