Here's are the latest titles on our shelves or arriving soon! See something you like? Simply click on the book image to go to our catalog and place that item on hold using your library card number and your PIN!
Echoes in the Walls by V.C. Andrews. Book #2 in the House of Secrets series.
The grand, gothic Wyndemere House is a labyrinth, containing as many secrets as it does corners obscured in shadow. Home to the Davenports, a wealthy and distinguished family, Fern Corey and her mother have lived there as servants for Fern's entire young life. Despite their difference in station, Fern and Dr. Davenport's son, Ryder, have always been extremely close. Which was never a problem… until they came of age.
An intimate encounter following a high school prom brings the pair near-tragic consequences, and the forces of fate, arrogance, and class prejudice gather to crush their warm relationship. Still, the real threat to their happiness is something no one can control: the past, and the unspoken truths that lurk there.
Fern and Ryder's parents suffer with empathy, they themselves caught in the emotional maze the house creates. When the slow revelations of Wyndemere's secrets finally unfold, everyone party to them will become entangled in a treachery more complete than any could have imagined.
Arrowood by Laura McHugh.
International Thriller Writers THRILLER AWARD FINALIST
Arrowood is the most ornate and grand of the historical houses that line the Mississippi River in southern Iowa. But the house has a mystery it has never revealed: It's where Arden Arrowood's younger twin sisters vanished on her watch twenty years ago—never to be seen again. After the twins' disappearance, Arden's parents divorced and the Arrowoods left the big house that had been in their family for generations. And Arden's own life has fallen apart: She can't finish her master's thesis, and a misguided love affair has ended badly. She has held on to the hope that her sisters are still alive, and it seems she can't move forward until she finds them. When her father dies and she inherits Arrowood, Arden returns to her childhood home determined to discover what really happened to her sisters that traumatic summer.
Arden's return to the town of Keokuk—and the now infamous house that bears her name—is greeted with curiosity. But she is welcomed back by her old neighbor and first love, Ben Ferris, whose family, she slowly learns, knows more about the Arrowoods' secrets and their small, closed community than she ever realized. With the help of a young amateur investigator, Arden tracks down the man who was the prime suspect in the kidnapping. But the house and the surrounding town hold their secrets close—and the truth, when Arden finds it, is more devastating than she ever could have imagined.
Texas Free by Janet Daily. Book #5 in the Tylers of Texas series.
She's a woman with a burning need to break free from her past . . .
Rose Landro is on the run. Seeking refuge at the Rimrock Ranch, she is finally ready to claim the land her granddaddy left her and make a fresh start. But her return is rife with controversy when cattle begin disappearing—and a handsome menace named Tanner McCade starts watching Rose a little too closely. Could the new cowhand be connected to the men she's hiding from? Or is there another reason the rugged stranger is shadowing her every move?
He's a man ready to fight boldly for his future . . .
There's a secret in Rose Landro's eyes, a mystery that Special Ranger Tanner McCade is determined to uncover. Even if the beauty isn't behind the cattle rustling he's investigating, she's way too skittish, and all too exquisite for Tanner to just let slide past his piercing gaze. Then he discovers a vulnerability in Rose that has him aching to protect her—and longing to possess her. . . .
Escapade by Diana Palmer.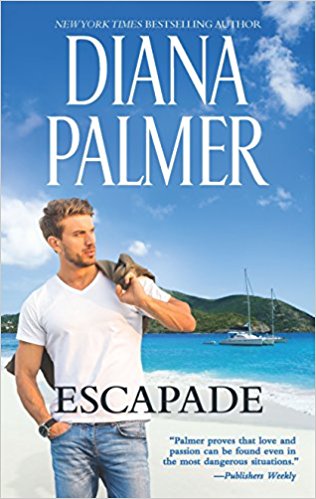 When her father dies, heiress Amanda Todd inherits a nearly bankrupt newspaper that she's determined to bring back from the dead. But controlling interest lies with mysterious millionaire Joshua Lawson, a man even more stubborn than he is handsome. So she heads off to Josh's Caribbean estate to show him how she can save the failing business. Sparks fly as Amanda and Josh butt heads; she's never been so attracted to any man before, let alone one whose support she needs to resurrect her family legacy. And he knows full well how much is riding on this. Can this beauty convince him he's met his match in business…and love?

Safe and Sound by Fern Michaels. The Sisterhood series, Book #29.
Isabelle Flanders Tookus isn't expecting to involve the Sisterhood in a new mission when she strikes up a friendship with a curly-haired boy in her local park. Ben Ryan is eight years old, sweet, funny, and smarter than most adults--a child genius, in fact. He's also in much deeper danger than he realizes.
Ben is the grandson of millionaire Eleanor Lymen, who hired Izzy years ago to design an institute for gifted children. Ben's mother passed away and Ben now lives with his stepfather, Connor, and Connor's wife, Natalie. Yet as Izzy soon learns, Ben's home life is far from happy. Connor and Natalie are constantly fighting. They've been using Ben's trust fund to support their lavish lifestyle while shamefully neglecting Ben. And with Natalie getting greedy, Ben's safety is now in jeopardy.
Izzy's first step: call in the Sisterhood. The second: track down Eleanor, who has mysteriously vanished on a secret mission of her own, trying to right an old wrong. Izzy, Annie, Myra, and the rest of the Sisters come together at Pinewood, thrilled to be united once more. Together they'll lay a trap for Natalie and Connor, one that will protect Eleanor's beloved grandson, get him into the happy home he deserves, and provide the kind of creative, satisfying payback the Sisters dish out so well...
Refugee by Alan Gratz.
Josef is a Jewish boy living in 1930s Nazi Germany. With the threat of concentration camps looming, he and his family board a ship bound for the other side of the world . . .
Isabel is a Cuban girl in 1994. With riots and unrest plaguing her country, she and her family set out on a raft, hoping to find safety in America . . .
Mahmoud is a Syrian boy in 2015. With his homeland torn apart by violence and destruction, he and his family begin a long trek toward Europe . . .
All three kids go on harrowing journeys in search of refuge. All will face unimaginable dangers -- from drownings to bombings to betrayals. But there is always the hope of tomorrow. And although Josef, Isabel, and Mahmoud are separated by continents and decades, shocking connections will tie their stories together in the end.
Walking Shadows by Faye Kellerman. Book #25 of the Peter Decker and Rina Lazarus series.
On a quiet suburban street in upstate Greenbury, New York, the brutally beaten body of a young man is discovered in the woods adjacent to an empty vacation home. Twenty-six-year-old Brady Neil a resident of the neighboring town of Hamilton, had no criminal record, few friends, worked full-time, and attended community college. But as Detective Peter Decker learns, the clean-cut kid is linked to the criminal world. When Brady was a baby, his father, Brandon Gratz, was convicted of robbing and killing the owners of a local jewelry store. While Gratz and his partner, Kyle Masterson, admitted to the robbery, they swore they left the owners, Glen and Lydia Levine, very much alive.
The experienced detective knows there's more to this homicide case than the records show. As he digs into Gratz's past, Decker begins to suspect that the son's murder may be connected to the father's sins. Before he can put together the pieces, Decker finds out that one of Brady Neil's friends, Joseph Boch—aka Boxer—has gone missing. Heading to Boch's house with his temporary new partner, Hamilton PD cop Lenora Baccus, they discover a bloodbath.
Who would savagely kill two innocent men—and why? Finding the answers will require all of Decker's skill and knowledge, the help of his fellow Greenbury detectives, Tyler McAdams and Kevin Butterfield, and information gleaned from his wife Rina's behind the scenes investigation to put all the pieces of this deadly puzzle together . . . and see justice done.
A Simple Favor (Movie Tie-in) by Darcey Bell.
It starts with a simple favor—an ordinary kindness mothers do for one another. When glamorous Emily asks Stephanie to pick up her son after school, Stephanie happily says yes. Emily has a life that would make any woman jealous. She is the perfect mother with a dazzling career working for a famous fashion designer in Manhattan. Stephanie, a widow with a son in kindergarten, lonely in their Connecticut suburb, turns to her daily blog for connection and validation. Stephanie imagines Emily to be her new confidante and is shocked when Emily suddenly disappears without a trace, leaving her son and husband with no warning.
Stephanie knows something is terribly wrong. Unable to keep away from the grieving family, she soon finds herself entangled with Sean, Emily's handsome, reticent British husband. But she can't ignore the nagging feeling that he's not being honest with her about Emily's disappearance. Is Stephanie imagining things? How well did she really know her "best" friend?
Stephanie begins to see that nothing—not friendship, love, or even an ordinary favor—is as simple as it seems.
The First Love by Beverly Lewis.
It's the summer of 1951, and Maggie Esh is in need of some hope. Sweet-spirited and uncommonly pretty despite struggling with chronic illness, she is used to being treated kindly by the young men of her Old Order Amish church district. Yet Maggie wishes she were more like other courting-age girls so she could live a normal, healthy life.
To make matters more complicated, Dat has recently remarried, less than a year after her mother died. And while her stepmother is kind, Rachel is much younger than Mamm, and she simply doesn't understand Maggie or her illness the way Mamm did.
When tent revival meetings come to the area, Maggie is curious, and the words of the Mennonite preacher challenge her to reconsider what she knows about faith. Can she learn to trust God even when hope seems a distant dream?
In His Father's Footsteps by Danielle Steel.
When U.S. troops occupy Germany, friends Jakob and Emmanuelle are saved from the terrible fate of so many in the camps. With the help of sponsors, they make their way to New York. In order not to be separated, they allow their friendship to blossom into love and marriage, and start a new life on the Lower East Side, working at grueling, poorly paid jobs.
Decades later, through talent, faith, fortune, and relentless hard work, Jakob has achieved success in the diamond business, invested in real estate in New York, and shown his son, Max, that America is truly the land of opportunity. Max is a rising star, a graduate of Harvard with friends among the wealthiest, most ambitious families in the world. And while his parents were thrown together by chance, Max chooses a perfect bride to start the perfect American family.
An opulent society wedding. A honeymoon in Tahiti. A palatial home in Greenwich. Max's lavish lifestyle is unimaginable to his cautious old-world father and mother. Max wants to follow his father's example and make his own fortune. But after the birth of children, and with a failing marriage, he can no longer deny that his wife is not the woman he thought she was. Angry and afraid, Max must do what he has never done before: struggle, persevere, and learn what it means to truly walk in his father's footsteps, while pursuing his own ideals and setting an example for his children.
Moving from the ashes of postwar Europe to the Lower East Side of New York to wealth, success, and unlimited luxury, In His Father's Footsteps is a stirring tale of three generations of strong, courageous, and loving people who pay their dues to achieve their goals.
Leverage in Death by J.D. Robb. Book #47 of the In Death series.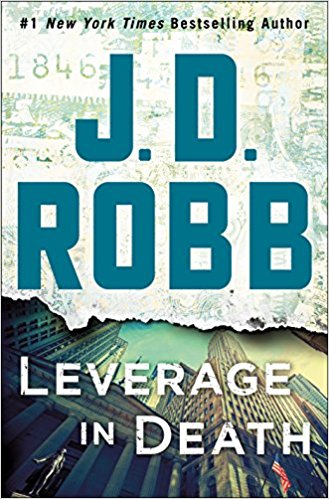 For the airline executives finalizing a merger that would make news in the business world, the nine a.m. meeting would be a major milestone. But after marketing VP Paul Rogan walked into the plush conference room, strapped with explosives, the headlines told of death and destruction instead. The NYPSD's Eve Dallas confirms that Rogan was cruelly coerced by two masked men holding his family hostage. His motive was saving his wife and daughter―but what was the motive of the masked men?
Despite the chaos and bad publicity, blowing up one meeting isn't going to put the brakes on the merger. All it's accomplished is shattering a lot of innocent lives. Now, with the help of her billionaire husband Roarke, Eve must untangle the reason for an inexplicable act of terror, look at suspects inside and outside both corporations, and determine whether the root of this crime lies in simple sabotage, or something far more complex and twisted.
Field of Bones by J.A. Jance. Book #17 of the Joanna Brady series.
Sheriff Joanna Brady's best intentions to stay on maternity leave take a hit when a serial homicide case rocks Cochise County, dragging her into a far-reaching investigation to bring down a relentless killer in this chilling tale of suspense from New York Times bestselling author J. A. Jance.
This time Sheriff Joanna Brady may expect to see her maternity leave through to completion, but the world has other plans when a serial homicide case surfaces in her beloved Cochise County. Rather than staying home with her newborn and losing herself in the cold cases to be found in her father's long unread diaries, Joanna instead finds herself overseeing a complex investigation involving multiple jurisdictions.