As the Reference & Genealogy Librarian, I am constantly begging folks to bring in their old photos and family history documents to add to our collection. Those donations can be completely digital (I'll even scan and digitize everything and give you back your originals), or they can by physical. Earlier this week, I received one of the coolest donations I've seen in my 8 1/2 years here.
The donation came in a padded envelope, addressed to the genealogy department. That's me! Upon opening, I discovered two VHS tapes, two DVDs, and two letters. The first letter came from Mr. Evan Parrott, to whom the items belonged. The second letter was written by Mr. Mike Thompson who had put the videos together. On those two DVDs (and tapes, as well) are over eight hours of video footage taken by Mike's dad, Paul Thompson, back in the thirties, forties and fifties. I've only been able to watch the video in snippets, as I break the video into smaller, more YouTube-friendly segments, removing possibly copyrighted music and replacing with music that won't get the library sued. As such, it's going to take some time for me to get through all of the videos, but I'm getting there.
So far, I've seen trains rolling through Lebanon, football practices, the old court house coming down, several parades, a vacation to North Carolina, and a still being found. I'm having so much fun going through this footage, but I promise you, I'm working as fast as I can!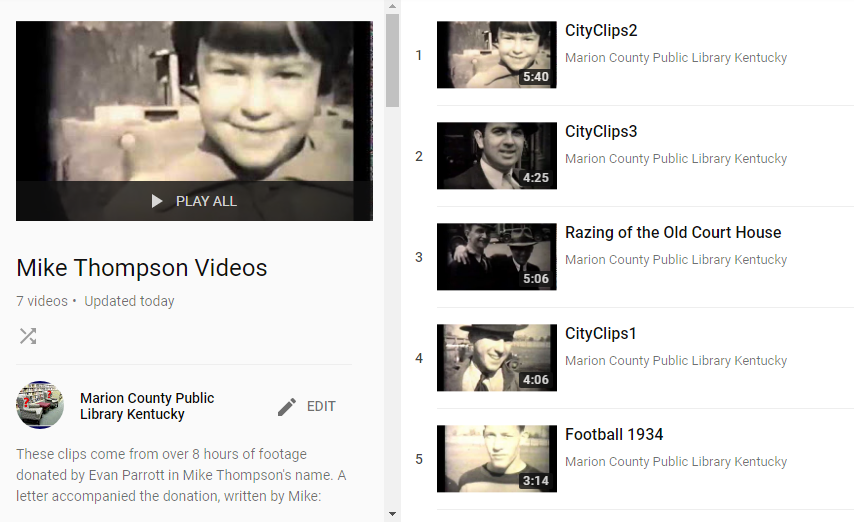 I invite you to subscribe to our YouTube channel and follow the Mike Thompson Videos playlist, as I'll be adding many more videos in the coming weeks. And, as always, if you have photos, videos, or documents you'd like to share with the community and other researchers, please come see me at the library, email me (jama.watts@marioncopublic.org), or give me a call (270.692.4698). That's what I'm here for!
The content of the letter from Mike Thompson follows:
Dear Evan and Ellie:
FINALLY! Brought to the silver screen by the famous producer, Cecil B. Thompson. All of the glory, the hopes and dreams, the tragedy, the triumph of Lebanon, Kentucky. No Payton Place this! (or is it Peyton?). I know you have long since thought that I was simply full of it. Frankly, the dubbing only took one day. However, I needed to sit down and watch and time the various tapes and, in doing so, to jot down the names of people that I can identify and, since I left town some thirty eight years ago, I'm surprised at just how many I remember.
Anyway, on those days that I had some extra time to blow, I wrote down the names of people and places that are depicted. My guess is that I've identified maybe ten percent of those shows. I look forward to your identifying the other ninety percent. You will note that the time sequences jump around. We start off in the thirties, jump to the fifties and then all over the place. They are much easier to study with the pause button.
And so, not necessarily in order, I note the following: Charlie Carrico, Eddie Deep, Thomas Spragens, "Hooley" Brown and his sister, Zelma Harrison, Chief Wilmer Garrison, my father, Paul Thompson, football coach Roger Cundiff, the L&N telegraph operator, the old courthouse (town down in 1938), Frank Chelf, Willie Deep, Mr. Hundley, Walter Beswick, Robert Rogers, the "Defenders of Tobacco," Robert Borders, Joe B. Jarboe's liquor store (at the corner of Main and Proctor Knott), Angie Rogers, "Second Bridge" over the Rolling Fork River, Cotton Abell, "Bro" Bosley, Shell Carrico and Louise Farris, old Judge Spragens, Mary Tabor (nee Deep), the Marion County Fair and Fair Grounds, Mrs. Horace Johnston, the Helm twins, Mr. Willie Abraham (Eddie Deep's father), Horace Johnston, "Smokey Joe" Jarboe and Joe Kelly Jarboe, my grandfather, Ed. C. Thompson, my sister Janice, old "Jerk Water" the train that my Uncle Carl Stine was the conductor on (ending his sentence with a prep), Mr. Joe Moore, Richard Hamilton, Citizens National Bank, the Cecil Hotel, Humkeys, Eddie Deep, Lewis Garrison, Stanley Lee, postman Tom Wayne, Charlie Martin, Sheriff Roy Borders, Pat Caskey, Myrtle Feather and daughter, Mary Harrell, Harold Chapman (ran the Arista), Jesse Sims, Jack Collier, my aunt "Ninny" (Geneva Veatch), Annie Owen, drum major of the Lebanon High School Yellow Jackets Marching Band (of which you would have been a member except for the fact that you were drawn to the vice at Hilpp's Pool Room), Calvary Dam and the old bridge, the Arista Theater, St. Augustine, the Corner Drug Store, Sam Floyd, Theo Walker, Brent's Buick, C.M. Newquist at the Western Auto Store, Abell-Dever Motors, Mr. Dever, Joe Hamilton, my uncle Harry B. Thompson, J.T. Whitlock, Frances Dudgeon, my mother Drusilla, Dr. B.J. Baute and son, Jake Pickerill, Mr. Doody of Doody Coal Company, one of the Kesslers, "Sidewalk Days" in Lebanon, J.T. and Allan Baker at WLBN, W.C. McDuffee, Mrs. Knott (granddaughter of Governor J. Proctor Knott), Charles Lancaster, the A&P Store fire, Benny Kessler, Bobby Hilpp, Knight of Columbus fire, Sam Boldrick, the Catholic Cemetery, Everett Burdette, Logan McCall, Presbyterian Church, G.H. Karnes, Harold Keith Kemp (Photos), the Lebanon Country Club, the Holly Hill Motel, Wilhelmina Harmon.
From the slides, I recognize: Wilmer Garrison, Hooley Brown, Louise and Dick's Cafe (remember that much of Main Street between Proctor Knott and Depot Street consisted mainly of liquor stores and bars until the '60s), Louis Jarboe, Ray Callahan, Kobert Brothers, Frank Thompson (no relation), a guy nicknamed "Cat Hair," Dick Jarboe, Violet Brown, Mr. Owens (who ran the grocery store on Proctor Knott behind the Corner Drug Store), Madden Howard, Bea Rice, Maurice Clark, Miss Aileene Hardesty and her sister (former teachers), Mrs. Bernard Raley, Mr. Penick, Cedars of Lebanon Nursing Home, Benny "Red" Spaulding, J.D. Peak, Cranston Lamb, Dr. Joe Hill, Robby Spalding (on crutches) and Maker's Mark Distillery. To restate, I missed most of them but you and your sisters can fill in the blanks.
The last one and a half hours (after the slides) actually have a narration. One afternoon in the early '80s, I sat down with Stacey and my mother and ran off these old films, taken mostly by my father in the thirties and early forties, with an old black and white video camera and a sixty year old movie projector. The narration speaks for itself. So does the lousy reproduction. In any event, I hope that you and the family enjoy this trip back in time. The stationery is provided by THE LEBANON-SPRINGFIELD BROADCASTING NETWORK.
By the way, got your class picture. Looks like the cast from Cocoon. Just kidding. Actually, not a bad shot. The picture of my last reunion very much resembles the cast from Dante's Inferno.
MVT
Too bad I didn't know Mike Thompson. He sounds like he was quite the character.
YouTube Channel - https://www.youtube.com/user/LibraryMarionCoKY