Did you know that the Marion County Public Library has a large collection of newspapers on microfilm? Our collection includes The Lebanon Enterprise, Marion Falcon, Lebanon Standard, Standard and Times, Lebanon Post, Central Kentucky News Journal and the Kentucky Standard. The newspapers go back to 1852, with dates hit or miss up until the 1910s, when our collection is fairly complete as far as The Lebanon Enterprise is concerned.
Over the last year, I have been working with the Special Collections Research Center at the University of Kentucky to digitize our Marion County newspapers. Once the newspapers have been digitized and sent to MCPL, I have been running text recognition software on the files and breaking them out into smaller files. I figure it's easier to search one issue at a time rather than trying to scroll through over 700 pages from one year!
When we started this project, I knew that I wanted to put the newspapers online, but wasn't sure how our web host would handle all of the additional data. Luckily, the Kentucky Virtual Library was also undergoing a design change, allowing libraries across the state to be in charge of their own digital collections online while making them accessible to even more patrons. This has allowed us to put all of the newspapers online, as well as move our photo database, Marion Memories. With this move, both collections are searchable and easier to use.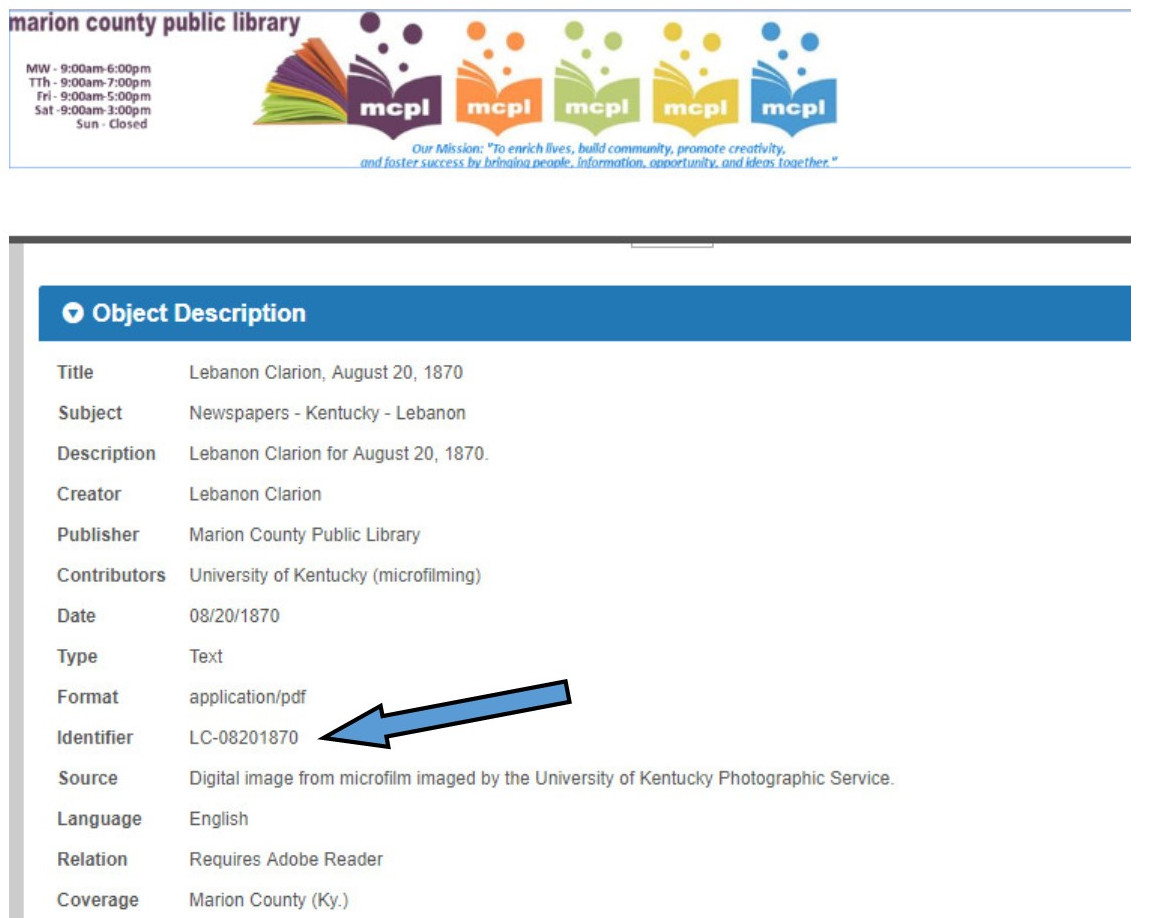 The newspapers have not been indexed, but if you find something interesting in a particular issue, please let me know! Email me at jama.watts@marioncopublic.org with the identifier of the issue and what you found in the paper. The identifier is found under the window displaying the image of the newspaper in a section called "Object Description." An example of the location of the identifier can be found to the right.
I'm more than happy to add notes to each entry, making the database even easier to use. The same is true of our Marion Memories database. If you are able to identify someone in a photo, please pass that information along. Eventually, I'd like to see each and every person and location in all of our photos identified! Think of it as crowd sourcing your genealogy research!
Both databases can be found by navigating to our website (http://www.marioncopublic.org), hovering over "Research & Discover," and then hovering over "Genealogy." You can also access the databases directly by using the links below:
Access Marion County Newspapers here - https://kdl.contentdm.oclc.org/digital/collection/p17244coll25
Access Marion Memories here - https://kdl.contentdm.oclc.org/digital/collection/p17244coll24
Happy researching!