We've got new titles on our shelves or heading this way soon! As always, if you see something you're interested in, simply click on the book image to go to our catalog and place that item on hold using your library card number and your PIN!
Additionally, please take note: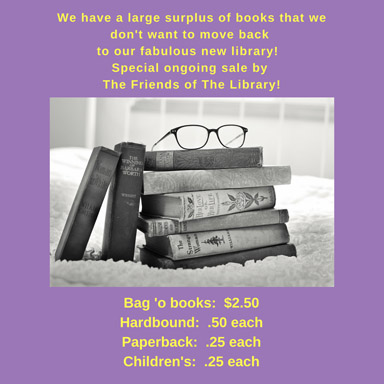 Dopesick: Dealers, Doctors, and the Drug Company that Addicted America by Beth Macy.
In this masterful work, Beth Macy takes us into the epicenter of America's twenty-plus year struggle with opioid addiction. From distressed small communities in Central Appalachia to wealthy suburbs; from disparate cities to once-idyllic farm towns; it's a heartbreaking trajectory that illustrates how this national crisis has persisted for so long and become so firmly entrenched.
Beginning with a single dealer who lands in a small Virginia town and sets about turning high school football stars into heroin overdose statistics, Macy endeavors to answer a grieving mother's question-why her only son died-and comes away with a harrowing story of greed and need. From the introduction of OxyContin in 1996, Macy parses how America embraced a medical culture where overtreatment with painkillers became the norm. In some of the same distressed communities featured in her bestselling book Factory Man, the unemployed use painkillers both to numb the pain of joblessness and pay their bills, while privileged teens trade pills in cul-de-sacs, and even high school standouts fall prey to prostitution, jail, and death.
Through unsparing, yet deeply human portraits of the families and first responders struggling to ameliorate this epidemic, each facet of the crisis comes into focus. In these politically fragmented times, Beth Macy shows, astonishingly, that the only thing that unites Americans across geographic and class lines is opioid drug abuse. But in a country unable to provide basic healthcare for all, Macy still finds reason to hope-and signs of the spirit and tenacity necessary in those facing addiction to build a better future for themselves and their families.
Watch the Girls by Jennifer Wolfe.
Someone is watching...
Washed up teen star Liv Hendricks quit acting after her beloved younger sister inexplicably disappeared following a Hollywood party gone wrong. Liv barely escaped with her life, and her sister was never heard from again. But all this time, someone's been waiting patiently to finish what was started...
Four missing girls...
Now fifteen years later, broke and desperate, Liv is forced to return to the spotlight. She crowdfunds a webseries in which she'll pose as a real-life private detective--a nod to the show she starred on as a teen. When a mysterious donor challenges her to investigate a series of disappearances outside a town made famous by the horror movies filmed there, Liv has no choice but to accept.
Follow the white wolf...
Liv is given a cryptic first clue: Follow the white wolf. And now a darker game is about to begin. Through social media, someone is leaving breadcrumbs to follow. As Liv makes increasingly disturbing discoveries, her show explodes in popularity. A rapt internet audience is eager to watch it all--perhaps even at the cost of Liv's own life...
Reporter: A Memoir by Seymour M. Hersh.
From the Pulitzer Prize-winning, best-selling author and preeminent investigative journalist of our time—a heartfelt, hugely revealing memoir of a decades-long career breaking some of the most impactful stories of the last half-century, from Washington to Vietnam to the Middle East.
Seymour Hersh's fearless reporting has earned him fame, front-page bylines in virtually every major newspaper in the free world, honors galore, and no small amount of controversy. Now in this memoir he describes what drove him and how he worked as an independent outsider, even at the nation's most prestigious publications. He tells the stories behind the stories—riveting in their own right—as he chases leads, cultivates sources, and grapples with the weight of what he uncovers, daring to challenge official narratives handed down from the powers that be. In telling these stories, Hersh divulges previously unreported information about some of his biggest scoops, including the My Lai massacre and the horrors at Abu Ghraib. There are also illuminating recollections of some of the giants of American politics and journalism: Ben Bradlee, A. M. Rosenthal, David Remnick, and Henry Kissinger among them. This is essential reading on the power of the printed word at a time when good journalism is under fire as never before.
Whistle in the Dark by Emma Healey.
Jen and Hugh Maddox have just survived every parent's worst nightmare.
Relieved, but still terrified, they sit by the hospital bedside of their fifteen-year-old daughter, Lana, who was found bloodied, bruised, and disoriented after going missing for four days during a mother-daughter vacation in the country. As Lana lies mute in the bed, unwilling or unable to articulate what happened to her during that period, the national media speculates wildly and Jen and Hugh try to answer many questions.
Where was Lana? How did she get hurt? Was the teenage boy who befriended her involved? How did she survive outside for all those days? Even when she returns to the family home and her school routine, Lana only provides the same frustrating answer over and over: "I can't remember."
For years, Jen had tried to soothe the depressive demons plaguing her younger child, and had always dreaded the worst. Now she has hope—the family has gone through hell and come out the other side. But Jen cannot let go of her need to find the truth. Without telling Hugh or their pregnant older daughter Meg, Jen sets off to retrace Lana's steps, a journey that will lead her to a deeper understanding of her youngest daughter, her family, and herself.
Swearing Off Stars by Danielle Wong.
Amelia Cole―Lia for short―is one of the first women studying abroad at Oxford University in the 1920s. Finally free from her overbearing Brooklyn parents, she finds a welcome sense of independence in British college life. Lia quickly falls for Scarlett Daniels, an aspiring actress and hardheaded protester. Scarlett introduces her to an exciting gender-equality movement with high stakes. But when their secret love clashes with political uprising, their relationship is one of the casualties.
Years later, Lia's only memories of Scarlett are obscured by the glossy billboards she sees advertising the actress's new films. But when a mysterious letter surfaces, she is immediately thrown back into their unsettled romance. Lia's travels span oceans and continents in her search for Scarlett. Spread across time and place, their story is one of desire, adventure, and ultimately, devotion. Lia will stop at nothing to win Scarlett back, but she soon realizes that uncovering lost love might not be attainable after all.
The Russia Hoax: The Illicit Scheme to Clear Hillary Clinton and Frame Donald Trump by Gregg Jarrett.
The Russia Hoax reveals how persons within the FBI and Barack Obama's Justice Department worked improperly to help elect Hillary Clinton and defeat Donald Trump in the 2016 presidential election.
When this suspected effort failed, those same people appear to have pursued a contrived investigation of President Trump in an attempt to undo the election results and remove him as president.
The evidence suggests that partisans within the FBI and the Department of Justice, driven by personal animus and a misplaced sense of political righteousness, surreptitiously acted to subvert electoral democracy in our country.
The book will examine:
How did Hillary Clinton manage to escape prosecution despite compelling evidence she violated the law?

Did Peter Strzok, James Comey, Andrew McCabe, Loretta Lynch, and others obstruct justice by protecting Clinton?

Why was there never a legitimate criminal investigation of Clinton in the Uranium One case?

Are the text messages exchanged between Strzok and FBI lawyer Lisa Page evidence of a concerted effort to undermine the electoral process?

Was there ever any real evidence of "collusion" between Trump and the Russians?

Did Trump obstruct justice in the firing of Comey or was he legally exercising his constitutional authority?

Did the FBI and DOJ improperly use a discredited "dossier" about Trump to obtain a FISA warrant to spy on Trump associates?

Should Mueller have disqualified himself under the special counsel law based on glaring conflicts of interest?

Was fired National Security Adviser Michael Flynn unfairly charged with making a false statement?

With insightful analysis and a fact-filled narrative, The Russia Hoax delves deeply into Democrat wrongdoing.
TABE Test Study Guide 2018-2019: Exam Review Book and Practice Test Questions for the Test of Adult Basic Education by the TABE Prep Team.
You're probably thinking this is just another typical study guide. Because we know your time is limited, we've created a resource that isn't like most study guides. With Trivium Test Prep's unofficial NEW TABE Test Study Guide 2018-2019: Exam Review Book and Practice Test Questions for the Test of Adult Basic Education you'll benefit from a quick-but-comprehensive review of everything tested on the exam via real-life examples, graphics, and information. Our materials give you that extra edge you need to pass the first time.
DRC was not involved in the creation or production of this product, is not in any way affiliated with Trivium Test Prep, and does not sponsor or endorse this product.
Trivium Test Prep's TABE Test Study Guide 2018-2019 offers:

A detailed overview of what you need to know for the TABE exam

Coverage of all the subjects over which you will be tested

Practice questions for you to practice and improve

Test tips and strategies to help you score higher

Trivium Test Prep's TABE Test Study Guide 2018-2019 covers:
Background on the TABE test of adult basic education

Reading

Language Arts

Math

… and includes practice questions!
About Trivium Test Prep:
Trivium Test Prep is an independent test prep study guide company that produces and prints all of our books right here in the USA. Our dedicated professionals know how people think and learn, and have created our test prep products based on what research has shown to be the fastest, easiest, and most effective way to prepare for the exam. Unlike other study guides that are stamped out in a generic fashion, our study materials are specifically tailored for your exact needs.
We offer a comprehensive set of guides guaranteed to raise your score for exams from every step of your education; from high school, to college or the military, to graduate school. Let our study guides guide you along the path to the professional career of your dreams!
Feared by Lisa Scottoline. Book #6 in the Rosato & DiNunzio series.
When three men announce that they are suing the Rosato & DiNunzio law firm for reverse sex discrimination―claiming that they were not hired because they were men―Mary DiNunzio and Bennie Rosato are outraged. To make matters worse, their one male employee, John Foxman, intends to resign, claiming that there is some truth to this case.
The plaintiffs' lawyer is Nick Machiavelli, who has already lost to Mary once and is now back with a vengeance ―determined not to not only win, but destroy the firm. It soon becomes clear that Machiavelli will do anything in his power to achieve his end…even after the case turns deadly. The stakes have never been higher for Mary and her associates as they try to keep Machiavelli at bay, solve a murder, and save the law firm they love…or they could lose everything they've worked for. Told with Scottoline's trademark gift for twists, turns, heart, and humanity, this latest thriller asks the question: Is it better to be loved, or feared...
Feared, the sixth entry in the acclaimed Rosato & DiNunzio series, expertly explores what happens when we are tempted to give in to our own inner darkness.
The Breakers by Marcia Muller. Installment #34 of the Sharon McCone Mystery series.
Sharon gets a request from her former neighbors the Curleys. Their usually dependable daughter, Chelle, hasn't answered their calls in over a week. Would Sharon check on her?
Chelle, a house flipper, has been living at her latest rehab project: a Prohibition-era nightclub known as the Breakers, formerly a favored watering hole for San Francisco's elite, now converted into a run-down apartment building. There's something sinister about the quirky space, and Sharon quickly discovers why. Lurking in a secret room between two floors is a ghastly art gallery: photos and drawings of mass murderers, long ago and recent. Jack the Ripper. The Zodiac and Zebra killers. Charles Manson. What, an alarmed Sharon wonders, was Chelle doing in this chamber of horrors?
And as Sharon begins to suspect that the ghoulish collage may be more than just a leftover relic of the Breakers' checkered history, her search for Chelle becomes a desperate race against the clock before a killer strikes again.
Texas Ranger by James Patterson.
A Texas Ranger fights for his life, his freedom, and the town he loves as he investigates his ex-wife's murder.
Across the ranchlands and cities of his home state, Rory Yates's discipline and law-enforcement skills have carried him far: from local highway patrolman to the honorable rank of Texas Ranger. He arrives in his hometown to find a horrifying crime scene and a scathing accusation: he is named a suspect in the murder of his ex-wife, Anne, a devoted teacher whose only controversial act was ending her marriage to a Ranger.
In search of the killer, Yates plunges into the inferno of the most twisted and violent minds he's ever encountered, vowing to never surrender. That code just might bring him out alive.