Here are the newest titles in our collection, either on our shelves now or arriving soon! See something you're interested in? Simply click on the book image to go to our catalog and place that item on hold using your library card number and your PIN.
The Cabin at the End of the World by Paul Tremblay.
Seven-year-old Wen and her parents, Eric and Andrew, are vacationing at a remote cabin on a quiet New Hampshire lake. Their closest neighbors are more than two miles in either direction along a rutted dirt road.
One afternoon, as Wen catches grasshoppers in the front yard, a stranger unexpectedly appears in the driveway. Leonard is the largest man Wen has ever seen but he is young, friendly, and he wins her over almost instantly. Leonard and Wen talk and play until Leonard abruptly apologizes and tells Wen, "None of what's going to happen is your fault". Three more strangers then arrive at the cabin carrying unidentifiable, menacing objects. As Wen sprints inside to warn her parents, Leonard calls out: "Your dads won't want to let us in, Wen. But they have to. We need your help to save the world."
Thus begins an unbearably tense, gripping tale of paranoia, sacrifice, apocalypse, and survival that escalates to a shattering conclusion, one in which the fate of a loving family and quite possibly all of humanity are entwined.
If You're in My Office, It's Already Too Late: A Divorce Lawyer's Guide to Staying Together by James J. Sexton.
After dealing with more than a thousand clients whose marriages have dissolved over everything from an ill-advised threesome with the nanny to the uneven division of carpool duties, he also knows all of the what-not-to-dos for couples who want to build―and consistently work to preserve―a lasting, fulfilling relationship. Described by former clients as a "courtroom gunslinger" and "the sociopath you want on your side," Sexton tells the unvarnished truth about relationships, diving straight into the most common marital problems. These usually derive from dishonest―or nonexistent―communication. Even when the alleged reason for separation is one spouse's new "personal trainer," there's likely a communication problem that predates the fitness kick. Symptom and root cause get confused all the time.
Sexton has spent his career working with spouses-to-be-no-longer. Reverse engineering a relationship can help to identify and fix what does not work. Ever feel like you're holding back criticism of your spouse because you just can't have that fight right now? Sexton will tell you to "Hit Send Now." Maybe you aren't as adventurous as you used to be, or need some "you time," but for some reason it seems weird or exhausting to change up the routine now. Sexton knows where that mentality leads and offers viable alternative paths to take. Though he deals constantly with the heartbreak of others, he still believes in romance and the transformative power of love. This book is his opportunity to use what he has learned to help couples that aren't so far gone get back on track.
Pale as Death by Heather Graham. Book #25 in the Krewe of Hunters series.
The crime scene is horrific: the corpse of a young actress, drained of blood and cut in two. LAPD Detective Sophie Manning's new case is high-profile and difficult—there's no evidence to work with. And it's a disturbing echo of the infamous Black Dahlia killing. Sophie is burning the candle at both ends, desperate to catch the murderer before he strikes again, when she starts to experience inexplicable visits…from ghosts.
Bruce McFadden has a particular talent that can help Sophie—he can speak with the dead. As a consultant for the FBI's paranormal team, the Krewe of Hunters, he's been tasked with Sophie's case and they're forced to partner up. But Sophie doesn't want his help, and she doesn't want to share his peculiar skill. And she certainly isn't ready for love, despite Bruce's attentions.
As the killer taunts the police, Sophie and Bruce will discover that the threat is closer to home than they'd ever realized. Working side by side is the only way they'll stop this deadly sequel.
A Measure of Darkness by Jonathan Kellerman. Book #2 of the Clay Edison series.
Clay Edison is busy. He's solved a decades-old crime and redeemed an innocent man, earning himself a suspension in the process. Things are getting serious with his girlfriend. Plus his brother's fresh out of prison, bringing with him a whole new set of complications.
Then the phone rings in the dead of night.
A wild party in a gentrifying East Bay neighborhood. A heated argument that spills into the street.
Gunshots. Chaos.
For Clay and his fellow coroners, it's the start of a long night and the first of many to come. The victims keep piling up. What begins as a community tragedy soon becomes lurid fodder for social media.
Then the smoke clears and the real mystery emerges—one victim's death doesn't match the others. Brutalized and abandoned, stripped of ID, and left to die: She is Jane Doe, a human question mark. And it falls to Clay to give her a name and a voice.
Haunted by the cruelty of her death, he embarks upon a journey into the bizarre, entering a hidden world where innocence and perversity meet and mingle. There, his relentless pursuit of the truth opens the gateway to a dark and baffling past—and brings him right into the line of fire.
The Quiet Side of Passion by Alexander McCall Smith. Book #12 in the Isabel Dalhousie Sunday Philosophy Club series.
Isabel finds herself grappling with ethically-complex matters of the heart as she tries to juggle her responsibilities to friends, family, and the philosophical community.
With two small boys to raise, a mountain of articles to edit for the Review of Applied Ethics, and the ever-increasing demands of her niece, Cat, who always seems to need a helping hand at the deli, Isabel barely has any time for herself. Her husband, Jamie, suggests acquiring extra help, and she reluctantly agrees. In no time at all, Isabel and Jamie have a new au pair, and Isabel has an intelligent assistant editor to share her workload. Both women, though, have romantic entanglements that threaten to interfere with their work, and Isabel must decide how best to navigate this tricky domestic situation. Can an employer ever inject herself into her employees' affairs?
Meanwhile, Isabel makes the acquaintance of Patricia, the mother of Charlie's friend Basil. Though Isabel finds Patricia rather pushy, she tries to be civil and supportive, especially given that Patricia is raising her son on her own, without the help of his father, a well-known Edinburgh organist, also named Basil. But when Isabel sees Patricia in the company of an unscrupulous man, she begins to rethink her assumptions. Isabel must once again call on her kindness and keen intelligence to determine the right course of action, at home, at work, and in the schoolyard.
Paradox by Catherine Coulter. An FBI Thriller, #22.
Chief Ty Christie of Willicott, Maryland, witnesses a murder at dawn from the deck of her cottage on Lake Massey. When dragging the lake, not only do the divers find the murder victim, they also discover dozens of bones. Even more shocking is the identification of a unique belt buckle found among the bones. Working together with Chief Christie, Savich and Sherlock soon discover a frightening connection between the bones and the escaped psychopath.
Paradox is a chilling mix of Dr. Jekyll and Mr. Hyde, old secrets that refuse to stay buried, and ruthless greed that keep Savich and Sherlock and Chief Ty Christie working at high speed to uncover the truth before their own bones end up at the bottom on the lake.
My Year of Rest and Relaxation by Ottessa MoshFegh.
From one of our boldest, most celebrated new literary voices, a novel about a young woman's efforts to duck the ills of the world by embarking on an extended hibernation with the help of one of the worst psychiatrists in the annals of literature and the battery of medicines she prescribes.
Our narrator should be happy, shouldn't she? She's young, thin, pretty, a recent Columbia graduate, works an easy job at a hip art gallery, lives in an apartment on the Upper East Side of Manhattan paid for, like the rest of her needs, by her inheritance. But there is a dark and vacuous hole in her heart, and it isn't just the loss of her parents, or the way her Wall Street boyfriend treats her, or her sadomasochistic relationship with her best friend, Reva. It's the year 2000 in a city aglitter with wealth and possibility; what could be so terribly wrong?
My Year of Rest and Relaxation is a powerful answer to that question. Through the story of a year spent under the influence of a truly mad combination of drugs designed to heal our heroine from her alienation from this world, Moshfegh shows us how reasonable, even necessary, alienation can be. Both tender and blackly funny, merciless and compassionate, it is a showcase for the gifts of one of our major writers working at the height of her powers.
The Little French Bistro by Nina George.
Marianne is stuck in a loveless, unhappy marriage. After forty-one years, she has reached her limit, and one evening in Paris she decides to take action. Following a dramatic moment on the banks of the Seine, Marianne leaves her life behind and sets out for the coast of Brittany, also known as "the end of the world."
Here she meets a cast of colorful and unforgettable locals who surprise her with their warm welcome, and the natural ease they all seem to have, taking pleasure in life's small moments. And, as the parts of herself she had long forgotten return to her in this new world, Marianne learns it's never too late to begin the search for what life should have been all along.
The Child Finder by Rene Denfeld.
Three years ago, Madison Culver disappeared when her family was choosing a Christmas tree in Oregon's Skookum National Forest. She would be eight-years-old now—if she has survived. Desperate to find their beloved daughter, certain someone took her, the Culvers turn to Naomi, a private investigator with an uncanny talent for locating the lost and missing. Known to the police and a select group of parents as "the Child Finder," Naomi is their last hope.
Naomi's methodical search takes her deep into the icy, mysterious forest in the Pacific Northwest, and into her own fragmented past. She understands children like Madison because once upon a time, she was a lost girl, too.
As Naomi relentlessly pursues and slowly uncovers the truth behind Madison's disappearance, shards of a dark dream pierce the defenses that have protected her, reminding her of a terrible loss she feels but cannot remember. If she finds Madison, will Naomi ultimately unlock the secrets of her own life?
All Your Perfects by Colleen Hoover.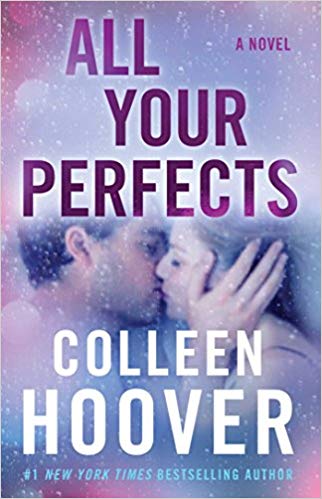 Quinn and Graham's perfect love is threatened by their imperfect marriage. The memories, mistakes, and secrets that they have built up over the years are now tearing them apart. The one thing that could save them might also be the very thing that pushes their marriage beyond the point of repair.
All Your Perfects is a profound novel about a damaged couple whose potential future hinges on promises made in the past. This is a heartbreaking page-turner that asks: Can a resounding love with a perfect beginning survive a lifetime between two imperfect people?
A Gathering of Secrets by Linda Castillo. Book #10 in the Kate Burkholder series.
When a historic barn burns to the ground in the middle of the night, Chief of Police Kate Burkholder is called in to investigate. At first, it looks like an accident, but when the body of eighteen-year-old Daniel Gingerich is found inside―burned alive―Kate suspects murder. Who would want a well-liked, hardworking young Amish man dead? Kate delves into the investigation only to find herself stonewalled by the community to which she once belonged. Is their silence a result of the Amish tenet of separation? Or is this peaceful and deeply religious community conspiring to hide a truth no one wants to talk about? Kate doubles down only to discover a plethora of secrets and a chilling series of crimes that shatters everything she thought she knew about her Amish roots―and herself.
As Kate wades through a sea of suspects, she's confronted by her own violent past and an unthinkable possibility.
The Blind by A. F. Brady.
Sometimes what's most terrifying is what exists in your mind.
Sam James has spent years carefully crafting her reputation as the best psychologist at Typhlos, Manhattan's most challenging psychiatric institution. She believes if she can't save herself, she'll save someone else, though this mindset leads Sam down some dark paths, opening her eyes to her own disturbing mental turmoil.
When Richard, a mysterious patient no one wants to treat, is admitted to Typhlos, Sam is determined to unlock his secrets and understand his psyche. But as Sam gets pulled into Richard's twisted past, she can't help but analyze her own life, and what she discovers terrifies her.
And so the mind games begin. But who is the savior and who is the saved?
Tailspin by Sandra Brown.
Rye Mallett, a fearless "freight dog" pilot charged with flying cargo to far-flung locations, is often rough-spoken and all business, but soft on regulations when they get in the way of meeting a deadline. But he does have a rock-solid reputation: he will fly in the foulest weather, day or night, and deliver the goods safely to their destination. So when Rye is asked to fly into a completely fogbound northern Georgia town and deliver a mysterious black box to a Dr. Lambert, he doesn't ask questions.
As Rye's plane nears the isolated landing strip, more trouble than inclement weather awaits him. He is greeted first by a sabotage attempt on his plane that causes him to crash land, and then by Dr. Brynn O'Neal, who claims she was sent for the box in Dr. Lambert's stead. Despite Rye's "no-involvement" policy when it comes to other people's problems, he finds himself irresistibly drawn to the intrigue surrounding his cargo . . . and to the mysterious and alluring Brynn.
Soon Rye and Brynn are in a treacherous forty-eight-hour race to deliver the box before time runs out. With everyone from law enforcement officials to hired thugs hot on their heels, they must learn to trust each other so they can protect their valuable cargo from those who would kill for it.
Serpentine by Laurel K. Hamilton. Anita Blake, Vampire Hunter series, #26.
A remote Florida island is the perfect wedding destination for the upcoming nuptials of Anita's fellow U.S. Marshal and best friend Edward. For Anita, the vacation is a welcome break, as it's the first trip she gets to take with just wereleopards Micah and Nathaniel. But it's not all fun and games and bachelor parties...
In this tropical paradise Micah discovers a horrific new form of lycanthropy, one that has afflicted a single family for generations. Believed to be the result of an ancient Greek curse, it turns human bodies into a mass of snakes.
When long-simmering resentment leads to a big blowout within the wedding party, the last thing Anita needs is more drama. But it finds her anyway when women start disappearing from the hotel, and worse--her own friends and lovers are considered the prime suspects. There's a strange power afoot that Anita has never confronted before, a force that's rendering those around her helpless in its thrall. Unable to face it on her own, Anita is willing to accept help from even the deadliest places. Help that she will most certainly regret--if she survives at all, that is...
The Money Shot by Stuart Woods. Book #2 in the Teddy Fay series.
Ever a man of mystery and intrigue, Teddy Fay has donned a new disguise--that of Mark Weldon, a stuntman and actor starring in Centurion Studios' newest film. When the picture's leading lady begins receiving blackmail threats, Teddy is in the perfect position to investigate, and it soon becomes clear that the villains have more in their sights than just money. Money they've got. What they need is prestige, the cache of a respected studio to lend authority and legitimacy to their artistic endeavors . . . and a little bit of vengeance in the bargain.
From the seedy hidden corners of Los Angeles to the glamorous Hollywood Hills, it will take every ounce of Teddy's cunning to save an actress's career, protect the studio, and finish filming Centurion's next big hit.