Save the Date and Nominate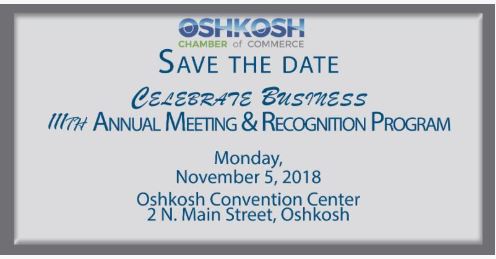 Small Business of the Year Nomination
The business will be selected by a committee of the Oshkosh Chamber of Commerce and awarded at the Chamber's 2018 Annual Meeting & Recognition Program on November 5, 2018.
GENERAL QUALIFICATIONS
*Must be an independently owned, profit-making enterprise for at least 5 years.
*Must have fewer than 200 full-time employees.
*Must be an Oshkosh Chamber of Commerce member headquartered in Oshkosh.
The nomination deadline is Friday, September 14. If you interested in nominating a business contact Jessica@oshkoshchamber.com for further details.