FUNDRAISING GOAL ACHIEVED
THANK YOU! THANK YOU! THANK YOU!
The outpour of support from the community since reopening the Arts Center doors after renovations and COVID have been outstanding. We are excited to share four bits of exciting news!
Through the generous support of students, residents, friends, patrons, sponsors and the business community, ArtsConnect met its fundraising goal to purchase a mobile cooking cart! The cart is a legacy project in memory of long-time board member, Debbie Vargo. The cart, complete with an oven, induction burner and sink will allow ArtsConnect to expand its programming to culinary arts later this year. A portion of the funding will be set aside as a scholarship for the Springfield Township Empowering Youth Program to ensure cooking is always a part of the summer mentoring.
A few ArtsConnect campers helped announce the news in this quick and fun video. Press the play arrow to watch it here.
BLACKSMITHING INSTRUCTOR WINS FORGED IN FIRE
In the second piece of exciting news, ArtsConnect blacksmith instructor, Josh Fisher WINS in the reality television competition, Forged In Fire! Josh is a full-time Blacksmith by trade and teaches blacksmithing and woodshop classes for ArtsConnect. He also works with the Wounded Warrior Project incorporating blacksmithing as a form of therapy.
ArtsConnect hosted its Bourbon and Blades watch party / bourbon tasting event at the Arts Center on Friday, June 11th. Fifty people gathered to watch Josh compete on the History Channel's show. His final forge in the competition was a Polish War Hammer, which earned him the winning title. ArtsConnect held a raffle of forged items and auctioned a handmade replica of the War Hammer, raising over $750 for blacksmithing studio upgrades. Event participants "forged" their own knives of soap, where Josh selected one winner to receive a free Blacksmithing workshop.
View Blacksmithing classes, taught by Josh Fisher HERE
Watch a video recap of the event below...
ARTSCONNECT EARNS
FAMILY CHOICE AWARD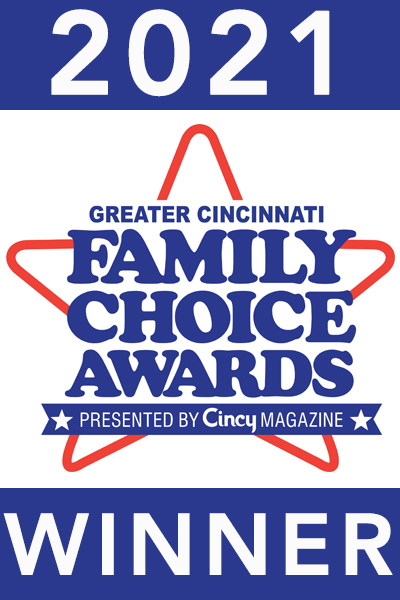 Cincy magazine polls its readers for the best businesses in the Greater Cincinnati area. Family Choice Award nominations, then voting was held April 6 - June 6. ArtsConnect was recognized as the winner for 2021 "Best Arts and Crafts Classes". A writeup in the Summer edition of Cincy Magazine will announce each category winner.
CET TO FEATURE ARTSCONNECT
IN AN EPISODE OF "THE ART SHOW"

CET is a leading provider of education and enrichment in classrooms and living rooms throughout Greater Cincinnati. Through PBS and local programming, innovative multimedia curriculum projects, parent workshops and teacher training, CET positively impacts millions of lives in our community.
Its television series, The Art Show, features artists from around the world, as well as arts organizations right here in Cincinnati. ArtsConnect was invited to appear in an upcoming episode as a featured guest. The show was recorded at the Arts Center over two days in June and included clips from classes, camps and interviews with the executive director. The show will begin airing July 29th with playbacks throughout the month on television and online.