Springfield Township Trustees, Joe Honerlaw, Mark Berning and Kristie Dukes Davis, approved $3.372 million for Township road improvements. This is the largest road project, in terms of scope and cost, ever funded in the history of the township and is set to begin this May.
Twenty-five roads, covering a total of six miles will be completely rehabilitated. Roads included in this project are Toulon Drive, Cloverton Court, Merrymaid Lane, Maria Avenue, Briarrose Court, Sherwood Drive, Nohunta Court, Sherman Terrace, W. McKelvey Road, Lakeview Drive, Wildbrook Lane, Northbrook Court, Ridgebrook Court, Garnoa Drive, Terway Lane, Crestbrook Drive, Kelso Court, Sunwood Court, Fernbrook Court, Northfield Lane, Southfield Court, Sarbrook Drive, Newgate Lane, Belsage Court and Woodmill Lane. In a highly competitive grant cycle, Springfield Township was awarded $1.686 million through the State Capital Improvement Project program. $1.079 million will be funded through the Township JEDZ revenues, $404,641 from road levy funding and the remaining $202,320 by residents of the streets through an assessment of $58.55 for 10 years. Resident participation in the project was instrumental in receiving the grant.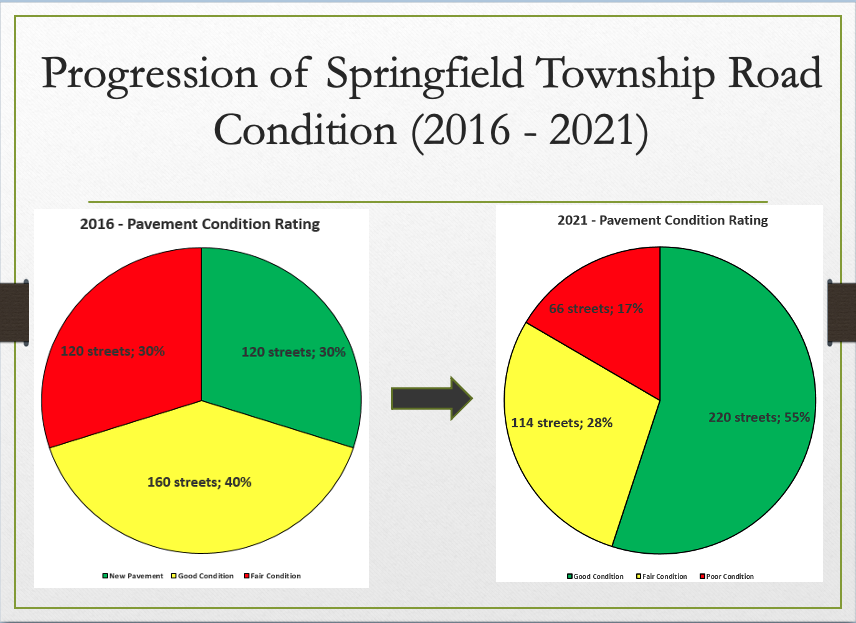 "Roads across Hamilton County were built around the same time. They are also failing at the same time. We understand that road conditions are a concern and have made it a priority in our budgeting," explained Trustee Honerlaw. Springfield Township assigns a rating condition of "Good, Fair, and Poor" to its streets. In 2016, 120 township streets were considered to be in poor condition, 160 in fair condition and 120 in good condition. 2021 marks the 5th year of the 5-Year Infrastructure Plan. Once the roads in this project are completed, 220 Springfield Township roads will be considered in good condition and 114 streets will be considered in fair condition. "We have made great progress with the limited funding allotted for roads. This year, through the support of the SCIP grant and resident participation, a large portion of our roads in the worst condition will be rebuilt. We expect these roads to last 25 years," said Director of Infrastructure, Mike Gould.
Residents of the roads impacted by construction will receive timely communications from the Township Public Works Department. Updates, maps and photos will be posted frequently at https://www.springfieldtwp.org/452/2021-Resurfacing-Program Adleta will be performing the construction which is expected to be complete by October, 2021. For questions or concerns regarding the 2021 road projects, call Mike Gould at 728-4285 or email mgould@springfieldtwp.org