Telehealth had been slowly gaining popularity since at least 2015. Its use really took off during the first four months of 2020, as the COVID-19 pandemic led to lockdowns and social distancing. The number of commercially insured St. Louisans who used a telehealth service was nearly 60 percent greater during the first four months of 2020 than it was during the entire 2019 calendar year.
That sudden spike in usage means that COVID-19 did in a few months what employers and health plans had tried to accomplish for years: Encourage the use of telehealth as an extension of primary care. It is an idea with a lot of potential, even if it took a while to catch on. Primary care providers (PCPs) are like the quarterback on a football team: They call plays and, when necessary, hand off to other members of the team to ensure complete care for the patient. Concerned by the skyrocketing cost of health care provided to their workers, many employers are encouraging workers to select, use, and stay connected to a primary care provider of their choosing.
"We think our employees get better, more coordinated care when they have an existing relationship with a PCP," said Tim Sutter, Sr. Director, Benefits, Compensation & Risk Management, Caleres.
Some PCPs initially resisted the idea of telehealth, often because they were not reimbursed for the visits. As a result, employers and health plans brought in stand-alone telehealth services for their members. However, when the big surge in telehealth use came during the beginning of 2020, it was PCPs, not the stand-alone telehealth services, that saw the most use.
The arrival of COVID-19 vaccines promises an eventual return to normalcy. So what happens next for telehealth? "PCPs are armed with the technology and the knowledge that employers are willing to pay for telehealth visits. Will they now use telehealth to stay connected with their patients and meet patients' acute care needs?" wonders Sutter. "Or will they go back to the way things used to be, with limited telehealth availability?"
The Midwest Health Initiative discussed trends in telehealth with the business intelligence leaders of its health plan data contributors during their quarterly Data Intelligence Group meeting. Data shared by United Healthcare (UHC) shows that the surge in telehealth continued at least through October 2020. "We saw the same thing you did, a big jump in April and then a slow, steady decline in the months after, although still higher utilization than seen in previous years" said Amy Jo Love, Vice President of Market Strategies, at the insurance giant. Just as with MHI's data, most increased telehealth use among UHC's patients involved calls or video visits with their regular PCP, not a stand-alone service. UHC expects telehealth use to have peaked again during the winter months due to the end-of-year resurgence of COVID-19 cases, deterring patients from in-person visits.
Most of the growth in telehealth during 2020 occurred during March and April, when quarantine started, and fear of the virus peaked. Nearly 2,200 commercially insured patients had telehealth visits in March, and a whopping 9,000 had telehealth visits during April, the MHI data shows.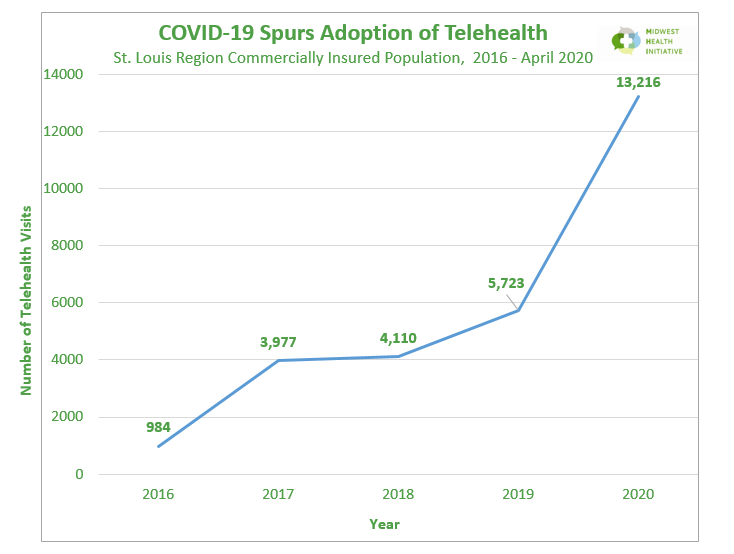 The 2020 surge coincides with the region's clinicians' quick embrace of telehealth to stay connected to their patients and remain productive. Clinicians acted in response to trepidation by many that the declines in patient visits and elective procedures could delay necessary care and be hazardous to patient well-being, as well as their business. Judging from the jump in telehealth use, those outreach efforts paid dividends for clinicians, patients, and plan sponsors.
Health policy experts have long touted the potential of telehealth to bring primary, as well as some specialty care, to rural and underserved communities. Most doctors billing for telehealth visits in the St. Louis region are primary care providers. However, the claims also showed group, individual therapy, and psychiatric visits. Telehealth visits also provided nutritional counseling and medication management for patients with diabetes or other metabolic disorders.
The Midwest Health Initiative monitors health care trends in Missouri and the metropolitan areas on its borders. Stay tuned for a deeper dive into the impact of COVID-19 on telehealth and other health care utilization trends this year. For more information about MHI and its data, please visit www.midwesthealthinitiative.org.