In the St. Louis metro area, which includes several Southern Illinois counties, 34 percent of people with high blood pressure don't regularly refill their medications, a new analysis by the nonprofit Midwest Health Initiative (MHI) shows. That leaves them at risk for serious consequences like stroke, kidney or heart disease.
MHI's analysis used medical and pharmacy claims for commercially insured adults under age 65 and looked at two different kinds of blood pressure medications. Statewide, it found that nearly 35 percent of patients with hypertension failed to regularly refill their blood pressure medicines. In the Kansas City area, which includes parts of Eastern Kansas and Western Missouri, the rate is about 30 percent. In Springfield Missouri, 39 percent of patients with hypertension did not refill their blood pressure medications. People who failed to refill for at least 80 percent of the year were considered noncompliant in this analysis.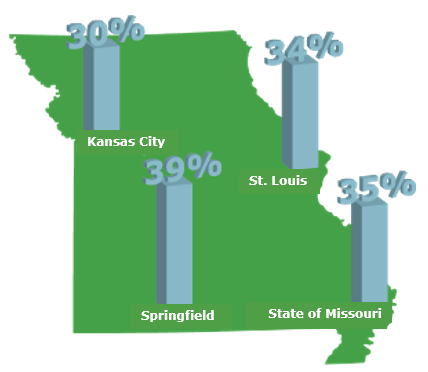 Hypertension Medication Noncompliance by Geography
"Those findings are consistent with analysis I've done," said St. Louis-based pharmacy benefits manager Timothy Rackovan, RPh, Express Scripts. He noted that patients with more than one chronic illness such as high blood pressure and diabetes and those who are older are more likely to regularly refill prescriptions for high blood pressure medications.
People who are overweight or obese; have diabetes; high cholesterol; or don't engage in regular exercise are at greater risk for high blood pressure. Blood pressure above 120/80 is considered elevated. People with blood pressure above 140/80 are considered to have hypertension.
The Missouri Department of Health and Senior Services (DHSS) estimates that 31 percent of people in the St. Louis region have hypertension. The highest rates are found in people over the age of 65, but almost 4-in-10 people between the ages of 45 and 64 are also thought to have hypertension.
High blood pressure is often called the "silent killer," because patients usually have no symptoms until serious problems develop such as stroke, kidney or heart disease.
To tackle this chronic disease, DHSS has partnered with the St. Louis Area Business Health Coalition (BHC) to deliver an initiative called Healthy Hearts @ Work (HH@W). This turnkey program will provide Missouri employers with virtual resources and strategy guidance to educate employees about high blood pressure, identify cases of uncontrolled high blood pressure, and encourage worksite policies supporting health and wellness.
To learn more about HH@W and opportunities to participate, please contact BHC Well-being & Member Services Coordinator, Annie Fitzgerald at afitzgerald@stlbhc.org.