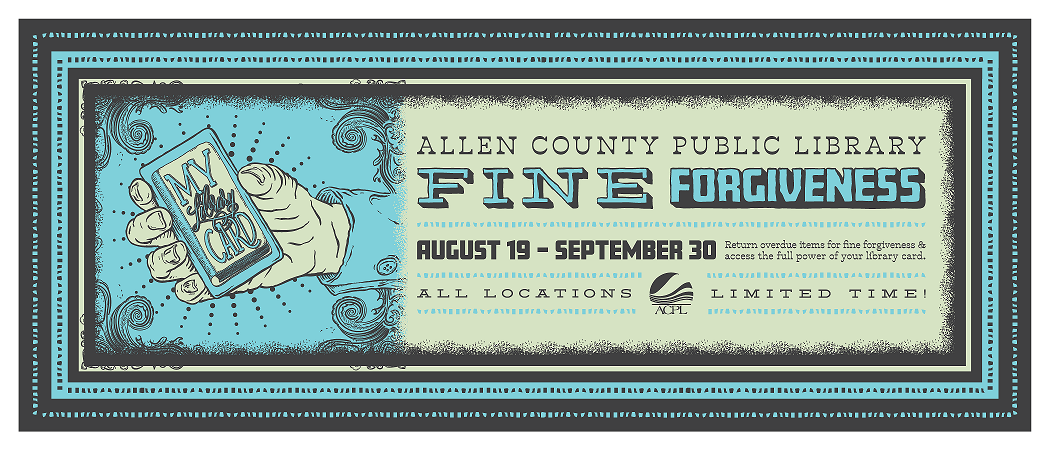 ---
We know that our community loves and depends upon the Allen County Public Library and its many resources. That is why we are working to remove barriers, enabling more people to fully access the library.
---
Beginning August 19, ACPL library cardholders who return overdue materials will have all associated fines and fees removed from their library accounts. This applies even in those instances in which the items are damaged or missing pieces.
---
A lot of us passed our time at home 'hunkered down' by cleaning out closets, basements, and under beds. If you stumbled across library materials that you thought had been lost or returned, this is your chance to bring back those items and have fines removed from your library accounts.
This applies to any item currently overdue, including:
Long overdue items for which you have been billed a replacement fee

Damaged items

Items that are incomplete. (Example: a multi-disc set that is missing a CD)

Multiple overdue items – that is no limit on how many ACPL items you can return. You will receive fine forgiveness for each item returned.
The fine forgiveness event will run through September 30, 2020. Overdue items can be returned to any ACPL location.
Contact ACPL at (260) 421-1200 or email ask@acpl.info for more information.
---