We've got some materials coming in that we hope will be of use for both educators and parents. Be certain to get your name on the hold list asap as we're certain they'll be popular! Simply click on the book image to go to our catalog and place a hold using your library card number and your PIN! When we let you know your copy is ready, take advantage of our Curbside Pickup option! In the meantime, check out this article on distance learning from Edutopia by clicking here.
The Distance Learning Playbook, Grades K-12: Teaching for Engagement and Impact in Any Setting by Douglas Fisher. (3 copies)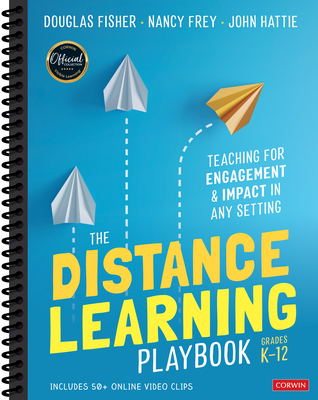 Effective teaching is effective teaching, no matter where it occurs

The pandemic teaching of mid-2020 was not really distance learning, but rather crisis teaching. But starting now, teachers have the opportunity to prepare for distance learning with purpose and intent--using what works best to accelerate students' learning all the while maintaining an indelible focus on equity.

Harnessing the insights and experience of renowned educators Douglas Fisher, Nancy Frey, and John Hattie, The Distance Learning Playbook applies the wisdom and evidence of VISIBLE LEARNING(R) research to understand what works best with distance learning. Spanning topics from teacher-student relationships, teacher credibility and clarity, instructional design, assessments, and grading, this comprehensive playbook details the research- and evidence-based strategies teachers can mobilize to deliver high- impact learning in an online, virtual, and distributed environment.

This powerful guide includes:

- Learning Intentions and Success Criteria for each module to track your own learning and model evidence-based teacher practices for meaningful learning

- A diversity of instructional approaches, including direct instruction, peer learning, and independent work that foster student self-regulation and move learning to deep and transfer levels

- Discussion of equity challenges associated with distance learning, along with examples of how teachers can work to ensure that equity gains that have been realized are not lost.

- Special guidance for teachers of young children who are learning from a distance

- Videos of the authors and teachers discussing a wide variety of distance learning topics

- Space to write and reflect on current practices and plan future instruction


The Distance Learning Playbook is the essential hands-on guide to preparing and delivering distance learning experiences that are truly effective and impactful.
The Chromebook Infused Classroom: Using Blended Learning to Create Engaging Student Centered Classrooms by Holly Clark. (3 copies)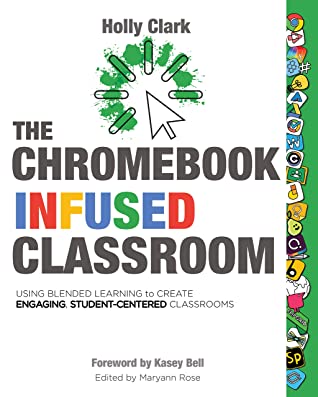 Do you have Chromebooks in the classroom? Then this book is for you! Conquer remote learning and digital leaning experiences like a pro!
Whether Chromebooks are a new addition to your school, or you have recently gone 1:1 in the classroom, or been using them for years and you want to make the most of technology for your learners.
The Chromebook Infused Classroom is a resource you will want to refer to again and again. You will learn how to:
The Google Infused Classroom: A Guidebook to Making Thinking Visible and Amplifying Student Voice by Holly Clark. (2 copies)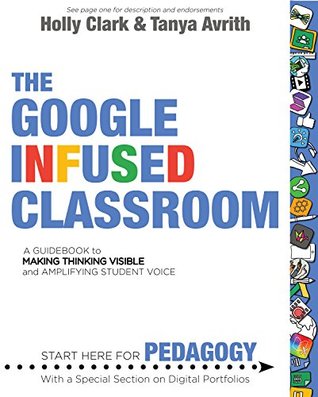 Looking for ways to use technology in the classroom to improve learning outcomes and make lessons come alive?

This book is written for every teacher who wants to amplify teaching and learning in the classroom using powerful online tools that put learning first!

Transform Your Teaching - EdTech experts Holly Clark and Tanya Avrith provide a guidebook to help you use technology to engage your learners and amplify the learning experience in your classroom—with Google Apps and other online tools.

Empower Your Students - This book will teach you how to allow students to show their thinking, demonstrate their learning, and share their work with authentic audiences - to use technology in meaningful ways that prepare them for the future!

Start with 20 Simple Tools - This book focuses on 20 essential tools that will help teachers to easily make student thinking visible, give every student a voice and allow them to share their work.

Examples You Can Use Tomorrow - With instructions for incorporating twenty of the best Google-friendly tools, including a special bonus section on Digital Portfolios.
The Enchanted Hour: The Miraculous Power of Reading Aloud in the Age of Distraction by Meghan Cox Gurdon.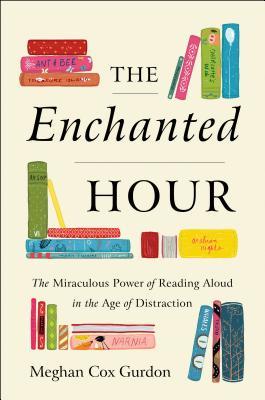 A Wall Street Journal writer's conversation-changing look at how reading aloud makes adults and children smarter, happier, healthier, more successful and more closely attached, even as technology pulls in the other direction.

A miraculous alchemy occurs when one person reads to another, transforming the simple stuff of a book, a voice, and a bit of time into complex and powerful fuel for the heart, brain, and imagination. Grounded in the latest neuroscience and behavioral research, and drawing widely from literature, The Enchanted Hour explains the dazzling cognitive and social-emotional benefits that await children, whatever their class, nationality or family background. But it's not just about bedtime stories for little kids: Reading aloud consoles, uplifts and invigorates at every age, deepening the intellectual lives and emotional well-being of teenagers and adults, too.

Meghan Cox Gurdon argues that this ancient practice is a fast-working antidote to the fractured attention spans, atomized families and unfulfilling ephemera of the tech era, helping to replenish what our devices are leaching away. For everyone, reading aloud engages the mind in complex narratives; for children, it's an irreplaceable gift that builds vocabulary, fosters imagination, and kindles a lifelong appreciation of language, stories and pictures.

Bringing together the latest scientific research, practical tips, and reading recommendations, The Enchanted Hour will both charm and galvanize, inspiring readers to share this invaluable, life-altering tradition with the people they love most.