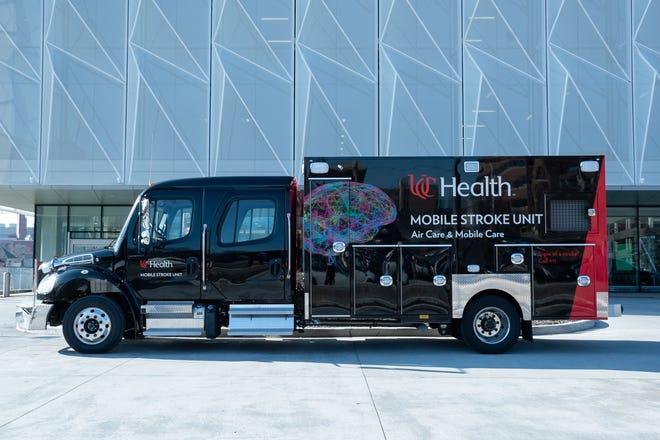 UC Health, Greater Cincinnati's academic healthcare system, has launched the region's first Mobile Stroke Unit, bringing UC Health's advanced stroke care directly to those who need it most. The unit's first day of operation was Tuesday, Aug. 11, 2020, based out of Springfield Township.
A Mobile Stroke Unit is an ambulance specially designed to evaluate and treat patients with a possible stroke. The unit combines an emergency department (ED) and an ambulance to provide hospital-level care at the scene of the emergency.
"Our goal is to shorten the time between the onset of stroke-like symptoms and the delivery of clot-busting medication. Millions of brain cells die every minute that stroke treatment is delayed, and research shows that mobile stroke units can provide treatment 20 to 30 minutes faster than in an emergency department," said Joseph Broderick, MD, director of the UC Gardner Neuroscience Institute and Professor of Neurology and Rehabilitation Medicine at the UC College of Medicine.
When a possible stroke is reported to 911, the UC Health Mobile Stroke Unit can be dispatched right alongside the local EMS department. A highly-trained team of four – a UC Health Air Care & Mobile Care paramedic, EMT and a critical care registered nurse, and a UC Health CT technician – staff the unit, and a Greater Cincinnati/Northern Kentucky Stroke Team physician will respond via telemedicine.
This team can quickly assess the patient and provide treatment if necessary. The UC Health Mobile Stroke Unit is equipped with advanced diagnostic technology, including a mobile CT scanner and the clot-busting medication tPA (tissue plasminogen activator). tPA is the only FDA-approved medical treatment for ischemic or thrombotic stroke, and it was developed by the experts at UC Health's Comprehensive Stroke Center, part of the UC Gardner Neuroscience Institute.
"The UC Health Mobile Stroke Unit is the latest example of how UC Health continues to innovate in the delivery of stroke care and emergency medicine, with the goal of saving and improving lives," Broderick said.
Currently, the average stroke patient in Greater Cincinnati does not receive clot-busting medication until about 45 or 60 minutes after arriving at a hospital, where a CT scan and other pre-treatment assessments are first performed. By bringing the advanced skills of the emergency department and the stroke team directly to the patient, the experts at UC Health hope to reduce that time significantly and improve patients' chances for a full recovery.
"The UC Health Mobile Stroke Unit is the first of its kind in Southwest Ohio and is a tremendous resource for our community. We are able to bring the emergency department to the curbside in order to diagnose and treat stroke as quickly and safely as possible," said Christopher T. Richards, MD, medical director of the mobile stroke unit and Assistant Professor of Emergency Medicine at the UC College of Medicine. "We look forward to working side-by-side with our fifteen partner fire departments to provide excellent acute stroke care."

The UC Health Mobile Stroke Unit is a partnership between the Department of Emergency Medicine, UC Health Air Care & Mobile Care, and the UC Comprehensive Stroke Center. The center pioneered tPA as well as the F.A.S.T. method for diagnosing stroke, and it serve as the national coordinating center for the National Institutes of Health "StrokeNet" program to advance stroke research.
The UC Health Mobile Stroke Unit is based at the Springfield Township Fire Department located at 9150 Winton Road and will respond in an area of approximately 15 minutes from the fire station. The Hamilton County Communications Center will co-dispatch the mobile stroke unit at the time of the 9-1-1 call as part of the EMS response for any patient with a possible stroke in the service area. The unit will be available between 7 a.m. and 7 p.m. daily, including holidays.
While the Mobile Stroke Unit is provided by UC Health, patients will be transported to the most appropriate hospital, which may or may not be a UC Health hospital.
UC Health is the 21st healthcare system in the U.S. to provide a Mobile Stroke Unit, and its apparatus is the 23rd such unit in the nation. It is the only Mobile Stroke Unit in Greater Cincinnati.
Learn More on the Springfield Township Website HERE
About UC Health
UC Health is an integrated academic health system serving the Greater Cincinnati and Northern Kentucky region. In partnership with the University of Cincinnati, UC Health combines clinical expertise and compassion with research and teaching – a combination that provides patients with options for even the most complex situations. Members of UC Health include: University of Cincinnati Medical Center, West Chester Hospital, Daniel Drake Center for Post-Acute Care, Bridgeway Pointe Assisted Living, University of Cincinnati Physicians and UC Health Ambulatory Services (with more than 800 board-certified clinicians and surgeons), Lindner Center of HOPE and several specialized institutes and centers, including: UC Gardner Neuroscience Institute; UC Cancer Center; and UC Heart, Lung & Vascular Institute. Many UC Health locations have received national recognition for outstanding quality and patient satisfaction. Learn more at UCHealth.com.